This summer, the W.E.B. Du Bois Institute for African and African American Research is offering tours of its art collection. Led at noon on Thursdays by Sheldon Cheek, senior curatorial associate for the Image of the Black in Western Art Project and Photo Archive, the tour includes the traveling exhibit "Queloides," now on display in the Rudenstine Gallery.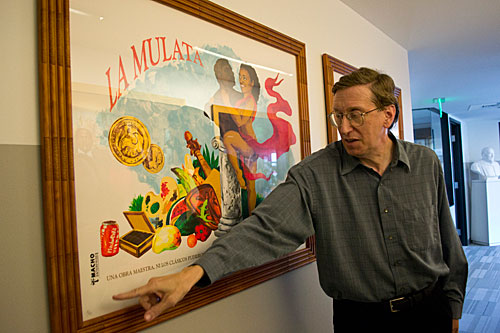 Featuring works by prominent Afro-Cuban artists, "Queloides" draws its title from the Spanish word for scar. The exhibit examines the persistence of racism and racial discrimination in contemporary Cuba and elsewhere in the world.
"These artworks show how the age-old social issue of racism is coming more to the fore between Afro-Cubans and the Cuban government, as well as the people of more Hispanic heritage," Cheek said. "And yet, not much has been said about it. It's an issue that has largely been left undiscussed, particularly outside Havana, where a lot of tourists don't go."
Some of the pieces, such as "Blood and Honor" by Armando Mariño, mine imagery from American history and culture. "Reusing these images shows how racial aspects of marginalized people are represented by the mainstream culture in books, literature, and published illustrations," Cheek said. "What's interesting is that these images were used by both sides, both abolitionists and proponents of slavery, for their own purposes. It's a very nuanced thing, and speaks to the power of these images.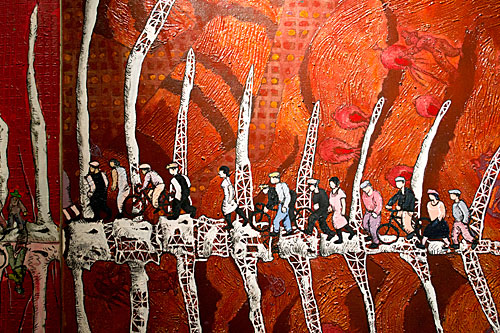 "The art really addresses the mistreatment of people who are on the wrong side of colonialism. Ultimately the artist is asking, does this still happen in Cuba today? These artists are saying yes, there still is suppression and a power elite that excludes other people who are considered problematic," he added.
Featuring works by Maria Magdalena Campos-Pons, Douglas Perez, Alexis Esquivel, and Manuel Arenas, the exhibit has toured Havana, Pittsburgh, and New York City, and will be on display at the Rudenstine Gallery through Aug. 31. In addition to "Queloides," the tour also examines works by Isaac Julien, Romare Bearden, Lyle Ashton-Harris, Suesan Stovall, Charles White, and Hale Woodruff, as well as an extensive assortment of black film posters.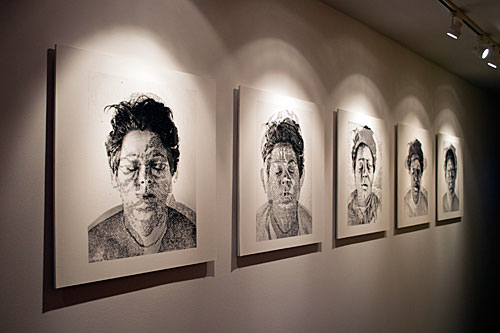 "It's all about race, humanity, and how people treat one another, and representing those dynamics in art. It's also about power — who has it and who doesn't have it," Cheek said. "It's highly subjective, but very powerful."
The Neil L. and Angelica Zander Rudenstine Gallery is located at 104 Mt. Auburn St., 3R, Cambridge, Mass.