Inside Sanders Theatre, more than 100 musicians clutched their instruments and focused on Tom Everett, director of bands at Harvard and jazz adviser to the Office for the Arts. But this ensemble of performers was markedly different from the other Harvard bands that Everett conducts. The Harvard Summer Pops Band (HSPB) is open without audition to all brass, woodwind, and percussion players from Cambridge, Harvard, and the Greater Boston area, regardless of age or experience.
This year, in celebration of its 40th anniversary, the HSPB will perform a concert of nine pieces, including Rimsky-Korsakov's "Procession of the Nobles," LaPlante's "In the Forest of the King," Anderson's "Sandpaper Ballet," and a variety of folk melodies. Performances are at 4 p.m. July 26 in Harvard Yard, and 3 p.m. July 29 at Boston's Hatch Shell.
When, with the support of the Harvard Summer School, he started the band in 1972, Everett "simply hoped that people would show up to the first rehearsal."
"Most community ensembles required an audition or expectation of a general level of ability, and limited the size or number of instruments in a particular section. The public also didn't often see Harvard offer an activity opened to anyone, without audition, without fee, and without required Harvard affiliation.
"At first, our membership was small," Everett continued. "We had fewer than 40 people the first year. But with word of mouth among amateur musicians, the band more than doubled in size the following summer."
Sudbury resident Evelyn Tate '74 was there at the beginning. "I was an undergraduate and figured it was a great way to keep in practice," she said. "I've played every summer since then. Occasionally I'll run into someone who hasn't played his or her instrument since high school, and it's easy to talk them into trying HSPB — it's low pressure, but high reward."
HSPB has become such a time-honored tradition for local musicians that multiple generations sometimes come together to make the event a family affair.
"I joined the band's clarinet section in 1976, when I was still in high school, and played in HSPB until I graduated from Harvard," said Newton resident Jeff Wu '82. "My older brother Tim, who graduated from Harvard in '79, returned to the band about five years ago with his sons, who play trumpet and clarinet — and I returned with my own sons, who play flute and tenor saxophone, in 2009. Altogether, seven members of our family have played with HSPB."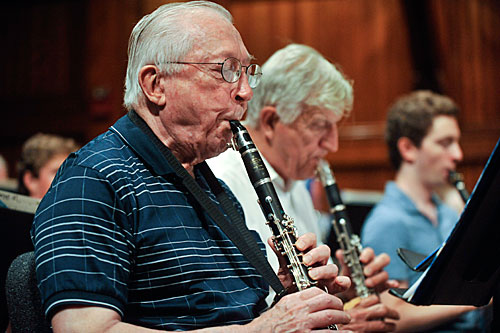 Everett resident Tricia Hoover, who has played the flute for 50 years and began performing with HSPB in 1973, said the band gives members of the community, young and old, a way to shine. "It's a great way for adult performers to know that there is a musical life after college," she said. "It's a big challenge to receive music, practice for a few weeks, and perform it as part of a very large ensemble in public. The HSPB offers a realistically attainable chance to perform with an intense but short-term commitment, and showcases the University's outreach to community participation and enjoyment."
When asked how a band made up of musicians with such a range of experience and skill manages to perform a rich program every year — particularly with as few as four rehearsal sessions — Tate credited Everett and Mark Olson, assistant director. "They're wizards at getting the best possible sound out of a group with wildly varying skill levels in just a few weeks," she said. "I wouldn't have believed it could be done if I hadn't seen it happen over and over again."
That praise was seconded by Judith Powsner, who began playing flute in the third grade and has played with HSPB since 1977.  "Tom's not only an incredibly gifted musician and conductor — he also never misses an opportunity to teach us something," she said.
"This activity is the most fun thing I do," Everett said. "There are few moments more fulfilling than seeing all those eyes looking my way, filled with the expectation, joy, and excitement of making music together. After the final concert, it's rewarding to hear people say, 'See you next summer.'"
It's that kind of enthusiasm and sense of community that keeps musicians coming back year after year. "I love the HSPB," Wu said. "To me, nothing sounds more like summer in America than an enthusiastic if slightly out-of-tune band, and no one does that better than we do. I can't think of any better way for Harvard to throw its doors open to the community, nor can I think of better ambassadors than Tom and Mark."