Harvard Gazette staff writers and photographers fanned out across campus to capture the Morning Exercises, which began when the gates opened at 6:45 a.m.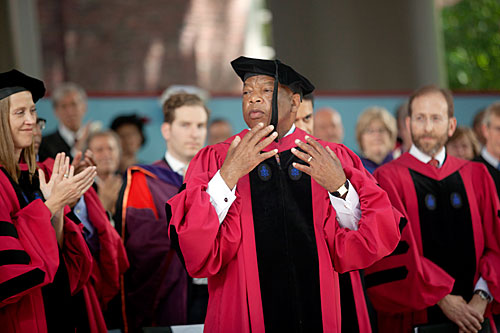 For Lewis, a standing ovation
People who murmur under their breath that nothing important ever changes haven't been paying attention.
Among the slate of distinguished honorands at Morning Exercises was John Lewis, who half a century ago was a young ally of the Rev. Martin Luther King Jr. during the Civil Rights campaign to end segregation in the South. During that effort, Lewis, who headed the Student Nonviolent Coordinating Committee and was one of the original Freedom Riders, was arrested more than 40 times. He was beaten repeatedly and spat upon. At one point, police fractured his skull.
America still has its problems. But, with an African-American in the White House, it has been learning to be inclusive about race.
Lewis eventually entered politics as well. He became a U.S. congressman from Georgia for the past quarter century and an unswerving champion of the underprivileged. When his honorary degree was announced, the packed crowd and those onstage in Tercentenary Theatre responded with a rare standing ovation, recognizing a life of service that helped to transform a nation.
The family ties that bind
After Morning Exercises, undergraduates dispersed to their Houses to receive their degrees. On the Eliot House lawn, Housemaster Gail O'Keefe handed out diplomas as co-Housemaster Doug Melton read where each graduate will be headed next. Their plans ranged from the precise (medical school, Fulbright grants, jobs in high finance and high fashion) to the vaguely optimistic (hopes of conquering the Appalachian Trail, gap years to figure it all out) to the blissfully undetermined ("will be doing things somewhere on planet Earth").
Oscar Zarate, who will work in environmental consulting next year, bounded off the stage directly into the photo-ready embrace of his large family, who had flown in from Chicago to celebrate. In their "very close" brood, Zarate explained, a Harvard degree "means a great deal."
"It's an amazing feeling; there are no words to describe it," said his father, Octavio Zarate, who emigrated from Mexico with Oscar's mother, Beatriz, to give their family a better life.
"I hope there are more stories like Oscar," he said.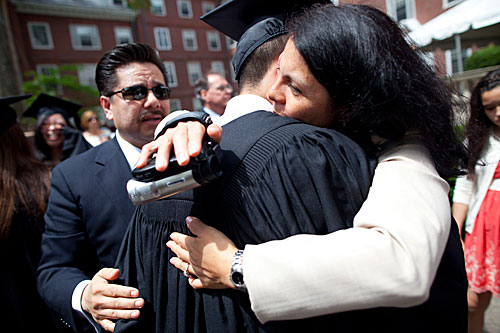 A farewell to Dean Graham
It was also graduation day, of sorts, for Harvard Divinity School Dean William Graham, who is stepping down from that post after a decade. Though Harvard's Commencement Morning Exercises, where the degrees are conferred in Tercentenary Theatre, are heavily scripted, there is a smidge of wiggle room for notable occasions such as this. But just a smidge.
Harvard Provost Alan Garber took that room during the nearly rote conferring of degrees when introducing the Divinity School and Graham, "with gratitude for his decade of service." Graham, who joined the Harvard faculty 35 years ago, will take a year's leave and then return to resume his teaching duties.
Garber made no mention, however, of the fact that this was his first Commencement — on stage. A member of the Class of 1977 who later earned his doctorate in economics from Harvard, Garber is no stranger to the proceedings. He even had a second excuse for attendance: his 35th reunion.
Heaney reprises his poem from 350th 
Of the 19 lines in Seamus Heaney's "Villanelle for an Anniversary," which he recited at Morning Exercises, none encapsulated the graduate experience quite so aptly as this one: "The future was a verb in hibernation."
The poem itself was awakened from hibernation in honor of the University's 375th anniversary. Heaney returned this week to Harvard, where he once was a professor and poet-in-residence, to recite the villanelle, which he composed for the 350th anniversary in 1986. In addition, the Commencement Choir sang a musical rendition of the poem commissioned by the University for the anniversary.
Graduate orator Jonathan Service also turned to poetry, a haiku by the Japanese master of the form, Bashō, to highlight nature's (and the world's) benign indifference to what seems like the most momentous of occasions. "Everything will change as of today," Service said.
Perhaps graduates could take heart in the more plainspoken words of the late Rev. Peter J. Gomes, as quoted by undergraduate orator Anthony Hernandez.
"It is what it is. I am what I am," Gomes once said of his many complexities. "It confuses people — which gives me great pleasure."
John Adams of Harvard, and Leverett House
Among those getting honorary degrees was another John Adams, at least the third noteworthy holder of that name to graduate from Harvard, after the second and sixth U.S. presidents, who have a House named after them.
This Adams, the minimalist composer who added an honorary doctor of music award to his five Grammys, Pulitzer Prize, and Harvard Arts Medal, was notable during his Harvard years for, among other things, conducting Mozart's "The Marriage of Figaro" in the dining room of his home on campus, which was not Adams, but Leverett House.
A smart person in a sea of smart people
It takes a lot to impress a Harvard crowd, but Walter Kohn, who received an honorary doctor of science degree during Morning Exercises, did the trick. Provost Alan Garber introduced Kohn, recipient of the 1998 Nobel Prize in chemistry, with some biographical background. Born in Vienna in 1923, Kohn fled the Holocaust, spent time in a Canadian internment camp during World War II, and afterward worked as a lumberjack for 20 cents a day.
Instead of partying with his newfound "wealth," Kohn bought math and physics textbooks, and eventually ended up at Harvard. Here, he only hoped to survive his first year of graduate school, Garber said. Instead, he went on to earn a doctorate in physics in 1948, after just two years. He got a wow from the crowd on that one.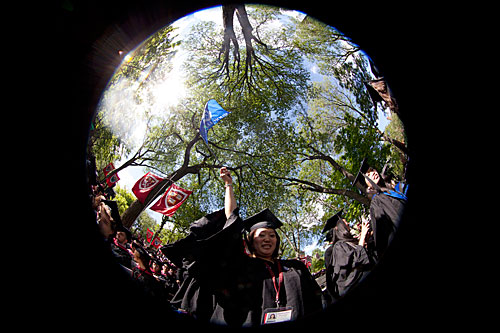 Blue is the new crimson, this year
Among the reunion class banners hanging on the side of Hollis Hall in the Old Yard were the banners from 1937, 1943, 1955, 1951, 1958, 1957, all in Harvard's standard crimson. But there was also the 1955 class banner, in blue.
The aberration was explained during Class Day ceremonies on Wednesday as the revival of a tradition, where in addition to the crimson School colors, each class had "class colors," passed down to an incoming class by the graduating seniors. The Class of 2012, then, whose banner is crimson trimmed in blue, is passing blue down to the incoming class.
How to grow future alumni
Two children stood outside one of Harvard's main gates and watched as seniors from the River Houses processed into the Yard. They were there with their father, alumnus and Cambridge resident John Buten '91, who likes to bring his children to the festivities each year when the weather is nice to "create a little aspiration and inspiration." Showing that she may have just the aspiration needed to succeed, daughter Rosemary Di Troia, 9, was eager to follow the seniors into the Yard. She mused to her father, "We could climb over the gates." Buten, in a gentle tone, advised against it.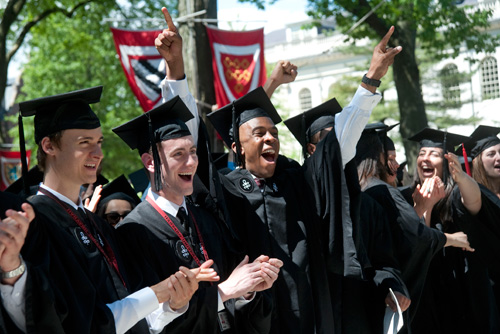 'The most important thing in life'
As is custom, the graduating seniors marched into the Yard and the Memorial Church for one of the first official events of the day, morning services. The students filled the church to capacity, sitting in the aisles and crowding into Appleton Chapel. When they were there two days earlier for Baccalaureate, they used their mortarboards as slight shelter from the rain, but this time they used them as impromptu fans, cooling themselves from the rising heat of the day.
Using the words of a song by the pop singer John Mayer, the Rev. Wendel W. "Tad" Meyer, acting Pusey Minister in the Memorial Church, urged the seniors to remember how fleeting life is. "As much as you might want to stop the train and get off and go home again," Meyer read, "the train of time continues to fly forward, and with each passing year it picks up speed as it hurtles along the measure of our days." But such awareness about life shouldn't breed fear and angst, he suggested. Instead, it should "inspire us to be even more passionate about embracing life and celebrating living," and finding out what truly matters, like the love of oneself, and others.
"Intimate relationships, my young friends, are the most important thing in life, gladdening our own hearts and those of others, and you neglect that reality at your extreme peril. It is the loves of our lives that truly create our happiness, define any real and lasting sense of success, and provide us with all that is really valuable in life. To ignore, deny, or abuse those cherished relationships is to create a hole in your heart, in your soul, that no amount of knowledge, power, money, or success will ever fill."
Meyer's message is something "you don't learn in school," said Alek Sudan, a middle school administrator who was graduating from the Extension School with a degree in liberal arts. "It's definitely awesome to hear. It's absolutely wonderful."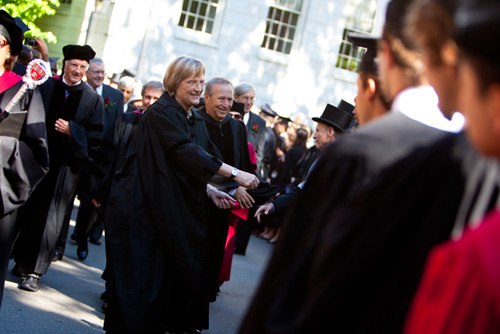 A reunion for bagpiper, Dixieland band
Bagpiper Bob Cameron, who has led members of Cabot and Mather Houses into the Yard for the past 19 years, enjoyed his own mini-reunion with members of a Dixieland band who played outside the Memorial Church after leading the residents of Dunster House there. Cameron, who is also a tuba player, happily reconnected with former bandmates. "This is our little village within a village," he said.
Mortarboards that weren't boring
Several seniors from Dudley House kept alive the tradition of decorating their mortarboards. Iman James covered her hat with tarot cards, political references, and a black veil that was "mourning the death of my childhood. I will lift the veil," she said, "once I get my diploma and move on."
Paul Vankoughnett had "an uncontrollable urge" to tell everyone about his love for the '70s pop band Devo, so he topped his hat with rings of pink paper to mimic the group's curious conical headgear from the video for the hit song "Whip It." Samra Girma studied religion, and on her hat put the Buddhist term for loving kindness, Metta, along with an array of bright paper flowers. "I wanted to incorporate my studies," she said, "and make something beautiful."
And the last shall be … last
The procession of undergraduates into Tercentenary Theatre during Morning Exercises is a leisurely affair, with the Houses lined up in the Old Yard well in advance of filing in. Before the students move, the president and other Harvard officers process through their ranks, moving from the back to the head of the line — the last becoming first — and leading all into the theater.
Undergraduates are arranged by their Houses, with Eliot House taking up the rear this time. At the end of the Eliot contingent was the trio of Patrick Bane, Dave Salutric, and Chris Liberge, friends who viewed the end of their Harvard years with mixed emotions.
"It's pretty bittersweet to say goodbye," said Liberge, who said that the weeks the seniors get to stay on campus after exams end provide a great opportunity to spend time together before parting.
The three were among 11 students who were together in undergraduate dorms and then moved to Eliot for the next three years. After Commencement, they head to New York, Chicago, and other parts of the country.
"I want to drag it out as long as possible," Bane said.
Remembering a friend
Every year, each School shows its pride with a prop. Harvard Medical School raised replicas of the human heart, Harvard Kennedy School students tossed blow-up globes, and Harvard Law School students waved gavels.
Some Harvard Business School students donned a deeper symbol of solidarity among their class. Before Commencement, M.B.A. students handed out small buttons printed with "NGB": the initials of Nathan Bihlmaier, their Section C classmate who passed away early Sunday morning, just days before he was to receive his degree.
A different beat
To draw graduates into the Yard in the wee hours of the morning, it only makes sense to rouse them with a little music. Some Houses were led in by a New Orleans jazz band, some by bagpipers, others by a fife-and-drum group.
After leading their Houses to the Yard, musicians and Somerville residents Babaca Sck and Malick Niam sat on the steps of Dudley House retying the colorful ropes that decorated their sabar, the traditional drum of their native country, Senegal. The sabar, which is held between the knees, proved a troublesome instrument to play while leading a procession. But Sck seemed unconcerned about winning over his audience.
"You just need animation," he said.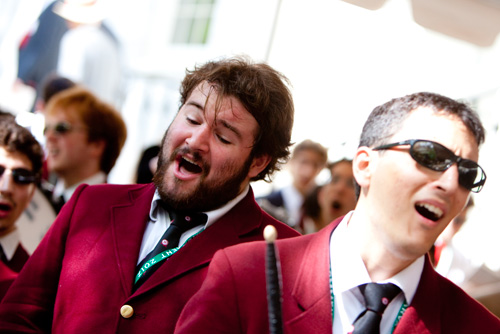 C'mon, don't you love me?
Ryka Christopher, who was running a flower and balloon stand on the north side of the Yard, said business was slower this year than in the past. Flowers were selling better than balloons, and most popular were a dozen roses for $30. Thirty bucks? What the heck, it's Commencement.
From Bah Hahbah to the Yahd
Ashley Robinson, a government concentrator from Maine, brought a piece of home into the Yard this year. Robinson was among the small group of students who lived in the Dudley Co-op, a cooperative-living alternative to House life located in two houses a few minutes' walk from campus.
Robinson followed the Dudley Co-op tradition of decorating her mortarboard, creating a sculpture reminiscent of her Maine home, replete with feathers, small flowers, and driftwood that her mother brought from Maine.
Where has the time gone?
Harvard School of Public Health students gathered on Quincy Street around 8 a.m. to wait their turn to move into Sever Quadrangle, where they'd wait their turn to process into Tercentenary Theatre (where they'd wait their turn to get their degrees). One group of students who would receive their master's in health policy and management had taped HPM to the tops of their mortarboards to recognize their educational journeys, which went by in a blur.
"I feel like it hasn't been two years," said Christina Papirnik.
Papirnik was among a small group who met earlier at a friend's nearby apartment for breakfast. So what was the special breakfast for Commencement morning's champions?
"We had some cereal. Wheaties with no milk," said Patrick McGhee.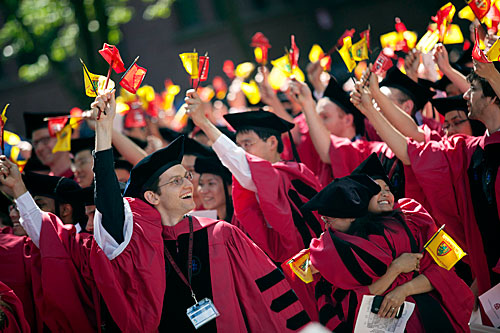 Um, you're forgetting something
Zanny Alter, who was getting a degree from the Harvard Graduate School of Education (HGSE), had the kind of Commencement morning that many students fear. Alter got to the assembly point for the HGSE's procession into the Yard in plenty of time and then realized she had her robe, but had forgotten her hood and mortarboard.
"I realized I had left half my regalia and had to run home," Alter said.
Luckily for Alter, Commencement proceeds at a ceremonial pace, which allowed her time to run home and still catch up to her class before it entered the Yard. Friend and fellow HGSE graduate Becca Steinberg had her back, too. She was waiting with an extra egg sandwich for breakfast, prepared by her mom.
All is forgiven
At 8:30 a.m., a group of deans milled about outside University Hall waiting to be photographed and to assemble for Morning Exercises, where each would join President Drew Faust in conferring degrees upon their School's graduating students. But Harvard College Dean Evelynn M. Hammonds was still feeling the fallout from a degree she didn't give — to Class Day speaker and mischief-maker Andy Samberg.
In his speech on Wednesday, the comedian accused Hammonds, several times, of dangling a false promise of an honorary degree. Was Hammonds aware beforehand that she was in for a major dis from Samberg?
"No — I'd never met him," she said, adding, "but I'd seen him on TV."
It's hard to say if Hammonds got off better or worse than the graduating senior who introduced Samberg, Matthew DaSilva, who in return received a dramatic kiss. But Hammonds maintains there's no bad blood.
"I still think he's a funny guy," she said. In fact, her favorite part of the Class Day festivities, she said, was when Samberg "hugged me at the end and said, 'No hard feelings.' "
Hair-raising heat
The designated first-aid stations at Thayer, Weld, and Sever Halls saw a few heat-weary guests and (regrettably unmet) requests for sunscreen. But as of 11 a.m., at least one station remained free of any major medical incidents.
"Normally it's a lot of Band-Aids and icepacks," said Tina DeLouchry, a nurse practitioner at Harvard University Health Services and a relative newcomer to the proceedings, who was stationed in Sever for her second Commencement.
That said, DeLouchry was ready and able to attend to fashion emergencies.
"I've had several people come back here to fix their hair," she said. After running through her personal supply of hair ties and bobby pins, she resorted to handing out paper clips to female graduates desperate to pin back their locks. "It's just too hot to wear your hair down, I guess."
'Linsanitatem'
In past years, the Latin oration at Morning Exercises has seemed more like a formality than a Commencement highlight. Though the Commencement Office has been distributing English translations of the speech for the past several years, actually listening to five minutes of Latin can feel like a visit from the unintelligible ghost of Harvard past.
Luckily for this year's audience, Michael Velchik knows how to steal the spotlight.
His speech wasn't exactly rousing at the start. "For some of you, this is the climax; life is only downhill from here," Velchik said in the ancient tongue. "You will spend the rest of your life always looking backwards and often reminding those around you that you went to college in Boston — well, actually, in Cambridge."
But his thundering intonation, classical gestures, and call outs to various Schools ("some to be lawyers, other doctors … some to straighten out teeth, others petulant students") earned the Dunster House senior many laughs and a standing ovation.
And if you've ever wondered what the Latin word for "a pandemic-like craze for an unlikely basketball phenomenon" was, you can now thank Velchik: it's "Linsanitatem."
— By Alvin Powell, Colleen Walsh, and Katie Koch