It's exciting when Geoffrey Canada steps to the podium. The driving force behind the Harlem Children's Zone, which the New York Times has called "one of the most ambitious social experiments of our time," Canada unleashed his trademark passion and fire for his ongoing work on a captivated crowd Wednesday at Longfellow Hall.
"The country is in real peril," cautioned Canada, who cited research that indicates the nation's failing public education system is hurting a wide swath of middle-class families. "It's not about a few kids anymore."
He warned the future educators and administrators in the audience at the Harvard Graduate School of Education (HGSE) to get ready for the toughest fight of their lives, noting how his own work has been widely criticized by those who feel threatened by innovation.
"Be prepared to be attacked," he said.  "This is not for the faint of heart. This is hand-to-hand combat trying to save these kids."
Canada was on campus to receive the Harvard Graduate School of Education Medal for Educational Impact, the School's highest honor that recognizes those who demonstrate an outstanding contribution to the field of education.
During a special Askwith Forum, HGSE Dean Kathleen McCartney introduced Canada as "a trailblazer whose passion for education equity has inspired a generation. He is a visionary who saw a need, and built an organization to meet it. He is an innovator who created a solution that others strive to emulate."
In the '90s, Canada created the Harlem Children's Zone, a nonprofit with a revolutionary approach to community development that includes a network of medical, educational, and social services. What began as an effort to help one square block in Harlem now serves more than 10,000 children, and more than 7,000 adults with its network of programs and services.
Canada's work has gained national attention and is the inspiration behind the Obama administration's Promise Neighborhoods, an initiative that funds organizations that develop similar, inclusive, school-based, community models.
"It is so good to be back home," Canada, who received his master's degree from HGSE in 1975, told a full house.
His talk focused in large part on his transformative year at Harvard and his connection with "powerful forces" at the School. They were educators, he said, "who hit the ground and absolutely worked with me hand in hand in the trenches on this work."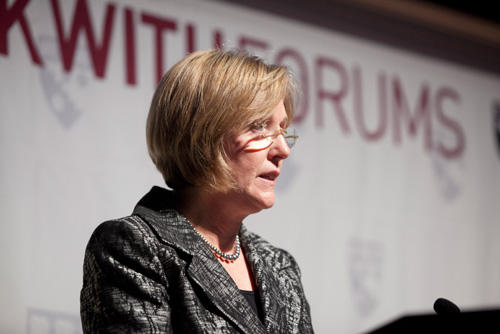 Canada, one of Time magazine's 100 most influential people in the world for 2011, studied psychology and sociology as an undergraduate at Bowdoin College, hoping to save "children like myself," from underserved communities with little chance of success in school.
But the schoolwork, he said, was heavily based on theory, with no clinical approach. "I didn't know what to do with this stuff," he said. When he excelled in pharmacology and physiology classes, the school's top officials told him he should become a doctor. And Canada seriously considered that until he realized, "I didn't like sick people."
What he loved were children who needed all sorts of help. Tired of hearing the refrain that education wasn't considered a serious profession, he came to Harvard because it was "the most serious place."
In Cambridge, he searched out the people applying science to education, and those working in the field, getting their hands dirty. "I wanted science. I wanted to know what it would take," he said. Harvard Professor Bruce Baker, who was using the field of behaviorism in the classroom with children, was one of those "powerful forces."
Canada went on to work with Baker after graduation in a camp for disabled and emotionally troubled children. The camp only admitted the most challenging kids, he recalled.
For Canada, Baker constantly set an example as someone who refused to give up on any child, no matter how troubled.
"Do you know what that taught me?" said Canada. "I never doubted again that every kid could learn. … That's the leadership I learned."
Another life-changing mentor for Canada was Harvard's John Schlien.
With a wife and two children to support, Canada took the first job offered to him. It was a teaching position in a new school in Boston founded by Schlien, who collected the most troubled public school high school kids, many of whom were fueling the Boston riots during busing desegregation, and put them together under one roof.
"I had never seen outright racism until I came to Boston," said the South Bronx native who called his experience with the angry students "the teacher's equivalent of 'Guess Who's Coming to Dinner.' "
But, supported by Schlien, "the real deal," who showed him the importance of supporting students by connecting with them using a holistic approach, he succeeded, and thrived.
"People wonder why I supply all these supports to these kids. I found out early on in my career that this other stuff is important as human beings. It's important to all of us. Why would it not be more important to these kids who are growing up with nothing?"
From his Harvard time, Canada said he learned other important lessons that he uses daily in his work, like holding people accountable, using the scientific data available, and trusting the evaluation process. Above all, he said, he learned never to accept defeat.
"If you want to be in education," said Canada, "you can't be prepared to accept failure."