By any measure, the Transit Gallery at Harvard Medical School (HMS) is an eccentric space for viewing art. It has a checkered floor and cream-colored walls and takes up 50 yards of busy corridor in the basement of Gordon Hall. Improbably, Harvard's youngest art gallery is part of an interior walkway connecting buildings on the School's famous quadrangle.
The pedestrians moving through it are not ordinary gallery-goers either. These bustling students, brisk professors, and harried lab technicians are usually in a hurry.
But the gallery's latest show — "Phantom Limbs and Nostalgic Technologies," up through April 9 — relays a longtime artistic plea: Slow down. Look. Imagine.
Imagine, for instance, the ways that art and science are alike. "A lot of what happens in a lab is about trial and error, and repeatedly trying and not seeing results," the same as in an artist's studio, said exhibitor Deb Todd Wheeler. "Persevering in the face of failure — sometimes that's when the most beautiful things come to you."
She remembered delivering an artist talk at the Medical School a couple of years ago. "It was about the beauty of failure," said Wheeler, a media artist, sculptor, and inventor who teaches at the Massachusetts College of Art and Design and whose work is on display at the Yale School of Medicine. "Isn't that what every theory is about? Every hypothesis is laced with the terror of failure."
Art and science are often a matter of "risk-taking, in a slow, methodical way," she said. "A lot of what happens in an artist's studio is a labor not unlike medical research, except that the risks or consequences are much lower. No one is going to die."
Art and science do often have similar methodologies, said gallery curator Tania Rodriguez, a project coordinator with HMS human resources: Start with a question, roll out a lot of ways to answer it, and maybe get surprised in the end.
Many medical school professors "talk about art," she added, as a way to improve powers of observation, diagnostic skills, and communication skills.
"Artistic invention and scientific invention have a lot in common," agreed exhibitor and Harvard Professor Svetlana Boym, who a year ago gave the Transit Gallery its name. "Scientists and artists work with error. [Both] have to be prepared for the chance encounter." What follows? "Maybe invention," she said. (Boym, an experimental photographer, is Harvard's Curt Hugo Reisinger Professor of Slavic Languages and Literatures and a professor of comparative literature.)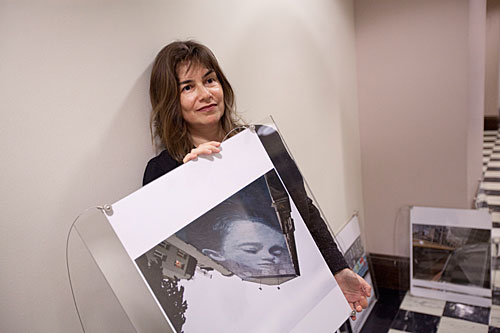 The show includes 11 photographs from her "Phantom Limbs" series, a project that started last spring with offhand pictures of reflections, swirls, dried branches, and other debris. "When I came home, I discovered a face made of skywater, litter, and light," Boym wrote for the exhibit. Afterward came regular "pilgrimages" to a river, in search of "nature's drawings," she said while hanging the show. It's a matter of probability and replicates scientific effort, said Boym. "It was very patient and difficult work. It would take hundreds of pictures to find a face."
At the other end of the gallery space, images by Boym and Wheeler appear on opposite walls. Wheeler offers passersby a witty, 4-minute video called "Blow Me Up, Blow Me Over" (2011, with cinematography by Kevin Sweet). It's about those "moments of concentrated effort," frustration, and exhaustion that both art and science share, she said. A woman (performer Stacy Peterson) dons a dress of welded polyethylene bags, then attempts to inflate it with a foot pump. "It takes forever," said Wheeler, and "she collapses from the effort."
Arrayed beyond are stills from the video, in small black frames that Wheeler said "co-habitat" with the gallery's checkerboard black-and-white floors. It's a challenging space to hang art, she said. "That's why I chose an animated sequence. If you can't stay for the video, you get the feel of it as you're walking by." (The video soundtrack, by the way, is the sound of stomping feet.)
Boym's art acknowledges corridor gallery space too. At one end is a video of her river project, showing the "flow" of her process. At the other end, opposite Wheeler's work, are Boym's haunting photographs of fleeting urban landscapes, some reprised from previous Harvard shows. They share a common theme: transit. Each title in one series begins with the same first word, "leaving," and depicts departures from her native St. Petersburg, Manhattan, Sarajevo, Copenhagen, Los Angeles, and Miami.
"The river [project] is about the same kind of movement," said Boym, acknowledging Transit Gallery's fast-moving audience. "It's about flow and passage. But I still hope to slow people down."
Co-exhibitors Svetlana Boym and Deb Todd Wheeler will discuss their work and attend a reception from 4 to 6 p.m. on Feb. 15 in Room 563 of Harvard Medical School's Warren Alpert Building, 200 Longwood Ave., Boston.