Boston is nearly 5,500 miles from Tel Aviv, Israel. But a new exhibit at Harvard's Graduate School of Design (GSD) shortens that distance for local residents.
"Lightfall: Herta & Paul Amir Building, Tel Aviv Museum of Art," the exhibit on display at Gund Hall through March 4, is the story of a new building so unexpected and quirky that one critic called it "a surprise package" delivered to the city in Israel that is dominated otherwise by Brutalist and Bauhaus styles of architecture.
Preston Scott Cohen's Herta and Paul Amir Building, a dramatically prismatic structure of concrete and glass, rises out of a city arts plaza like the prow of a ship. Three of the five stories are below ground and hidden from the street, making them hard to see until you are very close. But inside it is hard not to see. A spiraling, 87-foot slash of curving light — a top-lit atrium called the "Lightfall" — reaches toward stacked galleries that spiral along a void within hyperbolic parabolas.
Planning for the $55 million wing of the Tel Aviv Art Museum started in 2003; design and development spanned 2005 and 2006; groundbreaking was in 2007; and the wing's grand opening was last November. The building houses the largest collection of Israeli art in the world.
Cohen, who is a principal of a Cambridge, Mass., architecture firm, is the Gerald M. McCue Professor in Architecture at GSD, and chair of the Department of Architecture. At the exhibit's late-January opening, he explained the building's origins, challenges, and statements to a capacity crowd in Gund Hall's Piper Auditorium. Afterward Cohen had a public conversation with former New York Times architecture critic Nicolai Ouroussoff.
In the beginning, Cohen faced a puzzle: How do you fit five stories of building (200,000 square feet) onto an eccentric, triangle-shaped space whose footprint was less than 50,000 square feet? (He and his team designed the three stories that were below grade but lit them from above, and created a complex geometry of levels along different axes.)
Cohen and his team faced another puzzle, one that was both aesthetic and political. How do you satisfy a museum director who at first insisted on a building made of stone, the stuff of permanence and monuments? (Cohen argued for a modern look-alike, with a façade of 460 precast, reinforced concrete panels.)
Cohen faced an additional problem, one that reflected a debate within architecture: What should an art museum look like? On one hand is "the universal art museum," he said, a place of "neutral boxes" designed to foreground the art within them. Cohen used the example of the Museum of Modern Art (MoMA) in New York, which he called "a processional sequence of rooms," designed to lead a viewer along linear pathways. According to this prevalent model of museum space, said Cohen, "If architecture is anything but neutral, it runs into difficulties."
The other hand is the idea of the museum itself as an artlike spectacle, a structure on a par with, or even surpassing, the art within it. Cohen used the example of the Guggenheim Museum Bilbao in Spain, architect Frank Gehry's audacious, curving 1997 masterpiece of glass, titanium, and limestone. Ouroussoff later called the Guggenheim Bilbao a sign of "the triumph of capitalism" in the mid-1990s, and agreed that it placed the architect "on the same level as the artist."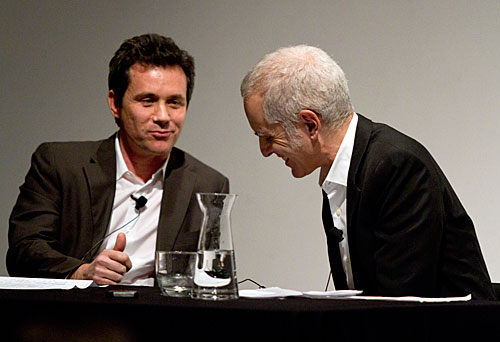 But with the Amir Building, Cohen sought a hybrid of the two trends. "Something else happens" in the new building, he said. Outwardly, the museum wing does not stand out. It's crafted of horizontal planes meant to house and not shock. But inwardly, said Cohen, the spatial effects are "deep and vertical," an "infinity of heaven." Its sunlit small galleries and walls, large enough for big installations, will impart "curatorial flexibility."
This third paradigm for art museums of the future acknowledges architecture as art, but also preserves the neutrality and efficiency of the "white boxes" meant to display the art. In the Tel Aviv structure, curves and twists predominate, creating the geometric challenges of making galleries rectangular. (Putting rectangles in a space like that, said Cohen, "is a delicious game to try to play.")
During the public conversation, Ouroussoff praised Cohen for his quest for "the middle ground between the two extremes" of museum architecture. The solution seemed to the critic "an almost romantic, idealistic idea."
There is strength and sense in the middle way, said Cohen — having an art museum be art, yet not be dominant over what it holds. "The building should be about something else," he said, "yet not disappear."