Oliver Wendell Holmes Jr. said that music was "to the soul what a water bath is to the body." Henry Wadsworth Longfellow called it "the universal language of mankind," and T.S. Eliot even suggested, "You are the music while the music lasts."
None of these distinguished Harvard figures made his career as a musician, yet the magic of Orpheus still held powerful sway over them, as it does today over hundreds of students who are part of Harvard's ever-closer relationship to music.
In the University's earliest days, music was generally confined to singing during chapel services or at official College events. Instruments were largely absent from campus. Then, in the 19th century, a handful of young men created a small group dedicated to "mutual improvement in instrumental music," along with the "consumption of brandy and cigars as well as the serenading of young ladies."
As a liberal arts college, Harvard trains its students broadly so they can adapt nimbly to a rapidly changing world, and, increasingly, appreciating and participating in music are integral parts of student life.
Tuneful examples abound. For instance, a Gen Ed course in rhythm and blues now accepts performing as part of a student's final project. In addition, the University has begun offering a joint degree program with the New England Conservatory. Harvard funding just fueled development of a revolutionary software program that translates piano notes into musical notations in real time. And the Loeb Music Library, expanding the breadth of its collections, recently acquired the annotated archives of famed conductor Georg Solti.
Also, musician and composer Wynton Marsalis is in the second year of an acclaimed lecture series, combining scholarship and performance as he exhausts his audiences with enthusiastic, hours-long discussions of complex musical forms. And famed cellist Yo-Yo Ma has become a campus fixture, even recently serenading dining Harvard Business School (HBS) students, accompanied by members of his Silk Road Project, the educational arts group that recently relocated from Rhode Island to University space in Allston.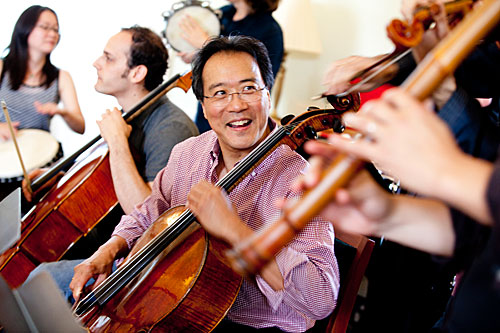 Harvard undergraduates have a long tradition of making their own music, with new outlets for their talents and interests being added all the time. Students participate in more than 50 musical groups, ranging from the Mozart Society Orchestra to Mariachi Véritas de Harvard. The registrar's office says that more than 20 percent of undergraduates list music as a valued extracurricular activity.
Here is a sampling of the musical themes that regularly echo across the Harvard landscape.
Performing in the classroom
As members of the Harvard-Radcliffe Orchestra (HRO), cellists Alexander Sahn '13 and Alexander Cox '12 are familiar with 100-musician concerts and the classical canon. But on this rainy afternoon, they were alone on stage with the King of Pop.
In a vaulted hall before a small audience of professors and peers, the two Alexanders rocked out a cello version of Michael Jackson's 1988 hit "Smooth Criminal." The duo, who were taking the Gen Ed course "From R&B to Neo Soul: Black Popular Music and Cultural Transformation," chose a performance option as part of their final project.
"During exam period, when you just don't want to write another paper or take another exam, to have this to do was a lot of fun," said Cox.
In addition to being a more relaxed exam alternative, students said the performance option produced a fresh and profound type of learning.
Senior Winta Haile enlisted her a cappella group KeyChange to sing "Kiss" by Prince and Toni Braxton's "He Wasn't Man Enough." Arranging and performing works from different eras helped her to understand, more than a typical test could have, how black artists have strongly influenced each other over time, she said.
"The tendency with a lot of classes is to cram for a final and then forget it in the next couple of days," Haile said. "But I think when you do something as engaging as a musical performance, you are kind of embodying the point of your final … so you really do internalize the point of the class."
In Business School dining hall, a concert
The HBS hall was buzzing, and Yo-Yo Ma '76 was in the middle of the sound. Whether kneeling at a table talking to students, hugging an aspiring cellist whom he instantly christened "my brother," or rubbing shoulders with Harvard deans, he was ready to engage the University through music.
Ma was at HBS to perform with members of his Silk Road Project, the nonprofit group inspired by the cultural traditions of the ancient Eurasian trade routes. Ma and his Silk Road Ensemble will be in residence at Harvard for the next five years. In addition to presenting a series of performances, workshops, and collaborations with local arts, cultural, and educational institutions, Ma and his team will work closely with students and faculty around campus.
Already a musical prodigy when he arrived at Harvard as an undergraduate, the internationally renowned Ma has deepened his ties to the University over time through his passion for music. He is heartened by the breadth of musical choices across campus.
"Performance and education share one value in common: You want to make it memorable; if it's not, why do it?" Ma said in an interview. He praised Harvard's efforts to bring music into the classroom.
Music helps you to "grow your imagination," Ma said. "Everybody is talking about needing an innovative, collaborative workforce. And building a strong, disciplined, flexible imagination is absolutely key."
Artistic growth and renewal are central to Ma's mission, which dovetails with Harvard's recent efforts to bring the arts more fully into the daily life and fabric of the University.
Since 2005, Harvard has offered a joint, five-year program with the New England Conservatory. And the Department of Music, once largely a classical bastion, now offers courses on jazz and rhythm and blues.
Such support contrasts mightily with Harvard's earliest days, when music was strictly limited. But in 1808 a handful of students created the Pierian Sodality, its name a nod to the mythic Greek spring. The small instrumental group was dedicated to "mutual improvement in instrumental music," along with the "consumption of brandy and cigars as well as the serenading of young ladies."
The Sodality evolved into the Harvard-Radcliffe Orchestra, a collection of more than 100 musicians who present four major concerts annually. Director Federico Cortese, who succeeded longtime orchestra leader James Yannatos in 2009, said the talented young musicians under his tutelage offer him a type of flexibility and understanding that professional players can lack.
"Sometimes, you can explain things that have to do with the structure of the piece or with the background of the composition or the history of the composer, and they listen and manage to translate into playing rather quickly, while professional orchestras are normally less interested in those things and therefore less reactive."
Support from Arts Task Force
When Harvard President Drew Faust released the findings of her Arts Task Force, a group that recommended more support for the arts, including music, she said, "In times of uncertainty, the arts remind us of our humanity and provide the reassuring proof that we, along with the Grecian urn, have endured and will continue to do so. Now is the time to embrace, not retreat from, the arts."
And that is what has been happening. Last year, Faust announced Marsalis' performance and lecture series. Ma's Silk Road Project moved to Harvard last year in part to deepen its long relationship with the University and to participate in residencies, interact with students, conduct workshops, and share works in progress.
In November, contemporary composer John Adams '69, A.M. '72, returned to campus to discuss his landmark 1987 opera "Nixon in China" as part of a series of events marking the University's 375th anniversary.
The task force report coincided with the hiring of Diane Paulus '88 as director of the American Repertory Theater. Paulus quickly brought a number of musical productions to the Cambridge stage, including the opera "The Gershwins' Porgy and Bess," which had a sold-out Cambridge run and has since moved to Broadway.
"For me, the theater is music," Paulus said during a discussion last year with lyricist and composer Stephen Schwartz of "Godspell" and "Wicked" fame. "When you are doing theater," she added, "you want to take on every possible means of the theatrical event. And, for that, music is at the core."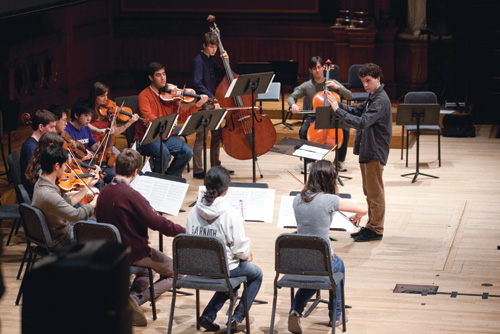 Expanding the Music Department
Harvard has come a long way since offering its first music course in 1855. Academically, Harvard's musical program has grown into a robust department with 20 faculty members who explore everything from Tchaikovsky to computer-generated sound.
Recent department hires emphasize the importance of merging the academic with the artistic. Jill Johnson, Harvard's new director of the Office for the Arts dance program, holds a joint appointment and will teach classes that explore music and movement. In addition, Cortese and Andrew Clark, Harvard's new director of choral activities, have assumed greater teaching responsibilities in the department.
To help students gain an insider's feel for the musical genius of composers such as Wolfgang Mozart and Giuseppe Verdi, Cortese has students in his class perform scenes from operas such as "The Marriage of Figaro" and "Falstaff."
"They are exploring really exciting teaching options," said Alexander Rehding, the Fanny Peabody Professor of Music, and chair of the department. "We are thrilled about this combination of performance and scholarship that was highlighted in the Harvard Arts Initiative."
Building on Faust's directive, performance is a growing part of the department's classes. Broadway choreographers and composers visit to provide their perspectives to a class on "American Musicals and American Culture." Persian master musician and visiting artist Bahman Panahi worked with students in the class "Music, Debate, and Islam."
In "The Operas of John Adams," students traveled to New York City to see "Nixon in China." During class, they met with director Peter Sellars '80 and with Adams. In "Music in Cross-Cultural Perspectives," students learned the intricacies of Ethiopian chanting.
"During the task force meetings, we really talked through the importance of having some sort of activity-based learning in the arts," said Ingrid Monson, Quincy Jones Professor of African American Music and a task force member. Her class "From R&B to Neo Soul: Black Popular Music and Cultural Transformation" trades final-exam nerves for stage-fright butterflies.
"One of my goals in allowing a final performance as an option is for students to have some kind of embodied learning," said Monson. "And nothing teaches more respect for popular music than having people try to do it themselves."
The department also has expanded its connections across the humanities, said Rehding. He cited the work of Harvard English Professor Daniel Albright, who co-taught a class on modernism with a member of the Music Department. Rehding has taught another course, in collaboration with the Department of Government, on music and political thought between Plato and Nietzsche.
Recent visitors to Harvard's Arthur M. Sackler Museum could experience a visual and audio creation of students in Professor Hans Tutschku's class "Introduction to Electronic Composition." The students put together electroacoustic works inspired by art. On the horizon are possible collaborations with the physical sciences, said Rehding, who hopes to explore connections with Harvard's Mind/Brain/Behavior Interfaculty Initiative.
"If you look back 10 or 20 years ago, I think there was a sense that music was unapproachable. You had to be able to read a score. You had to have highly specialized training in order to even begin to talk about it. I think those barriers have really gone down," said Rehding. "It's really nice to see that music is not this little island that is somehow feared. … It's part of the humanities."
The department also has expanded its worldview. Kay Shelemay, G. Gordon Watts Professor of Music and professor of African and African American studies, in 1993 created the department's program in ethnomusicology, which explores the intersections of music and culture globally. "It surely was a moment at which the academy had embraced cross-cultural musical studies, and I think Harvard realized that it needed to be part of it," said Shelemay.
Students make their own music
At Harvard, student pianists can tickle the ivories on close to 200 pianos, including the worn but wonderful Baldwin grand nestled below the Eliot House cupola, courtesy of alumnus composer and conductor Leonard Bernstein.
The Harvard Organ Society offers master classes and concerts. The Harvard University Choir often fills the Memorial Church with song. Annual productions transform the dining halls in Dunster and Lowell Houses into settings for grand operas. There are student-produced musicals and a dizzying range of student-led music clubs dedicated to everything from Motown to mariachi. Students play in the Bach Society and the Brattle Street Chamber Players, among the many classical outlets.
The Harvard University Band has been making music and mayhem since 1919.  Campus a cappella groups abound. And students at WHRB radio offer listeners classical, jazz, underground rock, and more.
Undergrad George Zuo '13 arrived at Harvard with serious musical chops. He began piano lessons at age 3, followed by years of intense study of the trumpet. For much of his young life, classical orchestras, brass quintets, and wind ensembles were the norm.
But, Zuo, who is Chinese-American, had a revelation while attending a freshman activity fair when, from across the room, he heard someone yelling for a trumpeter. He investigated and stumbled onto a recruiting call for Mariachi Véritas de Harvard, the University's 11-member mariachi ensemble.
"Playing the same thing over and over was getting a little dull," said Zuo. Now the group's president, he helped lead the largely self-taught troupe (who study YouTube videos of mariachi style and rely on the knowledge handed down from more-experienced members) to San Jose, Calif., to play in front of 13,000.
"When they see us come in, they say, 'Wow, this group is really different.' It's a very interesting clash of cultures. It's definitely something I take pride in," said Zuo. "It's amazing what it's done for my cultural literacy. It's been kind of an adventure."
Senior Matt Aucoin is something of a living musical legend on campus. An English concentrator, Aucoin started playing the piano seriously at age 6 when he realized that the instrument was a means of "saying what I wanted to say."
Worried that a school like Juilliard might mean endless hours locked in a practice room with time for little else, he rejected the conservatory road in favor of Harvard and its ample musical opportunities.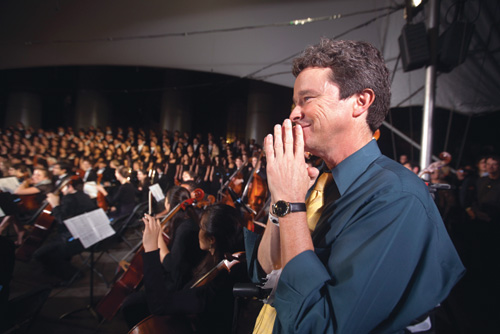 "I knew one's education needed to be more than that. When the time came to make a decision, I looked at what Harvard had to offer. It seemed I could make my own musical life here in a way I couldn't anywhere else. I really loved that independent spirit."
Aucoin, who has studied conducting in Italy and Austria, has been conducting and composing since entering Harvard. He staged his first opera during his freshman year and will roll out another at the end of the spring semester.
One Harvard organization in particular helps students to find their musical way.
For close to 40 years, Harvard's Office for the Arts (OFA) has supported student artistic endeavors. The OFA offers music lesson subsidies; project grants for musical groups; space and staff for hundreds of concerts annually; and the Artist Fellowship Program, which aids gifted musicians and composers. Each year, its Learning From Performers series brings to campus professional musicians such as Renee Fleming and Suzanne Vega for workshops, master classes, and performances.
"We like to think of ourselves as being proactive, creating opportunities for students to thrive in music and all other artistic pursuits," said OFA Director Jack Megan.
The OFA also supports Harvard's professionally led instrumental and choral ensembles. The conductors of groups like the Holden Choirs (Harvard Glee Club, Radcliffe Choral Society, Harvard-Radcliffe Collegium Musicum), the Kuumba Singers, and the Harvard Jazz Bands "are really the tangible day-to-day presence of OFA involvement in mentoring student musicians," Megan said.
In addition to producing polished performers, Harvard's student groups also have created a corps of seasoned and savvy arts administrators.
Arthur Rishi '90 sang in the Harvard-Radcliffe Collegium Musicum and managed it for his last two years as a Harvard student. The tenor said he learned the intricacies of the music business through the hands-on approach that is a norm at Harvard, something that has served him well in his career as a professional singer and concert organizer. He currently runs a series of concerts in the Class of 1959 Chapel on the HBS campus.
"All of the behind-the-scenes work, the fundraising, the ticketing, the marketing are done by the students, and a lot of people think that is a negative to the arts scene at Harvard," said Rishi, "but I disagree. I had so much training during my undergraduate days … it was just a fantastic experience, and it was very empowering."
Music's effects in classes
Music also can be an important classroom tool, helping to explore topics ranging from the workings of the cranium to copyright infringement.
At HBS, Stefani Joanne Angelina Germanotta, better known as pop sensation Lady Gaga, is helping students to understand decisions made in the music industry, said Anita Elberse, associate professor of business administration, who leads the popular elective "Strategic Marketing in Creative Industries," which uses 24 cases from the entertainment field.
Elberse, who authored a case study on Gaga for the course, said that by examining decisions made by the singer's management team, students "better understand the economics and intricacies of the concert business."
Germanotta also recently partnered with Harvard's Berkman Center for Internet & Society to create a nonprofit that promotes youth empowerment. In addition, a collaboration between the Berkman Center and the Berklee College of Music organizes yearly conferences about the music industry.
Research aimed at unlocking the mysteries of the brain and helping patients to recover from head injuries is the domain of Gottfried Schlaug, Harvard Medical School (HMS) associate professor of neurology and director of the Music, Neuroimaging and Stroke Recovery Laboratories at Beth Israel Deaconess Medical Center and HMS.
Elsewhere, the Arts in Education Program at the Harvard Graduate School of Education promotes school learning in the field. Students in the master's program craft their studies around areas of interest, with music front and center among their choices.
The Loeb Music Library has more than 140,000 digitized scores that offer insights into musical masters with the click of a mouse. Recently, the library acquired the archives of Georg Solti, a comprehensive collection of the famous Hungarian conductor's methodically marked-up scores.
In Boston, a Harvard alumna and campus musician, Lisa Wong, is the longtime president of the Longwood Symphony Orchestra, a group largely composed of health care professionals from the city's leading hospitals and universities. Many of those professionals have ties to Harvard.
What began as a small, informal chamber group has grown into a large orchestra with rigorous tryouts and a mission to help others. The symphony performs and raises money for a host of community partners that aid underserved populations in the area. Every other year, the group convenes a symposium with leading authorities in the arts and sciences around the intersection of music and medicine.
"We realized that playing music to raise awareness about public health issues was our raison d'être," said Wong.