She has the most renowned wardrobe on the planet, a legion of fans she calls "Little Monsters," and multiple Grammy Awards. Now, she has collaborators at Harvard, too.
Pop sensation Lady Gaga launched her anti-bullying, youth-empowering Born This Way Foundation (BTWF) at Sanders Theatre on Wednesday during an Askwith Forum sponsored by the Harvard Graduate School of Education (HGSE).
The event drew a powerful lineup of anti-bullying advocates, researchers, and celebrities, including a powerhouse trio of women — Gaga, talk show host Oprah Winfrey, and U.S. Secretary of Health and Human Services Kathleen Sebelius. Gaga was accompanied by her mother and group co-founder Cynthia Germanotta.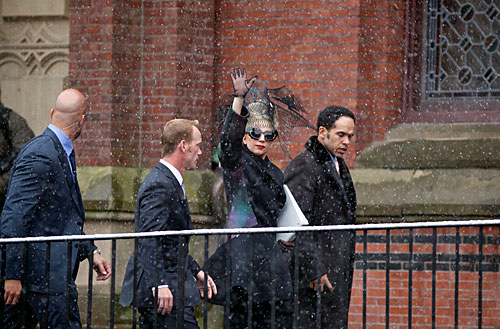 "What a banner day for Harvard to have all three here in Sanders Theatre combining their power, directing their influence to advance, as the Born This Way Foundation puts it, 'kindness, bravery, acceptance, and empowerment,'" said Harvard President Drew Faust, who introduced Winfrey. "We are honored to join with you in proclaiming to the world that it gets better."
Gaga was joined by a panel that included author Deepak Chopra, Jesse Climenko Professor of Law Charles Ogletree of Harvard Law School, bullying expert and psychologist Susan Swearer, actor David Burtka, and Alyssa Rodemeyer, the teenage sister of Jamey Rodemeyer, a 14-year-old victim of bullying who committed suicide last year.
Gaga stressed that her new charity will try to inspire a major cultural shift.
"I can't give you an answer. I can't say I will solve problems," said the singer. "It's a transformative change in culture over time."
An important part of that change, she said, includes the three pillars of the new initiative: skills, safety and opportunity. "I want everyone to feel safe in their community, school, home, whatever city you live in," and to develop the skills needed to be a "loving, accepting, and tolerant" human being, Gaga told Winfrey.
"Once you feel safe in your environment and you acquire the skills to be a loving and accepting person, the opportunities for you are endless to become a great, functioning" part of society.
Using technology creatively to get her message across will be another vital part of the new initiative, said Gaga.
"It's going to take a really long time, and if anyone knows how to get a message out there, it's me."
Winfrey took the stage to interview the singer about her plans. Gaga's initiative, Winfrey said, speaks to the innate human desire for acceptance and validation that she saw time and again during her work as a television interviewer.
"I believe that every human being on the planet comes with the inherent divine right to be himself and herself," Winfrey said. "That's what we're here to do: to fulfill the highest expression of ourselves as human beings."
The nonprofit organization is partnering with Harvard's Berkman Center for Internet & Society to address issues of self-confidence, anti-bullying, mentoring, and career development through research, education, and advocacy, in large part by harnessing the power of the Internet.
"We are coordinating a research network to help inform the foundation as it carries out its work," said Berkman Center co-director John Palfrey in an interview earlier in the day.
Palfrey and the Berkman's Danah Boyd will serve as research fellows for the foundation and work closely on the initiative with the center's executive director, Urs Gasser, as well as its Youth and Media Project.
The decision to launch the foundation at Harvard was somewhat serendipitous, according to Kathleen McCartney, dean of HGSE and Gerald S. Lesser Professor in Early Childhood Development, who spoke at the start of the event. HGSE had already planned to invite Gaga to an Askwith Forum to celebrate her ongoing work in anti-bullying and youth-empowerment advocacy before it knew of the foundation, McCartney said.
"All of us who care about young people are fortunate to have Lady Gaga getting us on the right track," McCartney said. "We're so proud she has chosen to launch her foundation today at Harvard."
The singer and her mother took part in other events on campus Wednesday organized around the foundation launch. Germanotta visited Harvard Law School in the morning to participate in a discussion with more than 75 researchers, activists, teachers, and funders around the topic of youth empowerment. Later in the day, Gaga and her mother stopped at HGSE, where they took part in an anti-bullying summit that included students from Massachusetts and California.
The foundation was created, its website states, "to foster a more accepting society, where differences are embraced and individuality is celebrated," and it is "dedicated to creating a safe community that helps connect young people with the skills and opportunities they need to build a braver, kinder world.
"This is the beginning of a journey that we will all take together," said Germanotta.
It was also a dream come true for a select group of Gaga's fans. Boston-area high schoolers and student leaders from the California Endowment's Building Healthy Communities Program (a sponsor of BTWF along with the John D. and Catherine T. MacArthur Foundation) lined the front rows of the event.