Harvard students and staff alike were drawn to Hasty Pudding's Man of the Year, actor and writer Jason Segel, as he took a tour of the Harvard campus on today.
The Radcliffe Pitches, Harvard's oldest female a capella group, serenaded Segel on the steps of the Memorial Church, performing numbers such as "Orange-Colored Sky" and "Peel Me a Grape." Segel, who sang a number of songs in last year's film "The Muppets" — including "Man or Muppet," which is nominated for an Academy Award for Original Song — appeared delighted by the surprise performance. During the final number, the Pitches' signature song "You'd Be Surprised," Segel even burst into a spontaneous waltz with soloist Haley Bennett '13.
"That was amazing!" Segel said at the end of the performance. "You guys sound fantastic; thank you so much."
When two students approached Segel to ask for a picture, he immediately agreed. "He's just awesome," said Alex Almore '12, who snapped the picture with her phone. "We're really excited that he's here — and then we were so close!"
"He seems like such a personable guy, so we didn't think that he would reject us," said Sarah Cirone '14. "He was so nice."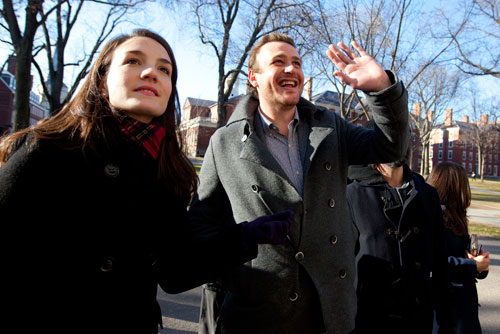 At the John Harvard Statue, Segel interrupted the tour guide to ask if others also saw a woman in the window wearing a handmade field-goal post on top of her headband, in preparation of the upcoming Super Bowl. "That's not just me, right?" Segel asked, laughing. "You guys see her, too?"
Patriots fan and Harvard employee Elaine Cox, financial and executive assistant, then emerged from Harvard Hall to offer Segel a Harvard knit cap. "We have a Giants fan in our office, and I just wanted to tease her," Cox said, laughing. "I didn't get a picture (with Segel), but I did get a hug!"
Shannon Inghram, assistant to the dean, had kept watch to see when Segel arrived at the statue. "He's adorable," Ingram said of Segel. "I saw him on 'Saturday Night Live' a few weeks back, and loved "The Muppets.' He's such a good writer and actor, and it was great to see him on campus."
Later this evening, the producers of the Hasty Pudding Theatricals, Jyotika Banga '13 and Mary Jane Sakellariadis '13, hosted a celebrity roast for Segel and presented him with his Pudding Pot in Farkas Hall. Also tonight, the Hasty Pudding will open its 164th production, "There Will Be Flood." The Hasty Pudding Theatricals named Claire Danes its Woman of the Year. She was honored with her Pudding Pot on Jan. 26.