Fans of iconic photography gathered in Mather House's Sandra Naddaff and Leigh Hafrey Three Columns Gallery for the Dec. 8 opening of its latest exhibit, a collection of works by legendary photographer Walker Evans.
John T. Hill, designer and producer of the exhibition — "Walker Evans: Before and After the FSA" — was a friend and colleague of Evans at Yale, and executor of his estate. Following the opening, Hill discussed the artist's inspirations and creations in a seminar co-sponsored by the Rethinking Translation seminar of the Mahindra Humanities Center.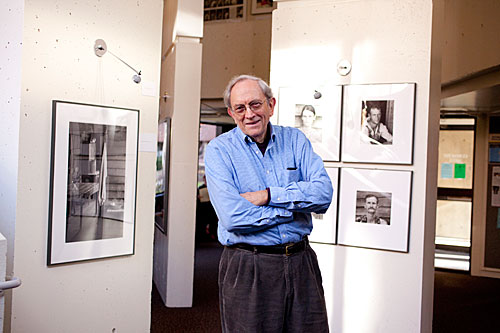 Hill, who also was a friend of Mather House Master Christie McDonald's family, presented Evans' life through his photographs, chronicling his travels and influences over time. Evans is most closely associated with his starkly elegant photographs of Farm Security Administration (FSA) tenant farmers, but Hill said Evans' other work should not be overlooked.
"Evans' work for the FSA is what he is best known for. But I wanted to show that he had a life before and after that," Hill said. "He had trouble giving a name to his work. He called it 'straight photography,' then 'lyric photography." His whole way of looking at it was very anti-art. He gained inspiration from the tabloids, postcards — anything. His art was very vernacular."
Evans loved books and knew that they would circulate long after photo exhibits closed, so many of his first photographs were taken to reflect authors' works. In 1930, he published photographs of the Brooklyn Bridge with Hart Crane's epic poem "The Bridge."
In 1933, Evans photographed a Cuban revolt for the publisher of Carleton Beale's book "Crime of Cuba." Evans insisted that his photos never simply illustrated a book. He presented them as visual commentary to the text.  Readers loved Evans' cool, black-and-white photography contrasted against Beale's hot political prose.
In 1935, Evans began photographing for the Resettlement Administration (RA) and then for the FSA. In the summer of 1936, Evans accompanied writer James Agee to rural Alabama to photograph tenant workers for Fortune magazine. The article was canceled, so Agee and Evans decided to collaborate on a book called "Let Us Now Praise Famous Men." The first edition sold only 600 copies, but the book gained popularity after the publication of Agee's "A Death in the Family" and has since taken its place in the ranks of great American literature.
After leaving the FSA in 1937, Evans began taking pictures of riders on the New York City subway. He would hide a camera in his coat and snap the shutter as people went about their days, eventually creating a fascinating study of American life in the 1930s. These photographs were later published in his 1966 book, "Many Are Called."
In 1945, Evans began working for Time Magazine, and shortly afterward moved to Fortune magazine, where he was an editor until 1965. According to Hill, his two obsessions late in life were photographing signs and, after he became too weak to handle large equipment, using a Polaroid camera to take head shots.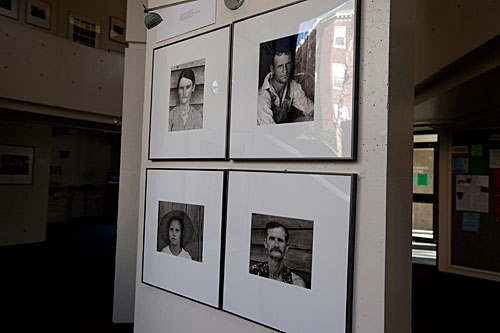 "Evans was not about beauty," Hill said. "He was about getting the information and presenting it clearly."
Hill, who became the executor of Evans' estate when Evans died in April of 1975, gave all of his work except for the RA and FSA photographs to the Metropolitan Museum of Art in 1994. Since then, the Metropolitan Museum of Art has "done an incredible job of conservation and promotion of his work." The RA and FSA photographs are now in the Library of Congress and are in the public domain.
The Mather exhibit contains Hill's prints of Evans' original photographs. Hill, who created the exhibit, said he tried to keep the it free from his own influence, but admitted that his "fingerprints are all over this stuff. There's no way of getting around that."
"Walker Evans: Before and After the FSA" will be open to the public (on a limited basis) starting in January in Mather House's SNLH Three Columns Gallery, 10 Cowperthwaite St., through March. Visiting hours are Tuesdays, 2-4 p.m., Wednesdays, 7 -9 p.m., and Thursdays, 2-4 p.m. (please check in at the Guard's Office).