With temperatures plummeting, surrounded by exotic drag queens, Woman of the Year Claire Danes led the Hasty Pudding Theatricals parade down Massachusetts Avenue.
Jacqueline Rossi '12, a member of the Harvard comedy news show "On Harvard Time," arrived in costume with other performers to dance in the parade. Dressed as "a young Drew Faust," Rossi said that Danes was an inspirational performer. "Right now, I'm halfway through 'Homeland,' " Rossi said, referring to the 2012 Showtime series starring Danes. "I think it's great — all my roommates were thrilled to find out that she was the Woman of the Year. She has such a great sense of humor, and we're happy that she's here. I hope that she sees Harvard in all its humorous glory."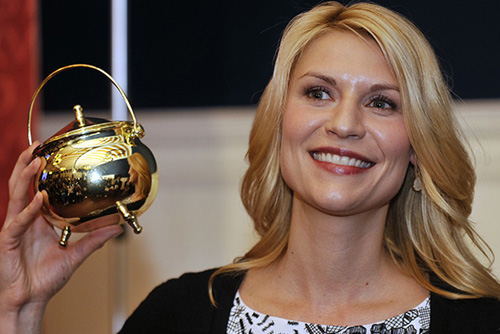 Tyler Faux '13, press and publicity manager for Hasty Pudding Theatricals, said that Danes' wide range of experience influenced the decision to name her as Woman of the Year. "She's a tremendously diverse actress who's worked in theater, film, and television, and she's now won Golden Globes for Best Actress two years in a row," Faux said. "Not to mention that she's also so young — she won her first Golden Globe at age 15 [in 1995, for the TV series 'My So-Called Life']. She's a brilliant actress and we're so glad to have her as the Woman of the Year."
Led by the Harvard University Band, Harvard cheerleaders, costumed dancers from "On Harvard Time," and the Hot Tamale Brass Band, the parade also embraced the tradition of Hasty Pudding members dressing in drag. As the entourage posed dramatically before a gaggle of photographers, one distinguished gentleman, who declined to be identified, tilted his head.
"Wait. Are they all men?" he asked, squinting. "Some of them look pretty good!"
Earlier in the day, Danes and her husband, Hugh Dancy, toured Harvard Yard. Danes, who seemed at home on the Harvard campus, blended in as throngs of students rushed to class.
Learah Lockhart '12 led Danes on a tour of Massachusetts Hall, the Memorial Church, Widener Library, and the John Harvard Statue. After dissuading Danes from rubbing the statue's shoe, Lockhart went on to describe the Harvard tradition known as "Primal Scream," in which hundreds of students strip down and run around Harvard Yard on the last night before final exams.
"Wait, a few hundred people, simultaneously naked and running around in the middle of the night?" Danes said, grinning. "Oh, you dirty, naughty people."
At the end of the parade, Hasty Pudding President James Fitzpatrick '12 and the vice president of the cast, Ryan Halprin '12, roasted Danes and presented her with the traditional Pudding Pot.
The Hasty Pudding Theatricals named actor and writer Jason Segel as its 2012 Man of the Year. The Man of the Year festivities will be held on Feb. 3. The producers of the Hasty Pudding Theatricals, Jyotika Banga '13 and Mary Jane Sakellariadis '13, will host a celebrity roast for Segel and present him with his Pudding Pot at 8 p.m. in Farkas Hall. A press conference will be held at 8:30 p.m. That evening, the Hasty Pudding also will open its 164th production, "There Will Be Flood."