From a window of her office in the Barker Center, English Professor Leah Price can see the apartment of Pulitzer Prize-winning novelist Junot Díaz.
She knows that apartment well. His kitchen, for instance, is no ordinary one. His book collection extends into the room dedicated for cooking, and beside the refrigerator there's a bookshelf stocked with J.R.R. Tolkien, a biography of Che Guevara, and "The Third God" by Ricardo Pinto.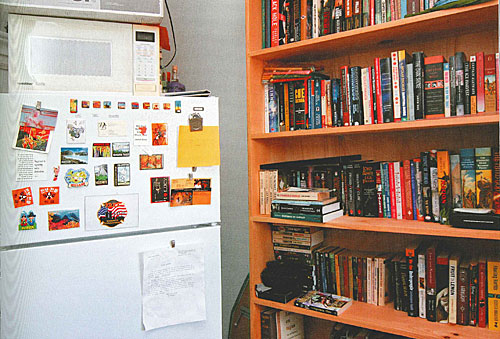 This glimpse into Díaz's library and home is documented in Price's new book of interviews and photographs, "Unpacking My Library: Writers and Their Books." In it, Price details the reading routines and kaleidoscopic bookshelves of leading authors such as Alison Bechdel, Stephen Carter, Rebecca Goldstein, Steven Pinker, Claire Messud, Jonathan Lethem, and others.
"As a literary critic, I've thought a lot about authors reading, and the relationship between reading and writing. I wanted to interview people whose work I liked a lot and people who I thought would be not just interesting writers, but interesting readers," Price said.
"It's great to be able to go to someone's apartment, look at their bookshelf, and say, 'Hey, you have a copy of this; it looks like you've cracked the spine with repeated re-readings; what do you love about this book? How do you arrange your books? What do you do with the books you don't want anymore? Do you sell books you don't want? Do you give them away? Do you write in books?'"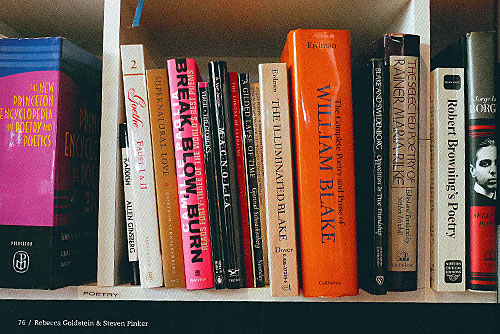 The results are revealing. "Asking people about their books is a good way of getting them to open up because it's more oblique than asking them about themselves, and yet so much of the self comes out in which books you own," she said.
While talking books, Díaz admitted that he has read aloud to others, but he "never had anyone read to me, really."
"My father and I aren't especially close," divulged writer Lev Grossman. "He's in the late stages of Alzheimer's and can't read anymore. When my parents moved out of the house where I grew up, my mother sold off his library — it was like they were breaking up his brain, the same way the Alzheimer's was doing. I couldn't take the whole thing, but I rescued a few volumes."
And who knew that Harvard's own Steven Pinker appeared in an infomercial for the shelving system he uses? "I believe in the product, so I did a hammy sales pitch, which ended up on a new website that I was only dimly aware of at the time: YouTube."
"One of the things that also came out in these interviews is that books can both bring people together and drive them apart," said Price. "I interviewed three couples, and they all talked in different ways about whether and how they interfile their books, what you do when you move in with someone, if you get rid of your duplicates, and, if you are, whose copy do you put out on the curb?"
Price asked each writer for his or her top 10 books — an unnerving task for anyone. "With the couples, it was interesting to see whether or not they'd put their partner's book on their list."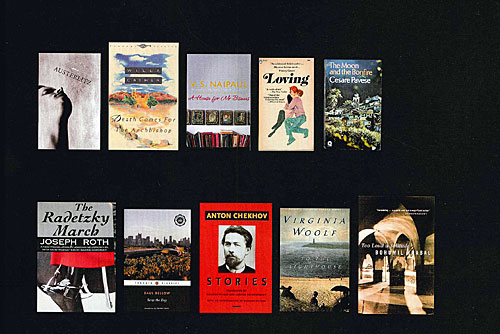 Pinker's wife, novelist and philosopher Rebecca Goldstein, did include his hallmark tome "How The Mind Works," but also selected "The Collected Dialogues" by Plato, "The Complete Notebooks of Henry James," and "Middlemarch" by George Eliot, "the book that came up most often out of all the authors," said Price.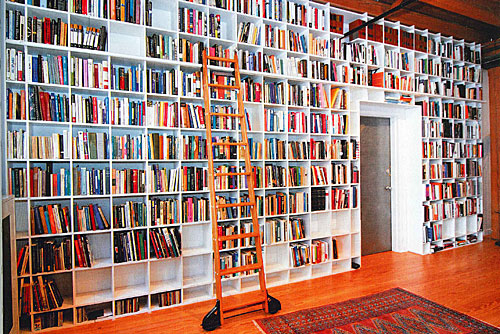 "For me, editing this book was a treat, because I'm used to working on dead writers," said Price, whose primary field is the 18th- and 19th-century British novel, although she does enjoy a good detective read.
"One of the great luxuries of a book is that it hides you from the outside the world," she said. "If you think about the phrase 'someone who has their nose in a book,' there's a way in which you're enclosed inside the fold of the pages. The book is protecting you."