Architect Diébédo Francis Kéré — a recent visitor to Harvard — has an office in Berlin. But his heart is in Burkina Faso, the tiny West African country of his boyhood.
"More than 80 percent are illiterate," he said of his compatriots. "Most of the people never heard of the term 'architecture.' [They think] maybe it's a kind of food."
Kéré, who delivered a Dean's Diversity Initiative lecture Nov. 10 at the Harvard Graduate School of Design (GSD), uses architecture to explore local building techniques, sustainable materials, and climate-appropriate design. Not surprisingly, he sees education as the way out of poverty, and building the right schools as a step in that direction.
Schools in West Africa and elsewhere should not be technical transplants of Western styles and materials, said Kéré, but a blend of modern and traditional techniques that empower local populations and sustain local resources.
Illiteracy is a fact of life in Burkina Faso; so is poverty. People can't afford technical help when building, said Kéré — "they just copy the new house in the neighborhood." At the same time, regarding the built environment, expectations are low. "People in this part of the world are happy," he said, "when you build them a wall that is strong and stands up in the rainy season."
In a land of clay houses, many of them built in a few days, repairs have to be made after every rainy season. Meanwhile, modern additions such as roofs of corrugated tin are not good performers in West Africa's torrid climate. Kéré showed a slide of a typical primary school, a rectangle of clay topped with a tin roof. "I myself have sat in a building like this with 120 other children," he said of his boyhood. "This is not a place to teach people, but more a place to cook bread."
Kéré came to architecture with other ideas, and an impulse to blend the sensibilities of the old and the advances of the new. As a third-year student in Berlin, he designed a primary school in Gando, a village of 3,000. To make clay bricks from local soil, he added a strengthening mixture of 6-to-8 percent cement.
The roof was tin, but rode sail-like on a lattice of steel bars. Its wide overhangs protect clay walls from rain and let hot air rise and cool breezes circulate. The tools required for the metal work were simple: handsaws, a small welding machine.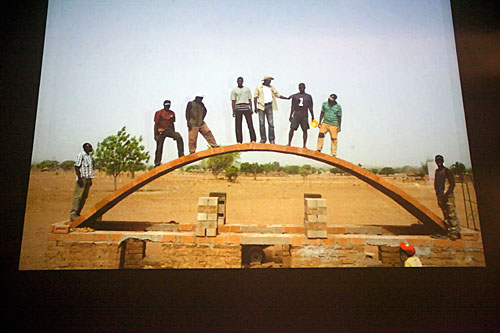 The floors were traditional stamped clay impregnated with natural oils. To make the pebblelike soil smooth and flat, the women of the village spread it on the floor and beat it for hours into a sandlike consistency. Local drummers, a regular part of construction crews, marked a rhythm. With the right beat, said Kéré of the floor makers, "the weakest and the strongest are the same."
Local workers using local materials built the school in nine months, at a cost of less than $30,000. Ten years later, said Kéré, the robust structure looks like it did on the first day. The design won an Aga Khan Award for Architecture in 2004, inspired local imitators, and made the village famous. "The people are proud — really proud," he said. "That's what you can do with a little project."
Few design projects "leave a true mark," said GSD Dean Mohsen Mostafavi. Kéré's Gando primary school is one of them. He called it a bridge "between the cultures of the West and the cultures of Africa."
At Gando, Kéré did more than design and supervise, added the dean — he "created the organizational circumstances for raising the money." Financing was a key problem, so in 1999 Kéré set up a nonprofit called, in translation, "Bricks for the Gando School."
In 2006, Kéré received 70,000 euros to build a secondary school in Dano, a Burkina Faso market town known for weaving and pottery. "When you have a project like that, a tiny budget, you need people who can fight," he said in praise of his local staff, "who can go to the market and buy more with less."
For that project, he used another local material — laterite, an iron-rich soil that is harvested soft, spaded into brick shapes, and sun-dried into rusty-red building blocks.
He convinced the local elders that having an open-air school would not only circulate cool air, but it would be open "even for the ancestors," said Kéré. Building in other cultures requires "more than building regulations," he said, including listening, respect, and a feel for local materials.
Sometimes, projects have to happen very fast. In 2009, Kéré was commissioned by the Aga Khan Trust for Culture to be lead architect for the National Park of Mali in the nation's capital, Bamako. "We had little time to make this complicated project," he said — on a rocky 250-acre site. "You have to fight . . . and not look for the easy way."
When he arrived in Mali, everyone had already settled on building everything with concrete. Kéré said, "Let's go to the market. Let's see what we have." He designed a museum of local clay and rock, with bricks manufactured on-site.
The park today has a sports center, gardens, and a restaurant open to the air and light, Kéré-style. It's Mali's biggest tourist attraction, and a rare segment of green space in a fast-growing city of one million.
Kéré, who also teaches at the Technische Universität Berlin, has done projects all over the world — a garden in China, a girls' school in India, school prototypes in Yemen, projects in Switzerland and Spain, even an "opera village" just outside Burkina Faso's capital, Ouagadougou. But his architectural principles stay the same — "more for less," the name of a conference in Spain he spoke at last year.
Mostafavi, who created the diversity initiative in 2008, said there is a growing interest at Harvard in "activist practice" by architects "that make a big change in the world.