Celebrated Israeli novelist David Grossman immerses himself so deeply in his writing that the surrounding world becomes reflected in the words he crafts, and finishing a book after years in its grip becomes a harder task than beginning it.
"Everything suddenly fits into what I'm writing," Grossman told a packed Science Center Tuesday night. "When I write about love, all the world is in love. When I write about jealousy, everyone is jealous.
Grossman, the internationally known author of eight novels and two nonfiction works, described the strange alchemy that occurs during writing, how authors are "fed" by their characters, and how sentences that they didn't know were inside them emerge on the page.
Grossman, who is also a prominent peace activist, discussed his latest novel, "To the End of the Land," whose U.S. edition was published last year. Grossman opened his talk by describing the book, which was acclaimed in a New York Times review by writer Colm Toibin, who wrote: "To say this is an antiwar book is to put it too mildly, and in any case such labels do an injustice to its great sweep, the levels of its sympathy.
"To the End of the Land" tells the story of Ora, a mother whose son Ofer has enlisted in the military. She had planned a hike with him in Israel's north when his three-year enlistment ended, but at the last moment he re-enlisted, volunteering for a major offensive. Ora is stricken, and decides to avoid any painful notification of his death by going on the hike anyway, taking along Ofer's father, Avram, the love of her life, but a man broken by his experience as a POW during the 1973 Yom Kippur War. As they walk, she tells Avram about her son's life, in which he had been uninvolved.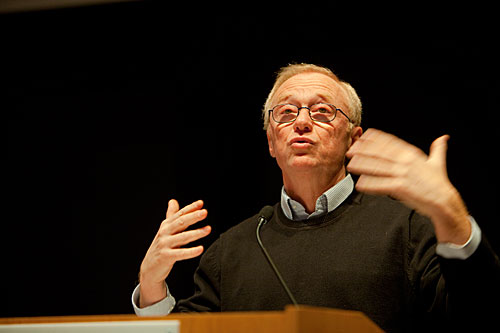 Grossman began writing the book in 2003 and was almost done with it in 2006, when his own suffering melded with his character's fears. His youngest son, Uri, was killed during the Second Lebanon War.
The heart of writing, Grossman said, is getting to know a book's characters intimately, in a way that is impossible with other human beings. Even when it comes to those with whom we are most intimate, we shy away from complete knowledge, Grossman said. With our children, we avoid the darker corners of their characters; we may know our lovers better than others, but still not completely.
"To me, the heart of writing is the privilege of knowing other people from within," Grossman said. "Usually, we are quite protected from the other. … We develop an instinct of not being totally exposed to the hell within the other."
Writing a novel involves creating a suite of characters whom you know so intimately that they become like a family you're hiding during wartime and to whom you take food and news daily. The whole of a book, he said, somehow becomes greater than the writer.
"I believe books are much more clever, courageous, and generous than their writers," Grossman said.
Grossman wrote about a family, he said, because he has always been fascinated by the concept and believes it is the unit where the most important moments happen — not in the corridors of power but in kitchens, bedrooms, and children's rooms.
The setting of the book is in Israel's north, which some people view as dangerous. But Grossman said the only danger there is from animals. To look around at nature, he said, is to understand how permanent the Earth is and how temporary humans, their wars, and their problems are.
"You realize how terrible it is that we're wasting our time and wasting our lives on something that could and should have been solved years ago had we been more courageous," Grossman said.
His appearance was sponsored by the Center for Jewish Studies and co-sponsored by the Center for Middle Eastern Studies. He was introduced by Shaye Cohen, Littauer Professor of Hebrew Literature and Philosophy and director of the Center for Jewish Studies.