When the Old Quincy Test Project wraps up in the summer of 2013, undergraduates will return to a re-envisioned House that is more comfortable, more modern, and more capable of hosting academic and social activities. Among the many updates and upgrades, though, is one that's sure to make students stand up — or rather, lie down — and cheer.
"The renewal will completely eliminate walk-through bedrooms in Old Quincy," said Steve Needham, the project's program manager. "Students said they wanted more privacy, and this will help."
The renewal of Old Quincy will do a lot more for residents than enable them to get a good night's sleep. New common spaces will allow for revamped programming — both academic and extracurricular — for students hungry to do and learn more. Updated systems will give residents climate control. (No more throwing the windows open in January to cool sweltering bedrooms.) Energy-efficient upgrades also will help Harvard to achieve its goal of a 30 percent reduction in greenhouse gases by 2016.
"The aim of the project is to test our ideas of what residential life for 21st century Harvard students should look like," said Michael D. Smith, dean of the Faculty of Arts and Sciences (FAS) and John H. Finley Jr. Professor of Engineering and Applied Sciences. "Our goal is not only to modernize the space, but also to take advantage of a once-in-a-century opportunity to renew the living and learning experience, all while preserving the traditions and historic character of the House."
The project is the result of years of planning and consultation between University administrators and planners, undergraduates, and building professionals. Harvard College Dean Evelynn M. Hammonds, chair of the House Program Planning Committee (HPPC), said that her group engaged faculty, students, and staff in a yearlong conversation about the mission and purpose of the undergraduate Houses.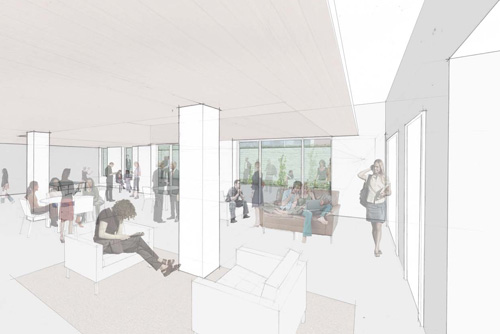 "The HPPC explored the ways that the House system could continue to serve the College in the future," said Hammonds, the Barbara Gutmann Rosenkrantz Professor of the History of Science, and professor of African and African-American studies. "We found that the values and strengths of House life were still relevant to Harvard's approach to undergraduate education. Even in an age where technology allows students to talk and work with people all over the world, the residential community is still a critical component of the learning experience."
After the committee delivered its findings and recommendations in March 2009, the central administration's project management group began working with staff from FAS and the College on a test project that would enable planners to roll out design concepts and learn lessons that could be applied to the renewal of other Houses when financial resources allow. Planners determined that the river Houses, the oldest of Harvard's 13 Houses, were most in need of renewal. Needham said they recommended Old Quincy because its neo-Georgian architecture is typical of the other river Houses, and because its size and characteristics make renewal less complicated.
"Old Quincy contains only bedrooms for students and tutors, and doesn't include any kind of specialized House spaces, like a dining hall or master's residence," he said. "This makes the logistics for swing space and construction relatively simple and also gives us the best opportunity for testing design solutions. Living spaces (bedrooms) make up close to 75 percent of the space in a typical House, and Old Quincy contains mostly living spaces."
Once the site of the test project was identified, planners invited students from Quincy and the river Houses to participate in a feedback group that would inform the renewal process. Senan Ebrahim '12, one of the group's co-chairs, said he and his classmates made two important recommendations.
"First, we let the Quincy renewal project leads and architects know what we wanted to see in the new House," said Ebrahim. "Second, we made recommendations to the deans about ways to optimize the student experience during the year of construction."
The project is scheduled to begin in late May 2012 and finish in the summer of 2013. During this time, about 180 students will be housed in "swing space" at Hampden Hall, Fairfax Hall, and Ridgely Hall. Each of the Harvard-owned apartment buildings will offer students modern amenities such as in-suite bathrooms, kitchens, and cable hookups. Ebrahim said the interim housing should be a step up for relocated students.
"The swing spaces generally provide better accommodations than Old Quincy currently does, so students living there should hopefully have a very positive residential experience," he said. "The main challenge will be facilitating a great social experience for the students who are living in the swing space. Fortunately, the swing buildings are all relatively close to Quincy, so it is a challenge we should be able to meet — especially by working with the House committee."
Once under way, the test project will substantially upgrade Old Quincy's look, feel, and function. The renewal will not only eliminate walk-through bedrooms but also will create new single rooms and add elevators for accessibility. Entryways will be connected horizontally via internal corridors to increase student circulation throughout the building.
"The renewal will balance continuity of tradition with change," said architect Stephen Kieran.  "So the historic entryways will remain, but the new horizontal connections between them will enhance accessibility and safety, and also encourage new communities of students, tutors, House masters, and deans."
Some of the biggest changes will occur on the lower level. In addition to new seminar and meeting rooms and practice space for musicians, the renewal will address a perennial concern for students: the need for additional social space. A large multipurpose room with flexible furniture configurations will lead out to an open-air terrace, making it one of the most attractive spaces on campus for events and activities.
"The design of the renewed Old Quincy will incorporate social spaces that are larger and easily programmable," said Lee Gehrke, master of Quincy House and professor of microbiology and molecular genetics at Harvard Medical School. "Extracurriculars are very important to our students, and we want to encourage and facilitate student activities and organizations by providing spaces that allow them to meet, exchange ideas, rehearse, perform, create, and step out of their comfort zones.
Changes to increase energy efficiency will be less visible, but no less important. Although Old Quincy's exterior appearance will remain the same, the building will be made weather tight. Contractors will blow insulation into the walls and replace existing windows and doors with energy-efficient ones. Needham said the goal is to create a "high-performance building."
"Through all the planning to date, sustainability and energy-efficient operations have been top priorities," he said. "We're aiming for Leadership in Energy and Environmental Design (LEED) Gold certification by using proven technologies and by providing students with opportunities to influence the energy profile of the building through interactive tools and controls."
Perhaps the greatest challenge of the test project — particularly given the pace of technological change — is its mandate to "accommodate the future." Only 25 years ago, many Harvard College students wrote their papers on typewriters and used a card catalog to locate books in Harvard's libraries. Few owned a cordless phone, much less a cell. A modernization of student space at that time could hardly have taken into account the need for T1 lines and wireless hubs. Now, the architects of the Old Quincy renewal are planning not for one generation, but for three.
"When you do a renewal, you're anticipating 50 to 75 years before the next one," said Needham. "So one of our priorities is to build in as much flexibility as we can, particularly in terms of IT infrastructure. We want to incorporate as much technology as possible, but technology that's proven to work and provide a benefit."
Gehrke has high hopes for the project. He said the renewal will create an "optimal learning environment" for students and provide a safe and welcoming home that encourages connection, study, and exploration.
"Learning takes place not only in quiet individual spaces, but also in group study for problem sets, or debating ideas based on a reading," said Gehrke. "Old Quincy is ideal for this, but right now our space is limited. The test project will create places for new interactions between students and faculty, and also accommodate a student population with diverse learning styles and needs — from quiet individual study to group work in large, technology-enabled spaces. Our hope is that the project's outcome will be much more than a much-needed upgrade of the building; we want it to reinvigorate the student experience at Quincy House."
Ebrahim supports the project's embrace of the future — as long as it also preserves the House culture and traditions that he and his classmates love.
"Students from all over campus often hang out at Quincy," he said, "whether at the dining hall, Ping-Pong table, or Grille tables. We want the test project to preserve and enhance that sense of the House being a great place to live and to spend time with friends."