On the eve of their graduation from Harvard College, three of the military's newest officers received their commissions at a ceremony today (May 25) in a leafy, sunlit Tercentenary Theatre.
It was the first Reserve Officers' Training Corps (ROTC) class of Harvard students to graduate since the University lifted its 40-year ban on ROTC in March.
Since 1976, student cadets and midshipmen from Harvard have drilled and studied with units based at the Massachusetts Institute of Technology. This year, Harvard had 19 undergraduates enrolled in ROTC.
Honored were Army 2nd Lt. Christopher W. Higgins of East Setauket, N.Y., a social studies concentrator who will pursue an M. Phil. at the University of Cambridge on a Fulbright Scholarship; Army 2nd Lt. Aaron R. Scherer of Dover, Ohio, a government concentrator assigned to military intelligence school in Arizona; and Navy Midshipman James D. Reach of Lititz, Pa., who will train as an aviator.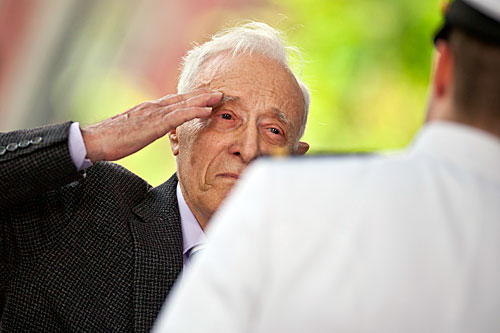 Michael G. Schoenen, still an Army cadet, will take his oath as an officer when he completes his A.L.M. thesis at the Harvard Extension School. He is from Revere, Mass., and will join the Medical Service Corps.
Administering the oaths was Maj. Gen. James McConville, who was named commander of the storied 101st Airborne Division this month. The Quincy, Mass., native had served as deputy commanding general of the 101st, and of NATO forces in Afghanistan from 2008 to 2009. More recently, McConville was chief liaison in the Office of the Secretary of the Army.
Words of praise and advice came from retired Air Force Col. Arthur Boright, a 26-year veteran representing the Class of 1961. That year, he said, 62 graduates received ROTC commissions and went on to "a diversity of situations." Earning enough money is on every graduate's mind, Boright acknowledged, but military salaries "are sufficient, if you are careful, and they are predictable."
In his own remarks, McConville touched on the same theme, but added: "No one walks up to a hedge fund manager in the airport and thanks them for their service."
He praised the new officers for taking "a path of service different than your peers," and called the commissioning ceremony "the defining moment in your life."
McConville described meeting four surviving members of the 101st's Easy Company, whose World War II heroics were captured in the book "Band of Brothers" and in the HBO miniseries of the same name. These members of the Greatest Generation asked about the latest one. "Despite 10 years of war, your generation has never quit, it's never accepted defeat, and it's never left a fallen comrade," he answered. "I told them to sleep well at night."
In her remarks, President Drew Faust noted the 150th anniversary this spring of the beginning of the Civil War, during which 1,300 Harvard students and faculty took up arms. She quoted one of them, future Supreme Court Justice Oliver Wendell Holmes Jr., Class of 1861, who described those of his generation "touched by fire" and eager to serve.
"We are not the first to live in an era of peril and crisis," Faust told the ROTC graduates. "With our country involved in conflicts at three sites around the globe, you as military officers have chosen to face very difficult challenges and to assume grave responsibilities."
In the audience was Richard Bennink '38, a 94-year-old retired banker who joined ROTC at Harvard in 1934. "I didn't want to lug a pack," he said of choosing the Navy. "In 1934, you knew something was coming." Bennink, a World War II attack transport officer, earned six battle stars and survived the battles of Guadalcanal and the Leyte Gulf.
During the ceremony, Reach received his first salute — a commissioning tradition — from his 89-year-old grandfather, Patrick Manzi, who joined the Navy in 1937 and retired in 1967, "with a few wars in between," he said later. Manzi, a veteran of World War II, Korea, and Vietnam, earned the Silver Star, two Bronze Stars for valor, and three Purple Hearts.
Manzi was 15 when he joined the Navy. To this day, said his wife Joanne, "he's still in the service in his heart."