JUNE 2010
An international clinical trial led by researchers at the Harvard School of Public Health (HSPH) finds that AIDS-fighting antiretroviral drug combinations given to pregnant and breastfeeding women in Botswana, Africa, prevented 99% of the mothers from transmitting HIV to their infants.
JULY 2010
President Barack Obama appoints Donald M. Berwick, a professor at Harvard Medical School (HMS) and HSPH, as administrator of the Centers for Medicare and Medicaid Services.
The elusive titan arum blooms after eight years at Harvard's herbaria, releasing a putrid fragrance — like that of rotting meat — meant to attract flies, which then pollinate the plant.
SEPTEMBER 2010
A lecture by world–famous chef Ferran Adrià kicks off the wildly popular new General Education course "Science and Cooking: From Haute Cuisine to the Science of Soft Matter."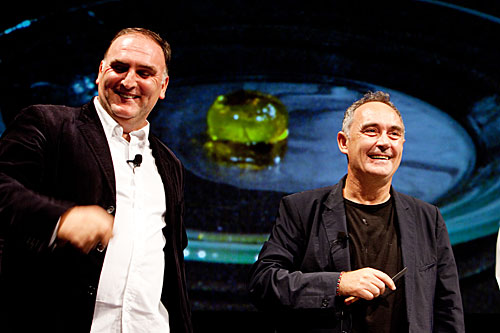 The Harvard Graduate School of Education welcomes the first class in its groundbreaking doctoral program in education leadership (Ed.L.D). The new three-year degree program prepares students for system-level leadership roles in institutions such as school systems, national policy organizations, national nonprofits or mission-based for-profits, and foundations/funders.
In an interview with former ABC News anchor Charlie Gibson, a fellow at the Harvard Kennedy School's (HKS) Shorenstein Center for the Press, Politics and Public Policy, President Drew Faust says she would like to build as her legacy a more accessible and welcoming Harvard, with fewer boundaries — internal or external — that block the full development of an individual's talent.
Harvard and Cisco unveil a gift to Boston and Cambridge schools that will allow students and teachers to video conference with individuals around the world. As part of this partnership, Harvard agrees to provide access to the high-speed Internet2 connection with all 148 public schools in Boston and Cambridge.
President Faust throws out the first pitch at Fenway Park for the Red Sox vs. Baltimore Orioles game.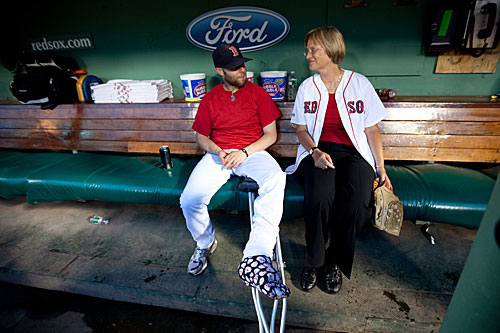 A large, multidisciplinary panel selected 12 pioneering ideas for attacking type 1 diabetes through a crowdsourcing experiment conducted by the Harvard Catalyst called the "Challenge," in which all members of the Harvard community, as well as the general public, were invited to answer the question: What do we not know to cure type 1 diabetes?
OCTOBER 2010
The U.S. Supreme Court begins its fall session with a new member, former Harvard Law School Dean (HLS) Elena Kagan. Current Dean Martha Minow, who was both a teacher to and a colleague of Kagan, and Noah Feldman, the Bemis Professor of International Law, who clerked at the Court and follows its proceedings closely, met with the Gazette to discuss the upcoming judicial year.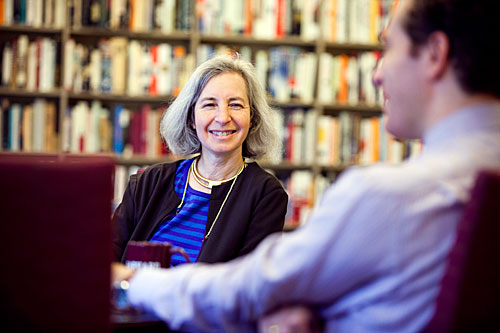 Anand Mahindra '77, M.B.A. '81, vice chairman and managing director of the flagship company in his family's Mahindra Group, gives $10 million to the Mahindra Humanities Center at Harvard. The gift will allow enhanced collaborations between the humanities and other fields of knowledge at Harvard, and will widen the reach of the humanities nationally and abroad.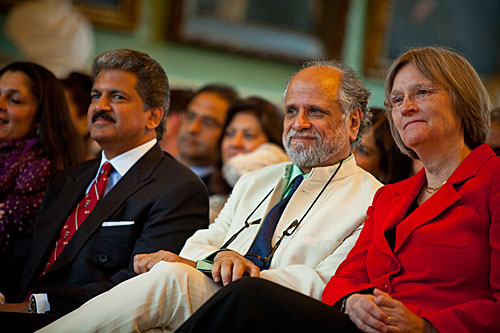 Harvard receives high marks for its commitment to sustainability, earning an A- on the Sustainability College Report Card, a top 10 ranking in Sierra Club's 100 Greenest Schools list, and an appearance on Princeton Review's Green Rating Honor Roll.
HMS announces it is launching a groundbreaking Center for Primary Care, made possible by a $30 million anonymous gift. The center will be geared toward transforming primary care education, research, and delivery systems.
Harvard researchers at Massachusetts General Hospital (MGH) announce that a new treatment for a form of lung cancer is so extraordinarily promising it has been jumped directly to a Phase III trial from its Phase I safety trial.
Annette Gordon-Reed, award-winning author and Harvard professor, is named a 2010 MacArthur Foundation Fellow.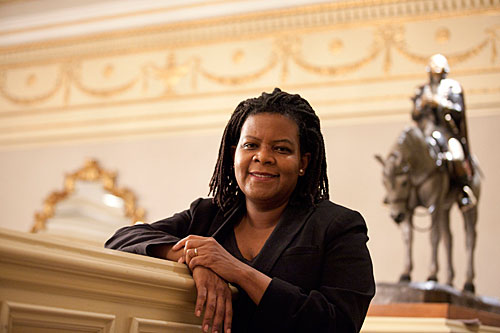 Harvard neurobiologists announce they have created mice that can "smell" light, providing a new tool that could help researchers better understand complex perception systems that do not lend themselves to easy study with traditional methods.
Harvard announces its first lab for innovation and entrepreneurship to spur new ventures across the University and the Allston-Brighton neighborhood. The Harvard Innovation Lab will open in fall 2011 at 125 Western Ave.
Harvard installs a solar and steam heat recovery renewable energy system on Canaday Hall. The system is projected to supply at least 60% of hot water needs for all buildings in Harvard Yard.
Lily Safra gives $12.3 million to support the Edmond J. Safra Center for Ethics. The gift, in memory of her late husband, Edmond J. Safra, will permanently endow the graduate fellowship program and fund the recently launched research lab.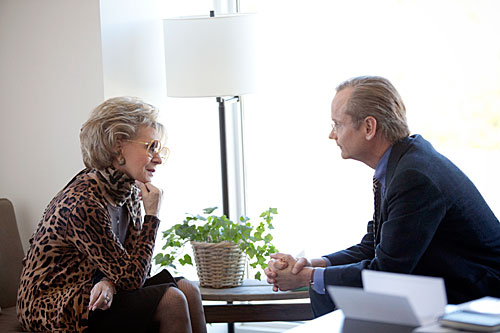 A new Harvard Business School (HBS) facility to support the School's broad range of executive programs has been funded by a $50 million gift from Tata Companies, the Sir Dorabji Tata Trust, and the Tata Education and Development Trust, which are philanthropic arms of the Tata Group, India's largest company.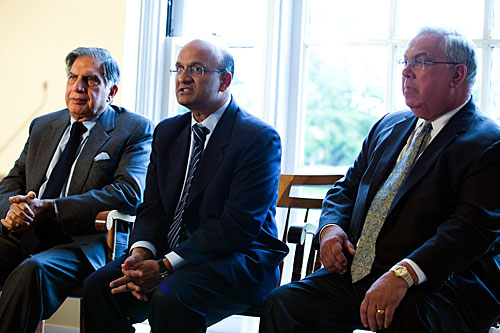 NOVEMBER 2010
President Faust travels to Europe, meeting with alumni in England, France, and Germany and visiting postdoctoral scholars at Harvard's Center for Italian Renaissance Studies, Villa I Tatti, in Italy.
Zar Zavala '11, an engineering sciences and neurobiology concentrator, learns he has been chosen as a Rhodes Scholar, receiving the call on the field after playing in the Harvard-Yale football game. Medical School student Aakash Shah, Zachary Frankel '11, and Daniel Lage '11 are also named Rhodes Scholars.
In the 127th year of this legendary football matchup, Harvard beats Yale 28-21 in The Game.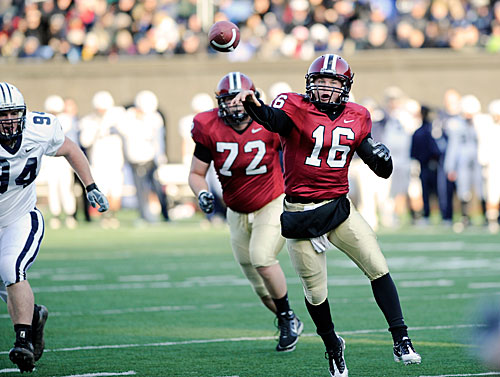 At the "Why Books?" conference, sponsored by the Radcliffe Institute for Advanced Study, scholars reach consensus that traditional books will survive and merge with digital technologies to meet a common goal.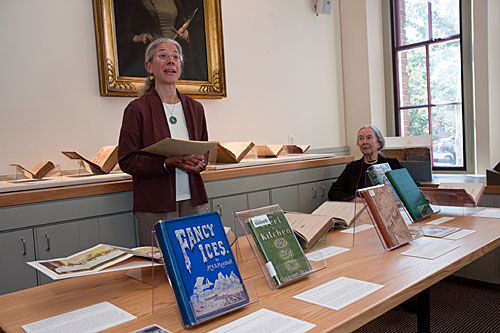 Harvard seniors Kenzie Bok and Jonathan Warsh receive prestigious Marshall Scholarships, which will allow the students to pursue two years of graduate study in the United Kingdom at the universities of their choice.
HMS scientists at Dana-Farber Cancer Institute for the first time partially reverse age-related degeneration in mice, resulting in new growth of the brain and testes, improved fertility, and the return of lost cognitive function.
DECEMBER 2010
After an intensive governance review, President Faust announces the Harvard Corporation will make several changes to its composition, structure, and practices — most notably, expanding from seven to 13 members within two to three years.
Steven E. Hyman announces that he will conclude his service as provost at the end of the academic year. President Faust announces on April 15 that Alan M. Garber '76 will succeed Hyman as Harvard's next provost. His appointment is effective Sept. 1.
On the 40th anniversary of the Environmental Protection Agency, thought leaders gather to consider the challenges ahead during "The EPA @ 40: Protecting the Environment & Our Communities" conference. The day featured keynote lectures by EPA Administrator Lisa P. Jackson and former U.S. Vice President Al Gore.
A collaboration between Harvard, Google, Encyclopaedia Britannica, and the American Heritage Dictionary creates the innovative field of "culturomics." This powerful new approach to scholarship uses approximately 4% of all books ever published as a digital "fossil record" of human culture.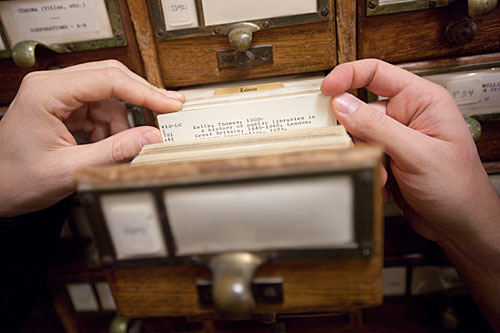 HBS establishes the Minimum Viable Product (MVP) Fund, offering $50,000 in total awards to student entrepreneurs. Based on the Lean Startup methodology, the MVP Fund focuses on rapid prototyping.
A team of researchers led by an HSPH postdoctoral research fellow and an MGH physician report for the first time that using antidepressant medication to treat depression among HIV-positive individuals not only alleviates suffering from depression but improves adherence to HIV drug regimens and virological outcomes.
JANUARY 2011
Scores of Harvard undergraduates participate in nearly 100 activities — from public service to stand-up — during Harvard's inaugural Optional Winter Activities Week (OWAW), Jan. 16-23. In April, the College announces that it will extend OWAW in 2012 and also allow students with Cambridge- and Boston-based internships to return to residence when the College is closed during winter break.
Faculty of Arts and Sciences Dean Michael D. Smith and Harvard College Dean Evelynn M. Hammonds announce plans to use Old Quincy House as a test project to explore design and construction options for future systemwide renewal of the Houses.
Harvard announces the launch of Harvard on the Move, a running and walking program designed to build community and fitness among students, faculty, staff, alumni, and neighbors in Cambridge, Boston, and the surrounding area.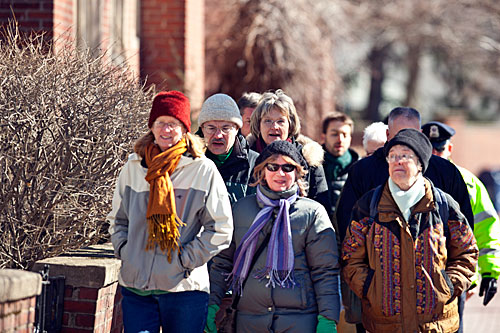 Ahmed Ragab, a lecturer in the Department of the History of Science, is awarded the 2010-11 Joseph R. Levenson Memorial Teaching Prize, the University's highest award for excellence in undergraduate teaching.
FEBRUARY 2011
The Rev. Professor Peter J. Gomes, Plummer Professor of Christian Morals and Pusey Minister in the Memorial Church at Harvard University, dies on Feb. 28.
Harvard hosts "Mapping the Human Genome: Ten Years After," a panel discussion with Eric Lander, a leader of the Human Genome Project.
Ten of Harvard's leading faculty gather at Sanders Theatre for the second annual Harvard Thinks Big, an undergraduate-organized discussion in which 10 speakers each take 10 minutes to explore a topic near and dear to their hearts.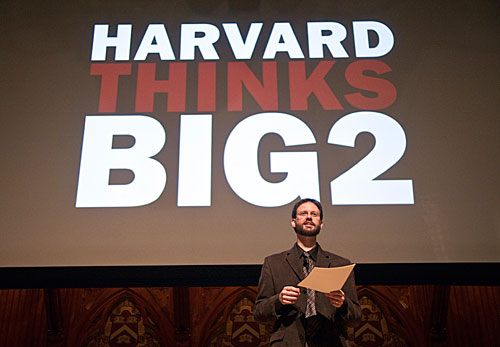 Shakira, renowned Colombian singer, songwriter, and philanthropist, is honored as the 2011 Artist of the Year by the Harvard Foundation.
HMS neurobiologists develop a technique for unraveling neural networks. Through a combination of microscopy platforms, researchers can crawl through the individual connections composing a neural network, much as Google crawls web links.
Researchers from the Broad Institute of Harvard and MIT, Dana-Farber Cancer Institute, and Weill Cornell Medical College lay out the full genetic blueprint of multiple prostate tumors, uncovering alterations that have never before been detected and offering a detailed view of the genetic missteps that underlie the disease.
Harvard College announces that it will restore nonbinding early action as part of its admissions process this fall and significantly enhance its recruiting program for students from modest economic backgrounds. Nearly 35,000 students applied to Harvard College for admission to the Class of 2015. Letters of admission were sent on March 30 to 2,158 students, 6.2% of the record pool of 34,950. More than 60% of the admitted students will receive need-based scholarships averaging more than $40,000, benefiting from a record $160 million in financial aid. Families with students on scholarship contribute an average of $11,500 annually toward the cost of a Harvard education.
House Majority Leader Eric Cantor portrays the United States as a "fiscal train wreck" and sketches the stark choices that Republicans consider necessary to fuel the nation's sputtering economic engine during an address at HKS.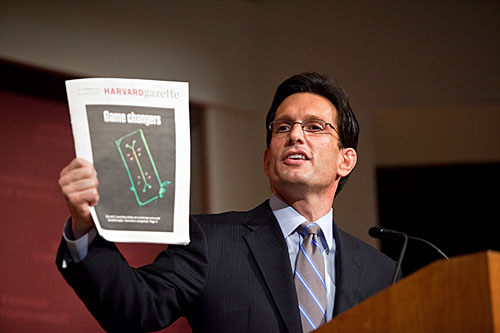 Harvard Office for Sustainability's Green Office Program reaches its 100th Green Office. There are currently 118 Green Offices recognized, with more than 2,000 employees involved in green office activities.
Researchers at Harvard and MITRE produce the world's first programmable nanoprocessor. The groundbreaking prototype represents a significant step forward in the complexity of computer circuits that can be assembled from synthesized nanometer-scale components.
Michael Brenner, Glover Professor of Applied Mathematics and Applied Physics at the Harvard School of Engineering and Applied Sciences, receives the George Ledlie Prize from the President and Fellows of Harvard College. The prize is awarded no more than once every two years to someone who "since the last awarding of said prize has by research, discovery, or otherwise made the most valuable contribution to science, or in any way for the benefit of mankind."
MARCH 2011
After a 40-year hiatus, Harvard announces it will welcome back the Reserve Officers' Training Corps (ROTC) program to campus. President Faust and Navy Secretary Ray Mabus, J.D. '76, sign an agreement bringing the Navy ROTC program back to campus.
Within hours of the massive earthquake that struck Japan, Harvard's Center for Geographic Analysis launches a web-based data clearinghouse for disaster responders seeking data on the Sendai quake and tsunami. Members of the Harvard for Japan movement, together with the Reischauer Institute of Japanese Studies and the Program on U.S.-Japan Relations, host "Harvard for Japan Week," a slate of activities designed to raise awareness of the effects of the Great East Japan Earthquake and ongoing nuclear crisis in Japan.
President Faust travels to Chile to highlight Harvard's engagement with Latin America. In Chile, she meets with government and academic leaders and gets a firsthand look at the tangible benefits of Harvard research. Faculty members and others involved in the trip share their impressions about key stops along the way in a Gazette blog exclusive.
After Chile, Faust visits Brazil where she reconnects with alumni, exchanges ideas with university leaders, and meets with Brazilian students who have studied alongside Harvard students or with Harvard faculty in Brazil. For more faculty blogs from the trip.
Leslie Valiant, T. Jefferson Coolidge Professor of Computer Science and Applied Mathematics, wins the 2010 Association for Computing Machinery's A.M. Turing Award, the so-called "Nobel Prize in Computing."
Dallas Wiens becomes the first person in the United States to receive a full face transplant at Harvard-affiliated Brigham and Women's Hospital.
The Divine Comedy, a collaborative effort between the Harvard Graduate School of Design and the Harvard Art Museums, opens. The ambitious three-part exhibition features works by Olafur Eliasson, Tomás Saraceno, and Ai Weiwei on display across campus.
Debating what HLS Dean Martha Minow called "one of the most important public policy issues and one of the most important constitutional issues," HLS Professors Laurence Tribe and Charles Fried, with Randy Barnett '77, discuss whether the individual mandate portion of the Affordable Care Act violates the commerce clause of the Constitution and infringes on personal liberties.
The Harvard Art Museums announce that they have received a National Endowment for the Arts grant to support Engaging New Americans, a gallery-based program that provides classes to recent Boston-area immigrants.
The concept of the "demographic dividend" — the economic boost that countries can receive when they shift from high rates of fertility and mortality to low birthrates and longer life expectancies — pioneered by HSPH faculty member David Bloom, is featured in Time magazine's "Ten Ideas That Will Change the World."
Coach Tommy Amaker leads the Harvard Crimson men's basketball team during a record-setting 23-7 season capped with a win over Princeton at home, and clinching a share of the Ivy League championship for the first time in the program's history. Junior forward Keith Wright is named Ivy League Player of the Year and receives honorable mention from voters for the Associated Press All-America team.
Niha Jain and Anthony Hernandez, both Class of 2012, are named Truman Scholars as college juniors who have demonstrated "exceptional leadership potential" and are "committed to careers in government, the nonprofit or advocacy sectors, education or elsewhere in the public service."
APRIL 2011
Jazz great Wynton Marsalis launches a two-year performance and lecture series on April 28 with an appearance at Sanders Theatre. Currently the artistic director of jazz at Lincoln Center, Marsalis is an accomplished musician, composer, bandleader, and educator who has made the promotion of jazz and cultural literacy his hallmark causes.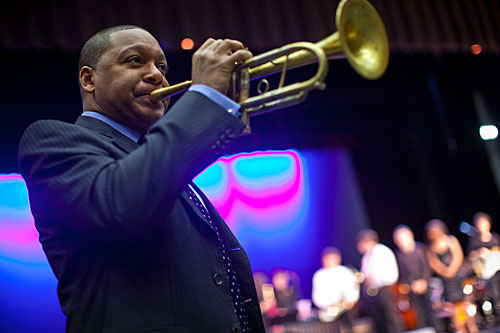 In a relaxed and often-humorous conversation before a packed room of more than 750 of their fellow HLS alumni, U.S. Supreme Court Associate Justices Anthony M. Kennedy '61 and Elena Kagan '86 share personal stories and offer a rare glimpse into the court's very private world, in a special reunion event moderated by HLS Dean Minow.
Dean Barbara J. Grosz of the Radcliffe Institute for Advanced Study announces that she will step down at the end of the academic year. Lizabeth Cohen, Howard Mumford Jones Professor of American Studies, is appointed interim dean of Radcliffe, beginning July 1.
Three undergraduates are among the first 10 recipients of the University's new Presidential Public Service Fellowships. The program provides grants of up to $5,000 for undergraduates and $10,000 for graduate students for government and community service.
More than 1,000 volunteers tackle 106 public and community service activities in 40 cities and 11 countries during the Harvard Alumni Association's Third Annual Global Month of Service.
College Dean Evelynn M. Hammonds announces that she will appoint a new director to coordinate resources and develop programming in support of bisexual, gay, lesbian, transgender, and queer undergraduates on campus.
MAY 2011
President Faust delivers the 2011 Jefferson Lecture in the Humanities, accepting the highest honor the federal government bestows for achievement in the humanities. "We have grappled to use the humanity of words to understand the inhumanity of war," she tells a sold-out crowd at the Kennedy Center in Washington, D.C.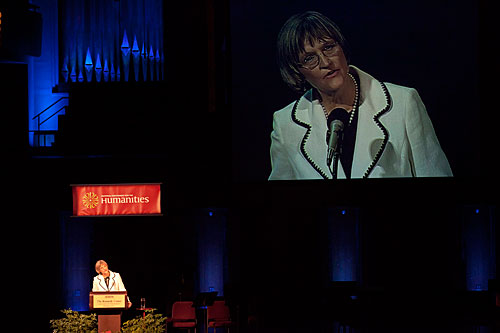 President Faust announces plans for Harvard's 375th anniversary celebration at the Afternoon Commencement Exercises on May 26. The announcement coincides with the launch of a 375th anniversary website that will contain information about special events and initiatives connected to the yearlong celebration.