When Harvard President Drew Faust welcomed her first class of freshmen to Harvard in the fall of 2007, she warned them that the next four years would disorient their lives and unsettle their assumptions. Now, as the Class of 2011 prepares to graduate, Faust appealed to them to chart their own unique courses in life, while staying true to the values of truth and goodness they learned at the University.
"Remain mindful of others, but decide for yourself," Faust told Harvard College seniors in her Baccalaureate Address on Tuesday (May 24).
After Commencement itself, the Baccalaureate Service is one of Harvard's oldest traditions, existing off and on at the University since 1642. It has been customary for the president and Harvard clergy to address the graduating class since the 19th century. Calling to mind the University's religious roots, the service at the Memorial Church now includes readings from Hindu scriptures, the Quran, the New Testament, the Analects of Confucius, and the Hebrew Bible.
But as students packed themselves into the sweltering church in Tuesday's 80-degree weather, one marker of the festivities was noticeably absent: the late Rev. Peter J. Gomes, former Plummer Professor of Christian Morals and Pusey Minister in the Memorial Church, who for many years welcomed seniors as they processed up the church's front steps.
"For the first time in four decades, we must go without his Baccalaureate blessing," Faust said of Gomes, who died Feb. 28. "Yet he remains at the center of what it means to be a part of Harvard, a moral tradition, and force in the legacy of 'Veritas' that is not just a succession of truths, but a compass."
Gomes led a singular life. A gay, black, Republican professor and Baptist preacher, he often described himself as "Afro-Saxon," Faust reminded the crowd to laughter. But his legacy is instructive, she said.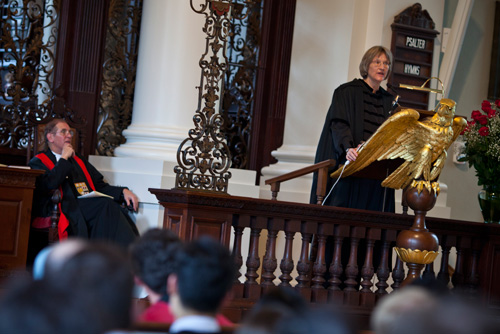 "He confounded categorization because he occupied so many categories," Faust said. "Your generation is more accustomed to this."
What Gomes excelled at, and what the Class of 2011 can learn from him, Faust said, was the ability to make their own labels and chart their own courses. She cited the unexpected paths already taken by members of the graduating class: the star wide receiver who was named a Rhodes Scholar, the dancer going into cancer research.
The most important question graduates now face, Faust said, is: "How, within the possible narratives, can I most be myself?  How will I finish my own sentence when I say, 'I went to Harvard, and then I …'"
Faust did not ignore the economic turmoil the Class of 2011 heads into as its members prepare to graduate. If anything, she said, the recession and slow recovery of the past few years has made this generation "in a strange sense, liberated." She encouraged graduates to embrace that feeling of uncertainty rather than take high-paying jobs they might not love, as some graduates had felt pressured to do in the past.
"You may resist taking risks as the economy shows signs of recovery," she said. "Still, do what you love. Try Plan A before you settle for Plan B."
Charting their own courses will be no easy task, Faust said, but this year's class leaves Harvard well-prepared to question, analyze, and improve the world.
"Go and live syncopated lives," Faust concluded. "Search for your own sermons. Finish your own sentences. And then rewrite them, again and again."
For seniors such as En-Ming Ong, an economics concentrator in Kirkland House, Faust's message of pursuing one's dreams resonated — particularly her "parking space theory of life," a metaphor for never giving up on "the perfect spot" in life that she shares with students each year.
"I thought it was inspiring," said Ong, who is putting the traditional job search on hold to start his own company, Blocmate, a website that will help Ivy League students find short-term housing. "The opportunity cost of trying something like this is very low after graduation, and if I fail I can always circle back."