Hundreds of people crowded Harvard's Memorial Church on Wednesday (April 6) to honor the life and legacy of the Rev. Peter J. Gomes, who died in February at age 68.
Gomes, the Plummer Professor of Christian Morals and Pusey Minister in the Memorial Church at Harvard University, served there for 41 years. The nearly two-hour memorial service was filled with music, including "When the Perfect Comes," an anthem that Gomes commissioned to celebrate the 40th anniversary of his ordination. The service included many fond remembrances from longtime friends and colleagues for the man at the heart of Harvard's spiritual life for so long.
"It is heartening to look out and see so many people here, remembering a man who meant so much to us all," said Harvard President Drew Faust. "There was music in Peter," she added, "a symphony of points and counterpoints. He rewarded close listening from a careful ear."
Former Harvard President Derek Bok, who helped to hire Gomes, said the minister arrived during the turbulent early 1970s, when many students were "at odds with the University, the society, the government."
But through his work, Gomes tried to build "a community of Harvard's vast collection of busy people, all intent on their particular interests and ambitions."
Gomes became "a unifying figure," said Bok, "whose love of the University helped us all to appreciate our being here even more."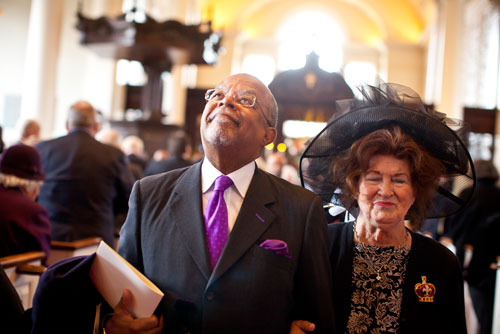 The pews were jammed with dignitaries, colleagues, and friends from the Harvard community, as well as members of the church's congregation, admirers, acquaintances, and former students.
The Rev. Mike Mullany of the First Congregational Church in Adams, Mass., made the two-and-a-half hour trip with his son Ben for the memorial. Mullany, who took a preaching class with Gomes in 2000, recalled his influential teaching about the power and importance of scripture.
"He used to talk about each passage being a diamond. You could hold it up and look at any facet and find something of value and truth … from whatever angle you came at it."
Though Gomes, who died Feb. 28, had held many titles and honorary degrees, was a formidable scholar, and authored many books, article, and papers, he was best known for his oratorical skills. He was widely considered one of the nation's most distinguished preachers. His style and substance, whether at the pulpit or a party, carried a profound impact.
"We listened to the music of his voice, his beautiful choice of words," said Massachusetts Gov. Deval Patrick, who met Gomes as a Harvard undergraduate during one of Gomes' weekly teas. "We listened and we learned about life, faith, love and loss," Patrick said, "but mostly about how to be better people."
Gomes, renowned for his humor and wit, would have appreciated the service's many lighter moments.
Faust drew roars from the crowd when she recalled his arrival to welcome her as Harvard's first female president.
"He came to my office, which was then still at Radcliffe, dressed in his regalia. It was for him a very serious occasion. He sat down and looked at me, and in that unforgettable voice of his, he said, 'Madam, I come to pledge my fealty.' What do you say back to that?"
"He loved antiques, long, multicourse dinner parties with sparkling conversation, and rich old ladies," said Patrick to waves of laughter.
Patrick said Gomes, who was gay, conservative, and African-American, lived with courage, without labels, and "stubbornly on his own terms. By refusing to be put in anyone else's box, Peter Gomes may have been the freest man I have ever known."
Patrick also recalled how Gomes first cautioned him against running for governor, fearful that the experience would break his spirit. Gomes, a Republican, then promptly changed his party affiliation so he could vote for Patrick in the primary.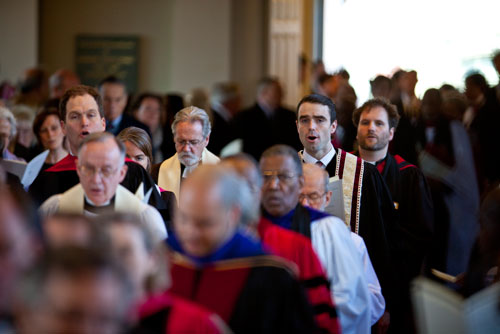 The service closed with the choral benediction by Johannes Brahms. "Create in me a clean heart, O God," members of the Harvard University Choir past and present sang, "and renew a right spirit within me."
Ellen Adolph, a retired administrative assistant at Harvard Law School (HLS) who used to work with Gomes in coordinating memorial services for HLS faculty, attended the service to pay her respects, and to "think back again on what he was like and what he thought, to be reminded of him."
"He was someone to look up to, and to model oneself after. … He had such a humanity."