In the summer of 2007, Harvard architecture student Michael Murphy moved to an abandoned military camp on a remote hilltop in Rwanda. For the next six months he lived in a converted tribunal building, conferring daily with doctors, nurses, patients, and neighbors. The mission: build a new hospital with local labor and materials, using design concepts that prevent the transmission of airborne disease.
In place of drawn curtains, closed windows, and unventilated corridors would be cross-ventilation systems, secluded wards with interior courtyards, and rooms sweetened by natural breezes. And in place of using outside contractors would be training for a local labor force eager to pull itself out of poverty.
Murphy — who graduates today (May 26) with a master's in architecture from the Harvard University Graduate School of Design — eventually spent 15 months in Rwanda trying out a constellation of new ideas: that architecture can play a role in reducing poverty; that good design can influence health outcomes; and that the work of construction can build dignity, a skilled workforce, and even hope in places marked by poverty and tragedy.
"Architecture is an expansive field," he said, but too often it has been narrowly considered, ignoring the social justice inherent in appropriate design.
To explore and execute these emerging ideas, Murphy and Marika Shioiri-Clark, M.Arch. 1 '11, founded the nonprofit MASS Design Group four years ago. Today it's a buzzing firm of 16 architects and designers — many of them Harvard graduates — working on clinics, schools, and hospitals in the developing world. The main office is in Boston's South End, where founding partner Alan Ricks, M.Arch. 1 '10, is creative director and David Saladik, M.Arch. 1 '10, is chief operating officer. Elizabeth Timme, M.Arch. 2 '10, runs the new Los Angeles office. Seven other staffers are based in Kigali, Rwanda's capital.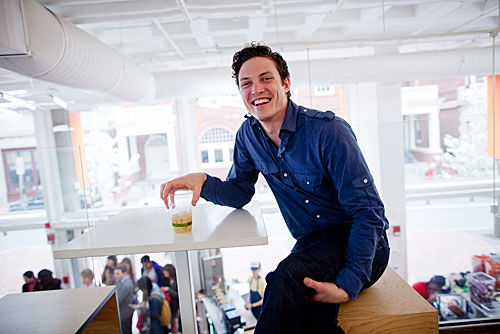 Butaro Hospital, finished earlier this year, is a place where dignity was constructed along with walls and walkways, said Murphy. Of the 1,400 local laborers taking part, some were trained in masonry, carpentry, and other skills that he said are already improving the local economy and infrastructure.
The day Butaro was dedicated, Feb. 24, was the most powerful of his life, said Murphy. It was "proof of concept," he said, "a new way of thinking about architecture's social responsibility."
MASS Design Group this year will add two other components to that new way of thinking. One is research to engage public health scholars in proving that good design is part of good health outcomes. Another is education. Most of the seven MASS Design Group architects in Rwanda teach at the Kigali Institute of Science and Technology, where former GSD visiting faculty member Sierra Bainbridge directs the architecture program — the country's first. Said Murphy, "We want Rwandans to rebuild Rwanda."
Murphy called his path to Harvard "circuitous." He studied literature at the University of Chicago as a way to investigate politics, anthropology, and human rights. After graduation in 2002, he spent two years in the New York City book industry. By 2005, Murphy was trying out freelance journalism in Cape Town, South Africa, where he had lived as a student five years before. In the interval, broad open lawns had given way to high walls and barbed wire — changing realities that made him realize architects could help in emerging economies, or do harm by ignoring the power of context.
Murphy developed a sensitivity to culture, identity, and social justice growing up in Poughkeepsie, a city in New York's Hudson Valley where poverty and crime ate away at a diverse social fabric. Literature and travel completed the job, and by the time he entered Harvard in the fall of 2006, said Murphy, "I was ready to explore."
Late last month, he was busy finishing his thesis, an exploration of Space & Society magazine (1976-2000), a publication that developed a rich debate over social responsibilities — in a quest for what its editor Giancarlo de Carlo called "the whole architect." The same identity crisis has gripped the profession in the 21st century, said Murphy. In answer, MASS Design Group hopes to pave a way to designs that are contemporary, contextual, humble, and descriptive of expanded roles for architecture.
In July, he will be in Rwanda to help dedicate the Girubuntu School, a 10-building campus on a Kigali hilltop. Spatially segregated by grades, it will serve 300 primary school children. "I love this work so much," said Murphy, "that I don't have much of a life outside of it."