Harvard students presented ideas to fight the world's water problems Wednesday (April 13), unveiling biodegradable mats impregnated with seeds to fight desertification, an in-mouth water filter to clean dirty water, and an inflatable boat for flood-prone areas that incorporates shelter and drinking water filtration.
The projects were developed in the Idea Translation Lab through Engineering Sciences 20: "How to Create Things & Have Them Matter," a course offered by Harvard's School of Engineering and Applied Sciences (SEAS) and taught by David Edwards, Gordon McKay Professor of the Practice of Biomedical Engineering, and Rob Howe, Abbott and James Lawrence Professor of Engineering and area dean for bioengineering.
The students, mainly undergrads, began the class with just a concept to work with, although the project had to deal with some aspect of the world's water woes.
Edwards said the class pushes the students to venture into unfamiliar territory to bring their ideas to reality.
"We push the students to be uncomfortable in realization of their dreams," Edwards said.
The class is just the first step on the path to creating a real project. Each of the seven teams have received funding from the class' partners, the Wyss Institute for Biologically Inspired Engineering, SEAS, the Harvard Global Health Institute, and Artscience Labs. Students will continue their work over the summer, with some traveling to South Africa and Paris to conduct market research, test prototypes, and display designs.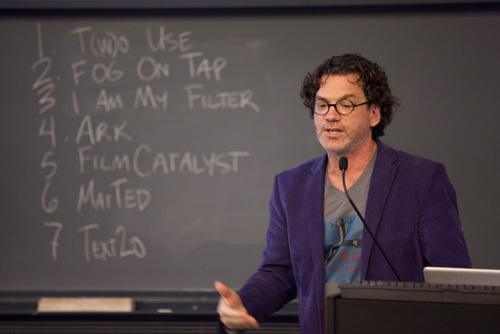 Freshman Celestine Warren said she took the class because she is interested in water issues. Her project, I Am My Filter, developed an in-mouth water filter that will enable people to drink clean water even from dirty sources. Other members of the team were senior Aisha Townes and sophomore Ryan Neff. The three said there were times when their ideas seemed to be at a dead end, but the class forced them to keep working and push through creative and technical dead spots.
"It was more than I expected — more structure than I expected, and more challenging than I expected," Townes said.
Other student projects included development of biodegradable plastic bags that also include a secondary use, such as turning to soap or oral rehydration solution to provide an incentive to pay the added cost of the biodegradable material. Others sought to solve shortages of water by devising a method to harvest fog or created an online art journal where artists can display art linked to the day's news, such as the recent tsunami that struck Japan.
Sophomores Sarah McCuskee and Bethina Liu worked together on The Ark, an inflatable boat for flood-prone regions of the world. The boat incorporates a shelter and drinking water filter. The two were given the concept ideas of China and water to begin with. They progressed from the idea that floods were a problem in China to something that dealt with floods more broadly. They're planning to spend the summer working on a prototype with an eye toward working initially in flood-prone Bangladesh.
"They give you so much freedom to do your own thing," Liu said. "We were given seed ideas and a lot of support from the teaching staff."