Harvard faculty, experts, and President Drew Faust welcomed the families of third-year undergraduates to campus and gave the Class of 2012 advice on preparing for life after college during the Junior Parents Weekend (JPW) program, March 4-5. More than 560 students and nearly 1,200 of their guests attended the annual event.
Faust greeted an enthusiastic crowd in Sanders Theatre on Friday afternoon for the program's official welcome. She recalled that the first time she addressed this group of parents and students in 2008, she urged the new freshmen to explore and move beyond their comfort zones. Now, she asked parents if their children had stretched their boundaries enough to have failed at something during their three years at Harvard.
"If not, they haven't been adventurous enough," she said. "The good news is, there's still time."
While she acknowledged students' anxiety about the economy and the job search that lay ahead, Faust urged them "not to leave Harvard with your heads before you leave it with your bodies." She said that the 14 months remaining in their college careers was a long time and encouraged parents to help keep their children focused on the present, even as they consider what to do next.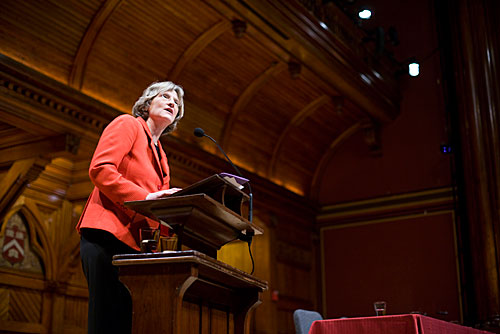 Faust's advice was echoed by a panel of college seniors who followed her address and shared wisdom gained during their time at Harvard. All said that experiences outside the classroom had been influential in shaping their college experience and their plans for the future. Senior Romeo Alexander shared a path that took him from Africa to New York.
"I went to Ghana to study the history of slavery after my freshman year," he said. "I visited the slave castles and learned about my own history and the history of the world. After my sophomore year, I did the Princeton in Ishikawa Program in Japan, in a home where no one spoke any English at all. Last summer I was in Tokyo with Deutsche Bank. Next year I'm going to New York. I've got a job helping to sell Japanese stocks."
Earlier in the day, parents piled into Science Center and listened as Harvard's Office of Career Services (OCS) staff listed ways that third-year students could prepare for graduate school, work, and other opportunities: Take the GMAT and GRE now, while you're in school mode; study hard, because graduate and professional programs look for a strong GPA; apply for fellowships early in the fall of senior year.
Then, OCS's undergraduate advising guru Nancy Saunders uttered three words that were music to the ears of tuition-payers. "Senior job search," she said, savoring each syllable. "How good does that sound?"
Saunders said that the process of finding a job often begins with an internship during the summer after junior year. She recommended that parents and students visit the OCS website to find out about opportunities. Saunders plugged the Crimson Careers portal, on which OCS has posted 9,679 internships and 4,000 full-time jobs since July 2010. She also urged juniors to look to the fall of their senior year and book one-on-one appointments with OCS career counselors, who see seniors almost exclusively during the first month of the semester.
"Not everyone knows that they want to be a banker," she said. "Seniors are welcome to come in and meet with a counselor, to take the Myers-Briggs personality test, to have a conversation, and to brainstorm."
OCS Director Robin Mount acknowledged the desire of parents to see their children enter the world of work, but said that Harvard undergraduates have broad interests and many different skills, which can make the decision to commit to a career path challenging. She told parents not to be concerned if their child wants to take some time off before applying to graduate school "since 75 percent of Harvard College graduates will eventually get a graduate degree."
On Saturday, parents and students considering a career in business heard from Rakesh Khurana, the Marvin Bower Professor of Leadership Development at Harvard Business School, on the history and future of business education.
Khurana noted that business education has expanded dramatically in the past 60 years. This year, for instance, U.S. business schools will award more than 120,000 master's degrees in business administration, up from only 3,000 M.B.A.s in 1950. At the same time, business schools — originally brought to the university in the early 20th century to professionalize the occupation, standardize the knowledge of practitioners, and tie the action of firms and corporations to the common good — have increasingly become places for students to acquire a credential and to build networks that will further their careers.
Khurana said that, to reconnect business education with its founding values, institutions should have an honest conversation about what students need to know and then raise the standards of the curriculum. Moreover, business education should be lifelong. Managers should come back to school frequently to refresh their knowledge.
Later on Saturday, parents and undergraduates addressed the common good more directly at the public interest careers discussion, hosted by the Phillips Brooks House Association. Travis Lovett, interim director of the Center for Public Interest Careers (CPIC), led the informal session. He said that Harvard undergraduates can receive funding for public service in two ways: They can come to CPIC with an idea for a public service project and apply for direct funding, or they can use CPIC as a liaison to one of the more than 600 nonprofits that have a relationship with the center.
"Our postgraduate fellowship program works with nonprofits in six major cities including Boston, New York, and Chicago," he said. "Students can see a catalog of job listings on our website. If they're interested in one, they can apply through us. We interview them and give them feedback. Based on the interview, if we feel they're a good fit for a particular organization, then we recommend them for the position."
While no one in the audience expected to get rich through public interest work, many were glad to hear that each organization that lists a job with CPIC must pay a living wage and offer benefits.
"Most of our positions are between $30,000 and $45,000," he said. "Commitments are typically one to two years, because many of our fellows go on to graduate school. Some are offered a continuing position, though, and stay on."
Response from parents and students to the weekend's events was positive. Detroit's Jeannie Wonders, parent of junior Grant Wonders, said that she appreciated the workshops and information she got during JPW. At the end of the day, though, she said that the best part of being in Cambridge was seeing her son and his friends.
"It's nice to come and see Grant in this environment," she said. "I got to chat with his roommates. The energy of the youth on campus is invigorating. He can come home and tell us about what it's like to be at Harvard, but it's not the same as being here."