Harvard seniors Kenzie Bok and Jonathan Warsh had to keep a pretty big secret over the Thanksgiving holiday. Both recently learned they were awarded prestigious Marshall Scholarships, which will allow them to study in the United Kingdom at the universities of their choice.
"My parents just kept asking when they were allowed to tell their friends," Bok, a history concentrator who lives in Pforzheimer House, said with a laugh. Warsh, a government concentrator and Lowell House resident, just sounded relieved to be done with a several-month application process that involved "13 or 14 drafts of essays."
Bok and Warsh are two of 31 Marshall Scholars whose names were announced today (Nov. 29). The highly competitive program is open to American graduating seniors and recent graduates and typically covers two years of tuition, research, and living expenses at a British university.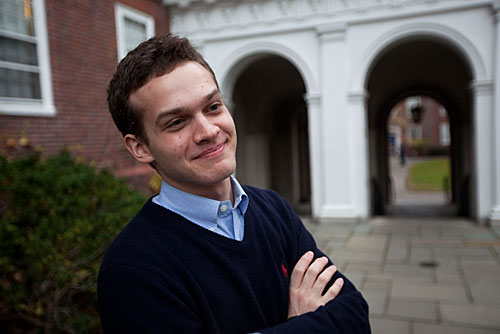 Warsh, a native of Bloomfield Hills, Mich., will enter a joint M.Sc. program in health policy, planning, and financing at the London School of Economics and Political Science and the London School of Hygiene & Tropical Medicine, where he will also complete a year of health services research. He hopes to gain an international perspective on health care that will inform his future work in health care, whether as a policy analyst, a government regulator, or an administrator at a safety-net hospital.
"One of the main attractions for me is the opportunity to understand British and broader European ideas about health care and how those ideas might be transportable to the U.S.," he said. "I'd like to spend a couple years studying the intricacies of their health finance systems and the methods different European countries have taken to combat health care disparities."
Warsh first became interested in improving American health care while volunteering at the Harvard Square Homeless Shelter during his freshman fall semester. He worked night shifts, and while 10 a.m. lectures the next morning were "brutal," the experience brought the realities of poor Americans' health care to life.
"I saw the ways our guests at the shelter were trying to navigate the health care system and the types of care they were receiving," he said. "The complexities of the bureaucracy got me thinking more and more about focusing my energies on health care for the poor."
Warsh is now administrative director of the shelter, a Harvard Phillips Brooks House affiliate that is the only entirely student-run shelter in the nation. In his spare time, he is training for his second marathon and working on his senior thesis, which will explore how the federal government allocates funds for disease research by examining the lung, breast, and prostate cancer movements' successes and failures since 1980.
Warsh is considering medical school, and has started taking pre-med courses in his senior year. (He's currently "enrolled in general chemistry with 150 freshmen.") He hopes to continue volunteering in London in a clinical patient setting to get a better feel for a physician's duties.
"I think the Marshall will be very helpful in terms of figuring out what I want my role to be in shaping the health care system," he said.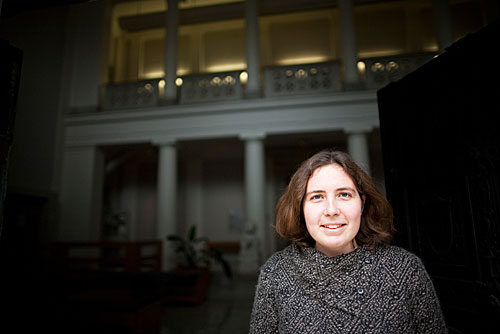 Bok — no relation to former Harvard President Derek Bok — became engrossed in the history of ideas early in her Harvard education.
"I realized that to understand what a thinker meant, you have to know what they were reading and what they were responding to, rather than approaching their work as timeless," she said.
Despite her love of intellectual history, Bok doesn't plan to stay in academia. A native Bostonian and a born political junkie, she hopes to pursue a career in public service. She sees her Marshall years as an opportunity to gain "a deep conceptual grounding, and really spend some time grappling with ideas."
She will study theology during her first year at the University of Cambridge, and will complete an M.Phil. in intellectual history and political thought during the second year.
"The two best places in the world right now to study intellectual history, in terms of their faculty, are Harvard and Cambridge," she said.
Her future studies are a natural outgrowth of her senior thesis, which looks at the intellectual evolution of the 20th-century American political philosopher John Rawls from his early, more theologically oriented work to his later secular writings on moral philosophy.
"We forget how recently it was that theology and philosophy were so closely intertwined, especially in the academy," she said. "You have these traditions that are extremely closely related. But by the time Rawls and his generation were publishing their major works, those departments had diverged."
Bok's personal interests tend toward religion and politics, too. In addition to being president of the Episcopal Students at Harvard, she serves as student president of the Harvard Kennedy School's Institute of Politics (IOP), sits on the executive board of her local Democratic ward committee, and is one of four college members of the Massachusetts Democratic State Committee. A former Obama for America campaign volunteer and White House intern, she admitted that a second term for the current president could lure her back to Washington after her Marshall fellowship.
"I didn't expect to be pursuing this," Bok said of the Marshall. "I just got so caught up in this project and these studies. I don't feel ready to end it."
Including Bok and Warsh, 249 Harvard students have won Marshall Scholarships, which were created in 1953 to commemorate U.S. aid to Europe after World War II under the Marshall Plan. As many as 40 promising scholars and likely future leaders in their fields are selected from eight regions of the United States each year.