Ah, Harvard lore. It can be befuddling if you don't know the history behind these age-old Commencement conventions.
Salvete omnes!
That's "Hello, everyone!" in Latin, in case you didn't know.
And during Morning Exercises, when degrees are conferred and Tercentenary Theatre is overtaken by thousands of guests, that greeting will be shouted, ushering in two graduating seniors and one graduate student to offer orations in one of Harvard's oldest traditions.
But just who are these speech-givers, and how did they get here?
In April, Harvard's Commencement Office holds an open speech-writing competition for graduating seniors. Long ago, these orations were given in Greek, Latin, or Hebrew, and were mainly thesis defenses. But times have changed, and students now address current issues and events, or speak of lessons learned from their years at Harvard — all in just five minutes (and only one speech is in Latin).
Final auditions involve a live reading in front of an audience and take place in late April. A panel of professors, deans, and other officials measures each candidate; after all, these are the only speeches delivered during the Morning Exercises ceremony, and they have to be good.
Fun fact: Only graduating seniors are given translations of the Latin speech. So unless you're versed in the ancient language, you're out of luck. Here are the scheduled orators:
Mary Anne Marks, Latin oration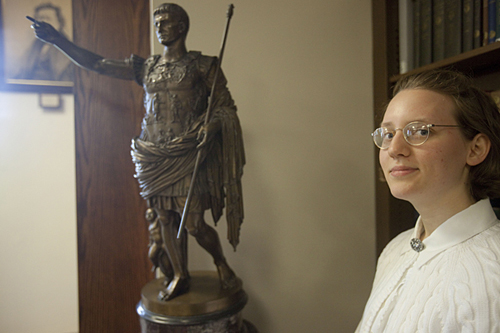 Queens, N.Y., native Mary Anne Marks is a classics and English joint concentrator who fell in love with the Latin language by studying Cicero's Catilinarian Orations. "The links between Latin and Romance languages are fascinating, and, at the same time, Latin has the ability to say things in ways that are not available to Romance languages or to English," said Marks. "I mused about ideas for the speech for weeks before setting pen to paper, and, once I'd picked a topic, I consulted with friends and acquaintances from various departments to make sure it spoke to their experiences at Harvard." In the fall, Marks is headed to Ann Arbor, Mich., to enter a community of Catholic teaching nuns called the Dominican Sisters of Mary, Mother of the Eucharist, where after three years of classes in the convent on theological and ecclesiastical topics, she'll attain a teaching certificate at a local university and teach in Catholic schools. "I've always thought about being a nun but came to Harvard planning to go to graduate school and perhaps also do some other things before entering," she recalled. "I decided in January of last year to enter right after college, but a master's or Ph.D. is still a possibility. One of the exciting things about being a nun is that one never knows what the future holds!"
Chiamaka Nwakeze, undergraduate oration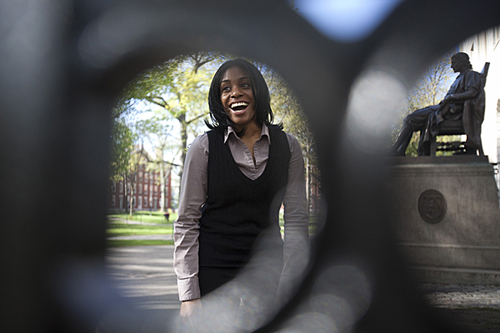 After writing six speeches, neurobiology concentrator Chiamaka Nwakeze decided on "the one." "Applying for the orations competition challenged me to distill four years at Harvard into a four-minute speech," Nwakeze said, "and speaking at graduation will be an additional challenge." But she's ready. Nwakeze cites her Nigerian parents' "immigrant work ethic," which "significantly shaped who I am," she said. Over her four years, she has been the vice president of programming for the Harvard Premedical Society, co-editor in chief of the student-run journal Harvard Brain, business chair of the National Symposium for the Advancement of Women in Science (where she helped to raise more than $10,000 for its conference), and a public speaking and writing tutor at the Harvard Allston Education Portal. Next, this New Rochelle, N.Y., native is off to Yale to work as a research lab assistant for biochemist Arthur Horwich, and plans to enroll in a M.D./Ph.D. program thereafter.
Jimmy Tingle, graduate oration
"I never in a million years thought I would be speaking at Harvard Commencement," said Jimmy Tingle, entertainer, Cambridge native, and now Harvard Kennedy School (HKS) graduate. Tingle, who already boasts a successful career as a comedian, began thinking about going back to school in 2007 when his Davis Square (Somerville, Mass.) enterprise, Jimmy Tingle's Off Broadway Theater, closed. "I wanted to do something completely different and evaluate my life and career," he recalled. Before studying public administration at HKS, Tingle was often featured in film and television and was even a commentator for "60 Minutes." Social and political themes are common in Tingle's routines, and he plans to continue to write, perform, pursue more work on radio and TV, and "explore how I can better use entertainment to effect social change." Yet, after all his accomplishments, Tingle still can't believe his luck in landing one of the biggest gigs of all: Harvard Commencement. He joked: "Looking over the list of distinguished Commencement speakers, Tingle does have a nice ring to it. Only in America! Only at Harvard!"
Uncommon throne
There's nothing truer than Harvard loving a good ritual. But a three-legged chair? Stranger things have happened here.
Purchased by Harvard President Edward Holyoke, who served from 1737 to 1769, the famed seat now rests in the Fogg Art Museum, where it's removed at Commencement for Harvard's president to repose in. But the chair's unique look matches its precarious origin and history.
Furniture historians wager that this unusual Jacobean chair — a "three-square turned chair" — was made either in England or Wales between 1550 and 1600. Not even Holyoke knew the facts and was stumped when visitors wondered about it.
But this President's Chair was not always tucked away for special occasions. Old reports suggest it resided in one of Harvard's libraries, and gave young men the right to kiss any lady he was showing around, and who happened to sit in it.
Few will argue the strange regal quality of the chair, but its usage was intended for something far less romantic than royalty and making out. Its true destiny was as a domestic piece of furniture. That's right, just your average, everyday, humble chair. Who would've thought?
Ticket to ride
Harvard Commencement begins with the cry, "Sheriff, pray give us order!"
That would be a call to the Middlesex and Suffolk county sheriffs, who will be wearing handsome top hats, morning coats, and striped pants with swords and scabbards at the belt. And they'll be riding white horses.
Pounding his staff three times, the Middlesex sheriff will signal the start of Commencement, decreeing, "This meeting will be in order."
As lore has it, the sheriffs were originally invited during the 17th century to control unruly or drunk students and alumni by horseback. Today, smartly dressed sheriffs continue fêting Commencement atop those noble alabaster steeds — with a few bumps in their road.
In 1970, Middlesex County Sheriff John J. Buckley announced he would not attend Commencement because he refused to wear the traditional required dress. In the 1930s, something similar occurred when two Massachusetts governors chided Harvard for its dress code. Later, Gov. Paul Dever outraged officials by arriving in a tuxedo and straw hat.
Another year, Gov. James Michael Curley appeared in silk stockings, knee britches, a powdered wig, and a three-cornered hat with flowing plume. When officials objected to his overwrought attire, Curley procured his copy of the Statutes of the Massachusetts Bay Colony — which had a dress code of its own — and proclaimed that he was the only person in attendance who was properly dressed.
Speak easy
Highlights of Commencement include those sometimes famous, sometimes groundbreaking, but ultimately unforgettable, speechmakers. There are two speakers: one for Class Day, one for Afternoon Exercises.
The Senior Class Committee has invited Class Day speakers since 1968, when Coretta Scott King delivered an inaugural address, taking the place of her husband, the Rev. Martin Luther King Jr., who had been assassinated two months earlier. She told the crowd: "Your generation must speak out with righteous indignation against the forces which are seeking to destroy us."
Past speakers have been as varied as last year's Matt Lauer, co-anchor of NBC's "Today," to former President Bill Clinton, comedian Conan O'Brien '85, singer and activist Bono, baseball legend Hank Aaron, charitable leader Mother Teresa, television anchorman Walter Cronkite, and comedian Rodney Dangerfield, to today's speaker, journalist and chief international correspondent for CNN Christiane Amanpour.
The speaker for Afternoon Exercises is determined by the University president and the president of the Harvard Alumni Association, who undergo cloak-and-dagger negotiations for months and keep their selection veiled until February, when an official announcement is made. This year's speaker is former Supreme Court Justice David Souter '61, LL.B. '66.
Honorands are also kept confidential until Commencement Day — though that didn't stop the German media. In 1964, news of West German Chancellor Ludwig Erhard's honorary degree spread through German news outlets, eventually reaching Harvard when a Crimson reporter wrote about it.
All members of the University community are invited to propose candidates for honorary degrees. Nominations are sent to a committee composed of the Corporation, the Board of Overseers, and senior faculty members.
Did you know that Benjamin Franklin received the first honorary degree in 1753? Or that more than 2,000 honorary degrees were conferred before one was granted to a woman? That went to Helen Keller, Radcliffe Class of 1904.
Honorands must receive their degrees in person.
It was a very good year
Though Harvard College was established in 1636, the first graduating class took six years to complete its studies.
Held in 1642, the foundational Commencement graduated just nine men in a Harvard Yard ceremony. It was considered a festival for six nearby towns, and comprised a weekend of feasting, merrymaking, and, of course, drinking. Many officials and residents came from afar to take in the pageantry.
Yet in the 17th century, the month of celebration was not in May or June, but in September, a time when most graduates began careers as clergymen or teachers.
Though dubbed "the oldest continuous springtime festival in North America," there have been breaks in Commencement's line.
In fact, it has been canceled nine times, for reasons varying from smallpox to the Revolutionary War. Heavy rains forced Commencement indoors to Sanders Theatre in 1968, marking the first indoor exercises since 1922. However, today's Commencement reliably takes place al fresco at Tercentenary Theatre — rain or shine.
Bells du jour
When Morning Exercises are over, bells across Cambridge will ring for 15 minutes. No, it's not a fire drill or citywide warning — just another well-oiled practice.
At 11:30 a.m., for the 21st consecutive year, bells will ring from the Memorial Church tower, Lowell House, the Harvard Business School, Christ Church Cambridge, the Harvard Divinity School in Andover Hall, the Church of the New Jerusalem, First Church Congregational, First Parish Unitarian Universalist, St. Paul Roman Catholic Church, St. Peter's Roman Catholic Church, University Lutheran Church, Holy Trinity Armenian Apostolic Church, North Prospect United Church of Christ, and St. Anthony's Church.
For exiting graduates, the bells offer a reverent, jubilant sound, a festive marker for a treasured turning point.