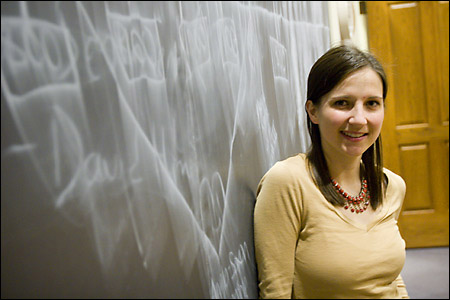 Lowell House senior, literature concentrator, and poet Emily Vasiliauskas has been named a 2007 Marshall Scholar and plans to spend the next two academic years studying at England's Cambridge University.
Vasiliauskas was the only Harvard student among the 43 U.S. citizens named 2007 Marshall Scholars, announced by the Marshall Aid Commemoration Committee in late November with confirmation by the British Ambassador's Advisory Council on Dec. 4.
At least 40 Marshall Scholarships are awarded annually to U.S. citizens who have received a bachelor's degree with at least a 3.7 grade point average. The scholarships are good for expenses at a British University of the scholar's choice for two years of study.
The scholarships were created in 1953 to build on the success of the Rhodes Scholarships and to thank the citizens of the United States for help rebuilding after World War II. The aim of the scholarships is to build understanding between citizens of the United States and the United Kingdom, ensuring a continuing close relationship in the future.
Vasiliauskas, who grew up in Northborough, Mass., and whose family now lives in Virginia, said she is looking forward to the opportunity to study at Cambridge. She plans to pursue an M.Phil. in criticism and culture there. She said she also hopes to study philosophy and theology.
After returning from Cambridge, she is considering pursuing a doctorate and a career in academia.
Vasiliauskas said she remembers writing poetry even when she was in elementary school, but said it became a serious interest in high school, when she attended a conference as a sophomore. The conference introduced her to the writing community and to the concept of writing as the focus of a group with whose members she could interact.
"It led the way for me to interact with the poetry community at Harvard," she said.
A regular contributor to campus literary publications Persephone and The Gamut, Vasiliauskas said she was lucky to have had small classes almost throughout her Harvard career.
"I benefited from the community of poets here, both professors and students," Vasiliauskas said.
Related links: