Roy P. Mottahedeh, Gurney Professor of History in the Faculty of Arts and Sciences, has been appointed inaugural director of the new Prince Alwaleed Bin Talal Islamic Studies Program at Harvard University.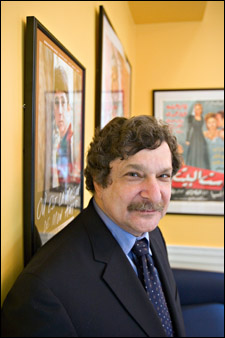 Established with a $20 million gift from HRH Prince Alwaleed Bin Talal Bin Abdulaziz Alsaud, an international entrepreneur and philanthropist, the program fosters the scholarly study of Islamic history, tradition, culture, and contemporary life. Its multidisciplinary approach will expand Harvard's coverage of the growing field of Islamic studies, enhancing the University's ability to address increasing demands for knowledge and understanding of the Islamic tradition.
The Prince Alwaleed Bin Talal Islamic Studies Program will bring together faculty, students, and researchers from across the University as well as the wider academic community. It will enlarge one of the most distinguished faculties of Islamic specialists in the English-speaking world, with interests ranging from history and law to art and literature. Housed within the Faculty of Arts and Sciences, in close coordination with the Harvard Divinity School, it will serve as an information source and point of contact.
"A sophisticated grasp of the history and interaction of the great world religions is essential in understanding our interconnected world," said Jeremy R. Knowles, dean of the Faculty of Arts and Sciences. "The Prince Alwaleed Islamic Studies Program will support Harvard's strengths in this area, and will address growing student interest in Islam. The University-wide activities of students and scholars focused on Islamic studies will now interact, under Roy Mottahedeh's leadership, more harmoniously and productively than ever."
A major Islamic social historian, Mottahedeh focuses on the premodern social and intellectual history of the Islamic Middle East. He has authored three books: "Loyalty and Leadership in an Early Islamic Society," "The Mantle of the Prophet: Religion and Politics in Iran," and "Lessons in Islamic Jurisprudence." He has also written numerous articles and serves as the faculty adviser for the Harvard Middle Eastern and Islamic Review. He is currently working on a history of southern Iraq from the end of monarchy to the American-led invasion. In June 2006, the University of Lund in Sweden awarded him an honorary doctorate.
After completing his undergraduate studies in history at Harvard, Mottahedeh studied Persian and Arabic at Cambridge University in England. He continued his graduate studies at Harvard and was elected to the Harvard Society of Fellows, receiving his Ph.D. in 1970. Mottahedeh joined Harvard's History Department faculty as professor of Islamic history in 1986. From 1987 to 1990, he served as director of the Center for Middle Eastern Studies. In 1994, he was appointed the Gurney Professor of History. Mottahedeh was among the first MacArthur Prize Fellows and has also received a Guggenheim Fellowship.
"I am deeply honored to be named the first director of this important effort," he said. "We have a terrific opportunity to build on Harvard's strong commitment to the study of the world's religions. Our distinguished faculty of Islamic specialists will now be able to encompass the full range of Islamic life and culture around the world and throughout history.
"Human experience involves many more cultural modes than most people realize," Mottahedeh continued. "Islam, like Western cultures, has a biblical and Hellenic heritage. I hope that by introducing a broad view of Islam, the resulting research and academic activities will lead many students and scholars to understand and appreciate Islam's contribution to the rich and varied fabric of human history."
"I am delighted that Roy Mottahedeh has accepted this inaugural directorship," said Harvard University Provost Steven E. Hyman, who is coordinating the new program's implementation. "I look forward to exciting accomplishments by Roy and the program."
The prince's gift establishes four senior faculty positions, including the Prince Alwaleed Bin Talal Professor in Contemporary Islamic Thought and Life. The gift also provides graduate fellowships and expands research capabilities, including an online library portal and digital project that will make available rare Islamic source materials drawn from Harvard's exceptional collection.
"The new professorships will bring large areas of the Islamic world within reach of our intellectual community," Mottahedeh said. "We will have a breadth of expertise that cannot be found anywhere else in the United States. This is wonderful for the students, and I look forward to the many insights that this resulting dialogue across disciplines and regions will stimulate."
To ensure that the new appointments have the greatest impact on Harvard's students and on the field, Mottahedeh will chair the program's steering committee. Comprising leading faculty from disciplines across the University, the committee consists of Ali S. Asani, professor of the practice of Indo-Muslim languages and cultures, Department of Near Eastern Languages and Civilizations; Wolfhart P. Heinrichs, James Richard Jewett Professor of Arabic, Department of Near Eastern Languages and Civilizations; Baber Johansen, professor of Islamic religious studies at Harvard Divinity School and faculty director of the Islamic Legal Studies Program; Gülru Necipoglu, Aga Khan Professor of Islamic Art and Architecture, Department of the History of Art and Architecture; and Bernard Septimus, Jacob E. Safra Professor of Jewish History and Sephardic Civilization, Department of Near Eastern Languages and Civilizations.
"Roy Mottahedeh is an outstanding choice to lead our Islamic Studies Program," said William A. Graham, Murray A. Albertson Professor of Middle Eastern Studies, John Lord O'Brian Professor of Divinity, and dean of the Faculty of Divinity. "His international stature in this field will facilitate collaborative efforts across Harvard and around the world. His exceptional scholarly work and teaching have already contributed to a broader understanding of Islamic culture and history, and I know that Roy is excited about the program's potential. I look forward to working with him and our colleagues to expand our capacity for scholarly study of, and communication about, the history and current development of Islamic life and thought."