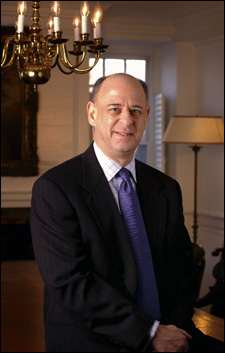 Alan J. Stone, the University's Vice President for Government, Community and Public Affairs since 2001, announced today (Nov. 8) that he will step down at the end of the 2006-07 academic year.
"Alan has served Harvard with wisdom and devotion since arriving here in 2001," said interim Harvard President Derek Bok. "He has done a great deal to advance the University's interests with an array of important constituencies, and has carried his broad portfolio of responsibilities with professionalism, collegiality, and care. I have much enjoyed and benefited from the chance to work with him since my return to Massachusetts Hall, and he deserves our thanks for all he has done and continues to do for Harvard."
"I am grateful to have been asked to be part of the Harvard administration under Larry Summers and now Derek Bok," said Stone. "Harvard is continuing to renew itself in a dynamic way that will be deeply consequential for this region and far beyond for decades, and it has been enormous fun and gratifying to be part of it."
Stone has served Harvard through a pivotal time for the University in his three principal areas of responsibility – government relations, community relations, and public affairs. In addition to supervising the University offices responsible for those areas, he has been a senior adviser to the president, provost, and governing boards on a range of matters involving Harvard's dealings with external audiences.
With his colleagues in the Office of Government, Community and Public Affairs, he has worked to sustain the flow of federal funding for both research and student financial aid, to press Harvard's interactions with federal and state governments on stem cell research, and to address the implications of legislation bearing on higher education, such as the USA Patriot Act, new federal policies impacting international exchange, and the reauthorization of the Higher Education Act.
He has been a leading figure in Harvard's efforts to enhance its relations with its two principal host communities, Cambridge and Boston. During his tenure, the University has successfully pursued ambitious building efforts on Harvard's Cambridge campus, while also taking critical first steps toward the eventual development of its properties in Allston, in each case working very closely with the host community. It has also expanded its scope of initiatives intended to serve neighboring communities – among them, the launch of the Step-Up program, a new partnership with five area universities and Boston to support learning in 10 public schools; the renewal and enhancement of the Cambridge-Harvard Summer Academy, an intensive summer school program for Cambridge students involving students from the Graduate School of Education; and, after many years of contention, the completion of a 50-year PILOT agreement (payments in lieu of taxes) with Cambridge.
"I'm especially pleased about the progress I believe we've made in community relations over the last several years," said Stone. "We understand better the importance of speaking with one voice, being generous, and being transparent. I believe that we have put in place a process of broad collaboration that recognizes the importance of our role not just as a great university, but as a responsible neighbor."
In public affairs, Stone brought cohesion to Harvard's communication efforts and has helped lead efforts to bring Harvard into a new era of Web-based communications, while building the University's capacity in science reporting and in media matters bearing on Harvard's relations with its neighboring communities. He has aimed to stimulate press coverage of the extraordinary accomplishments of Harvard faculty and students, and fielded innumerable media inquiries about one of the nation's most visible and closely watched institutions.
Before coming to Harvard, Stone served as Vice President for Public Affairs at Columbia University. There he helped initiate programs to expand economic links among Columbia, the community, and the city and to broaden and improve the interactions between the university and its neighbors.
Earlier in his career, Stone worked extensively in the federal government. He served as legislative director to a U.S. senator, staff director to two congressional committees (the Senate Select Committee on Nutrition and Human Needs and the House Select Committee on Children, Youth, and Families), and counsel to the Senate Democratic Policy Committee.
Stone was the chief speechwriter for the National Education Association from 1987 to 1989 and senior adviser to the Carnegie Foundation on Teaching from 1988 to 1992. He was also a start-up consultant to the Tufts Center on Hunger, Poverty, and Nutrition from 1991 to 1993. He also served in Little Rock and the White House as a speechwriter for President Clinton.
A Chicago native, he earned his B.A. at Miami University in Ohio in 1966 and his law degree at George Washington University in 1969. From 1970 to 1972, he served as a VISTA attorney in Worcester, Mass., and in 1972, opened a rural legal services office in Colorado. As part of his work with the Senate Nutrition Committee, he helped develop a number of anti-hunger initiatives, including the Women, Infants, and Children program (WIC).