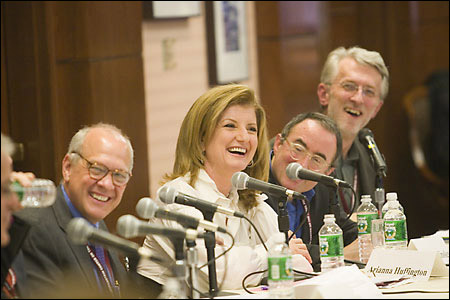 Reporters, editors, and analysts from both mainstream and new media outlets gathered last weekend (Oct. 13-14) at the Kennedy School's Shorenstein Center to celebrate the 20th anniversary of the founding of the Joan Shorenstein Center on the Press, Politics and Public Policy and discuss an industry in the throes of massive change.
"Traditional news media today are scared," noted panelist Rick Kaplan, former president of MSNBC and CNN-US. "The way they [choose to] reach out – this is their biggest challenge."
"The question of the day is who is a journalist," said Robin Sproul, vice president and Washington bureau chief of ABC News. "The lines are becoming increasingly blurred."
Over two days, more than 200 journalists and scholars struggled to make sense of a range of issues – from shrinking news staffs to the increase in entertainment reporting to the emergence of the "citizen journalist."
While views among panelists differed on the scope of the transformation, participants agreed that new technologies have forever changed the industry. The rise of 24-hour news channels and the development of new technological tools – from cell phones to e-mail to blogs – have dramatically altered the pace and way in which news is gathered and reported.
Panelist and former Shorenstein fellow Nik Gowing of BBC World recalled last year's terrorist attack in London, when the BBC received 30,000 e-mails and 3,000 text messages responding to the news organization's reporting. "They were challenging us – trying to analyze a real-time crisis in high speed," he said. "It's a phenomenon that's happening everywhere in the world. It's creating this vulnerability."
Panelists from the so-called new media expressed optimism for the direction in which news gathering is going. "The theme of opening a formerly controlled, walled garden [mainstream media] is very much in process," said panelist Martin Nisenholtz, senior vice president of digital operations at the New York Times Co. "We are creating an ecosystem."
"I'm incredibly optimistic," said panelist Michael Kinsley, founding editor of Slate. "Who better to empower than those we want to empower? … The message here is we all hold the truth. … Our [journalists'] real job is to enable."
Panelist Jeff Jarvis, a writer from BuzzMachine.com, noted that journalists continue to have an important role to play. "Our job is to be moderators – to be good journalists. … It is becoming a broader role." But citizens can and should perform "acts of journalism," he said. "It is not a priesthood."
At the celebration's dinner, Shorenstein Center Director Alex Jones paid tribute to Walter Shorenstein, who 20 years ago provided the principal support to establish the new center in memory of his daughter, former CBS Evening News producer Joan Shorenstein Barone. He is, said Jones, a force of nature with "very big ideas and a real passion for sorting them out."
Former longtime CBS anchorman and reporter Dan Rather told the evening gathering that his former colleague Barone "believed that the American political process embodied a promise, and she took that promise at its word, which is one of the reasons why it is so fitting and right that her life continues to be celebrated in the work of this center dedicated to the intersection of press, politics, and public policy."