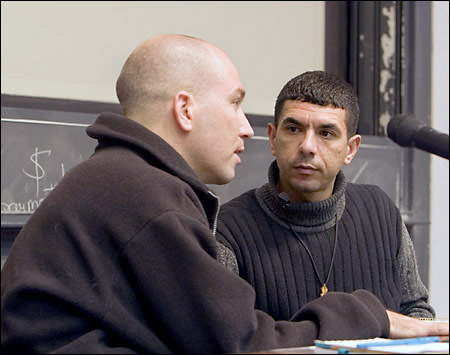 A former Israeli air force pilot and a former Palestinian guerilla brought a message of peace to the John F. Kennedy School of Government Tuesday (Oct. 24), saying both sides must abandon violence if the conflict is to be resolved.
Yonatan Shapira, a former captain in the Israeli air force reserves, and Sulaiman Khatib, a former Palestinian guerilla who spent 10 years in Israeli prisons, said the only way to stop the conflict is for people to lay down their arms and begin to talk to those on the other side. That way, they said, both sides will begin to understand each other as people and not just as stereotyped occupiers or terrorists.
The two men are members and co-founders of the group "Combatants for Peace," made up of former Israeli and Palestinian fighters who have abandoned violence to search for a better way forward.
The event, "Alternatives to Wars in the Middle East," drew more than 100 people and was held in the Kennedy School's Weiner Auditorium. It was sponsored by the Carr Center for Human Rights Policy and the Middle East Initiative.
Both Shapira and Khatib then told their stories and talked about the power they have to change people's minds by refusing further violence and embracing their former enemies.
Khatib said he became involved in the intifada when he was 12, throwing stones at Israeli soldiers. He became more heavily involved and "participated also in trying to kill Israeli soldiers," he said, before being sent to an Israeli jail at age 14. He said he got an education from other inmates during his 10 years in jail and participated in hunger strikes.
Shapira described being raised on a series of air force bases because his father was a pilot. He worked toward the dream of many Israeli youth: to become a pilot, too, and he achieved that aim in 1993 when he finished his pilot's training.
He served in the air force and then the reserves, flying rescue missions for 10 years. It was during the second intifada, which began in 2000, that he began to question the air force's policies and tactics, he said. A turning point came in 2002, when the air force assassinated Hamas military leader Salah Shehada by bombing his house, killing 14 other civilians and injuring more than 150, Shapira said.
Though Shapira viewed Shehada as a criminal, he couldn't accept the other deaths as legitimate. After that, Shapira refused to fly missions into the Palestinian territories. He was subsequently discharged from the air force.
After his discharge, he became more active, Shapira said, and he realized he needed to go to the Palestinian territories to find like-minded people. Khatib said it took months of meetings for suspicions of each side to fade. He said he initially feared the Israelis were part of Israeli intelligence.
The result of their dialogue was the founding of Combatants for Peace, made up of those on both sides who took part in the violence. Group meetings regularly draw 25 from each side, but special events have drawn more than a 100 former combatants and hundreds more guests.
"Many of us were really, really violent. Many of us have lots of blood on our hands, on our wings," Shapira said.
The group supports a return to the 1967 borders with a division of Jerusalem, Shapira said. Their aim is to extend their dialogue into political pressure for a nonviolent solution to the situation. Shapira said they appear publicly in pairs, one from each side, and on Tuesday urged members of the audience to see the reality in the Palestinian territories for themselves. He also called on audience members to pressure the U.S. government to use its clout with Israel to push for a resolution.
"Our mission is to end the cycle of violence. Both sides are suffering," Shapira said.
Toward the program's end, one audience member commented that the presentation seemed to emphasize a change in Israeli behavior more than that of the Palestinians. Both Shapira and Khatib responded that, though they believe both sides must abandon violence – including the Palestinian use of suicide bombers, who exclusively target innocent victims – because the two sides are not equal militarily, the onus rests more heavily there.
Another member of the audience struck a pessimistic note, saying that other groups over the years have used similar tactics, involving people from both sides, and have failed to change life on the ground.
Shapira responded that despite his optimistic message of hoped-for change, he sees a dark future if a solution doesn't come. Israelis with the money to move, he said, will move to other countries, leaving behind the poor and the hard-liners, and the situation will worsen.
"As a refusenik…I am protecting my country more than I was before," Shapira said. "As a rescue pilot, maybe this is a much more important rescue mission."