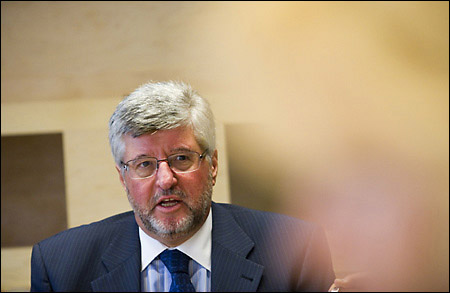 Years of diplomacy aimed at stabilizing the troubled Balkans region have begun to yield some promise and reason for optimism, the Greek ambassador to the United States Alexandros Mallias told Harvard faculty and students this week during a daylong campus visit.
"There is a lot of progress," said the veteran Greek diplomat, who spent more than a dozen years working on Balkans issues before he was appointed ambassador to the United States last October.
Mallias shared his vision for a stable, peaceful Balkans integrated into the broader European community Monday (Oct. 16) during a roundtable discussion with Greek students and faculty sponsored by the Kokkalis Program on Southeastern and East-Central Europe and later that evening in a lecture at the Center for European Studies.
"The 2003 European Summit opened the door for membership in the European Union, potentially, to all Balkan countries with no exception. That was an important part of European history," Mallias explained in an interview.
Mallias said Greece, which has been a leader in stabilizing and investing in the neighboring Balkans, sees great promise in the potentially transformative process of wobbly, squabbling Balkan nations seeking entrance into the European Union. The act of moving toward EU membership is likely to foster a new, harmonious "European focus" across southeastern Europe, he predicted.
Even so, the thorny issue of Kosovo's status continues to confound envoys working on a negotiated settlement to the Balkan conflict. The United Nations has administered Kosovo since Serb forces were driven out by NATO in 1999.
Many of the ethnic Albanians living there are insisting on independence from Serbia, while the Serbian parliament recently adopted a new constitution, yet to be ratified at the polls, declaring the region an integral part of Serbia.
"We need to secure Kosovo in a way that will not destabilize Serbia. If we do stabilize Kosovo and this decision leads to the destabilization of Serbia, this decision will not argue well for European and American policies," Mallias said.
But the ambassador said he sees no reason why both areas can't be steadied simultaneously through patient, careful diplomacy.
"In the near future, we have to make some decisions. Our approach is for a phased process to orchestrate things that will be acceptable both to Pristina and Belgrade," Mallias said, referring to the capitals of Kosovo and Serbia, respectively.
"Or, at least," he added after a moment of thought, "acceptable to Pristina and tolerated by Belgrade."
Despite his optimism, Mallias said there has been no progress yet in the talks.
Meanwhile, the ambassador said he's not worried that the United States' all-out diplomatic campaign to stymie nuclear weapons programs in Iran and North Korea while fighting wars in Iraq and Afghanistan will overshadow its commitment to the Balkans.
"Of course, it's not the top priority of American diplomacy right now, but the State Department does have high officials who are focused on this," Mallias said. "Second, the level of cooperation between the European Union and the United States is now very good. That is important for the Balkans, and that was not the case in the mid-'90s on Bosnia."
Mallias was last at Harvard in 1991 and 1992 while working with the John F. Kennedy School of Government's Conflict Management Group think tank, which has since been folded into the global humanitarian relief and development agency Mercy Corps.
"This is an important part of my resume, working with the Conflict Management Group," Mallias said. "I also have studied regularly the literature coming out of this University on negotiation as well as the most recent Harvard study on Libya."
Since his last trip to Harvard 14 years ago, the United States' diplomatic relations with Europe have been strained by opposition to the Iraq War among EU members including France and Germany. Mallias said those wounded relationships largely have been mended over the past few years.
"I think the war in Iraq – now, in 2006 – is a greater issue inside the United States than between Europe and the U.S.," Mallias said, later adding, "We had our difficult times, no doubt. Our Stone Age between the EU and the United States was in 2003."
During his engagements on campus, Mallias also stressed Greece's growing economic power in its region. He pointed to $15 billion in investment by Greek companies in the Balkans as well as the acquisition by two Greek banks of major banks in neighboring Turkey.
"We do have a key position in the shipment and transshipment of crude oil and natural gas," the ambassador said. "We are building a natural gas pipeline with Turkey and Italy, and we are very much advanced in our talks with Bulgaria and Russia for a crude oil pipeline from the Black Sea to the Aegean port of Alexandroupolis."
Mallias also highlighted his country's key role in arranging last month's top-level meeting of foreign ministers including U.S. Secretary of State Condoleezza Rice on the Middle East.
As a member of the United Nations Security Council, Greece last week cast a vote in favor of unanimously approved sanctions against North Korea in the wake of that country's recent nuclear test.
"Greece now has a role going well beyond the region," Mallias said.