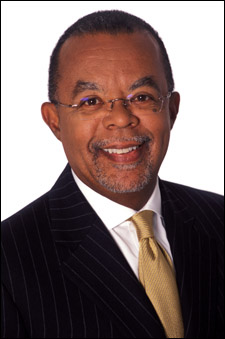 Henry Louis Gates Jr. has been appointed the Alphonse Fletcher University Professor, interim President Derek Bok announced today (Oct. 23).
"Professor Gates has accomplished something for the University that very few professors have done," said Bok. "He has taken a field of study that, years ago, was floundering at Harvard and transformed it into the leading department of its kind in this country. In addition, he has been one of the world's intellectual leaders, if not the intellectual leader, in shaping the entire field of African-American studies over the last quarter century."
Gates joined the Harvard faculty in 1991, having taught at Yale, Cornell, and Duke. He received his B.A. from Yale, summa cum laude, where he became a member of Phi Beta Kappa in his junior year, and earned an M.A. and Ph.D. in English language and literature from Clare College, Cambridge. At Harvard, he served for 15 years, from 1991 to 2006, as chair of what is now the Department of African and African American Studies, and has been director of the W.E.B. Du Bois Institute for African and African American Research from 1991 to the present. The W.E.B. Du Bois Professor of the Humanities since 1991, he also serves as a professor in the Department of English and American Language and Literature.
"I am deeply humbled by this generous gesture by President Bok," said Gates. "This is without a doubt the greatest honor of my academic career. Even as a good Yalie, I have come to love Harvard University and to think of it as home. I look forward to teaching, writing, and serving in the Department of African and African American Studies and English Department for a long, long time. It is also a special honor that the first occupant of this chair was my dear friend and colleague, Cornel West."
Author of many books, articles, and essays, Gates has received numerous honors including a MacArthur Fellowship, the National Humanities Medal, the George Polk Award for social commentary, and the American Book Award (for "The Signifying Monkey: A Theory of Afro-American Literary Criticism" [1988]). In September of this year, he received the Jay B. Hubbell Medal, given by the American Literature Section of the Modern Language Association "for a lifetime of meritorious service to the study of American literature." He was elected to the American Academy of Arts and Letters in 1999, and in 2002 was named by the National Endowment for the Humanities to give the Jefferson Lecture, the federal government's highest honor for distinguished achievement in the humanities. He has received more than 40 honorary degrees.
Gates is editor in chief of the Oxford African American Studies Center, the first comprehensive scholarly online resource in the field of African-American studies and Africana studies, and is co-editor with Kwame Anthony Appiah of "Africana: The Encyclopedia of the African and African American Experience" (2005 second edition). His recent books include "The Trials of Phillis Wheatley: America's First Black Poet and Her Encounters With the Founding Fathers" (2003), "African American Lives," co-edited with Evelyn Brooks Higginbotham (2004), and "The Annotated Uncle Tom's Cabin," edited with Hollis Robbins (2006). His 13th and newest book, "Finding Oprah's Roots," is scheduled to be published in February 2007. Gates has also written, produced, and hosted several documentary series on the Public Broadcasting Service (PBS) and the British Broadcasting Corporation (BBC) including the critically acclaimed "African-American Lives."
The University Professorships, created by the President and Fellows in 1935, are chairs intended for "individuals of distinction … working on the frontiers of knowledge, and in such a way as to cross the conventional boundaries of the specialties." With the appointment of Gates, there are now 21 members of the Harvard faculty serving as University Professors.
The chair Gates now holds was established in 1996 by Alphonse Fletcher Jr., chairman and chief executive officer of Fletcher Asset Management Inc. and a 1987 graduate of Harvard College. The chair was named to honor Fletcher's father. After graduating from Harvard College in 1987 with an A.B. in applied mathematics, Fletcher went to work at Bear, Stearns & Co. Inc., and later at Kidder, Peabody & Co. Inc., where he emerged as one of the firm's most successful traders. In 1991, he founded Fletcher Asset Management, a New York City-based investment firm, where he serves as chairman and CEO. His philanthropy is widespread, and includes support for Harvard Medical School, the Harvard School of Public Health, and, most recently, the Harvard University Professorship Challenge Fund.