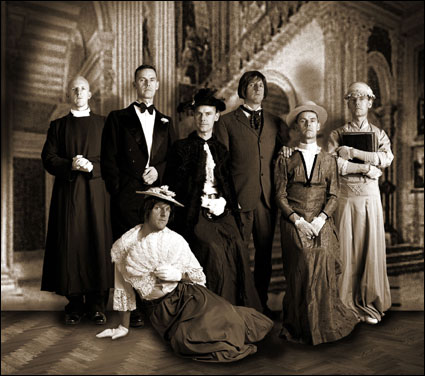 Until Oct. 7, Harvard faculty and staff may purchase a subscription for the 2006-07 season at half the regular price when they select all eight productions. For each production, Harvard faculty and staff may purchase tickets for any performance during the first week of the run at half the regular single-ticket price.
Call it a season with seasoning. During 2006-07, Harvard's American Repertory Theatre (A.R.T.) will present a stylistically diverse blend of eight traditional and experimental plays. Most investigate theater's creative outer edge, pushing out of the box-office box to adapt diverse art forms for the stage. Inspirations include collage, film, the novel, rock music, slapstick, and political satire. The final play, Harold Pinter's "No Man's Land" (opening in May), will anchor the season with a chamber-theater classic that explores the taunts of aging and the tricks of memory.
"The range of work this season is extraordinary," said Robert Woodruff, A.R.T.'s artistic director. In January, he will direct Jean Racine's "Britannicus," a densely written gem of neoclassical theater.
"Robert knows how to knead clarity out of complex material," said Robert J. Orchard, A.R.T. co-founder and executive director. Orchard called the 2006-07 offerings "a season of transformations" that reinterpret for the stage the energy and variety of different aesthetic experiences.
"As an art form," said Orchard of the theater, "we shouldn't always be doing the same thing. We should be looking for the edge."
Woodruff gave a few other examples of A.R.T.'s season of transformations and surprises: what he called the "intense theater cabaret" of "The Onion Cellar," for instance, which will showcase the music of "Brechtian punk" band the Dresden Dolls (opening Dec. 9 at Zero Arrow Theatre). Add to that an odd rendition of Oscar Wilde's "The Importance of Being Earnest," which Woodruff said "redefines ridiculous." (Two comic actors play all the parts – and at the end are each several people nearly at once.) And a first-time stage adaptation of "Wings of Desire," a Wim Wenders film about an angel who gives up immortality to fall in love – with a trapeze artist. ("I know now," he soon says, "what no angel knows.")
"This season is like an eight-ring circus, where every act is radically different," said Gideon Lester, A.R.T.'s associate artistic director. "These dialogues between theater and other art forms teach us a great deal about the possibilities of the stage."
---
---
Lester is now in Amsterdam, where his co-adaptation of "Wings of Desire" is in rehearsal with its U.S.-Dutch cast for an on-the-road opening this week. "It's a huge challenge, because Wenders' work is so self-consciously filmic," said Lester of the story originally set in Cold War Berlin. "But finding a new theatrical vocabulary for the material has been a remarkable journey." ("Wings of Desire" will open Nov. 25.)
The current A.R.T. offering, at the Loeb Stage through Saturday (Oct. 7), represents another theatrical transformation of a separate art form. Inspired by the madcap found art of Robert Rauschenberg, "bobrauschenbergamerica" unfolds as a hyper-American collage of 43 acts. They leap from chicken jokes and picnics to a square dance and – most American of all – a shooting. The set is also a homage to Rauschenberg's garage-sale art. It's a gorgeous junkpile of pop-art flags, nylon lawn chairs, a claw-foot bathtub, cornball aprons, and big-coverage bikinis.
In February, A.R.T. audiences will see the U.S. premiere of an "Oliver Twist" that incorporates the rich original language of the Dickens novel, and blends it with a staging suggestive of a vintage British music hall. The Neil Bartlett adaptation (directed for A.R.T. by Bartlett as well) "unearths [the novel] in its breadth and theatrical potency," said Woodruff.
"Elections and Erections: A Memoir of Fear and Fun," written and performed by master satirist Pieter-Dirk Uys, is a politically charged ravishment of South Africa's struggling new democracy – a love letter, of sorts, from an observant native son. Uys performed his "Foreign AIDS" at A.R.T.'s South African Festival early last year. Said Orchard of the artist, "His greatest gift is his sense of humor and his generosity."
From chicken jokes and Dickens, to angels and onion cellars, A.R.T.'s 2006-07 season, said Orchard, "will be a journey for audiences that is varied and profound."