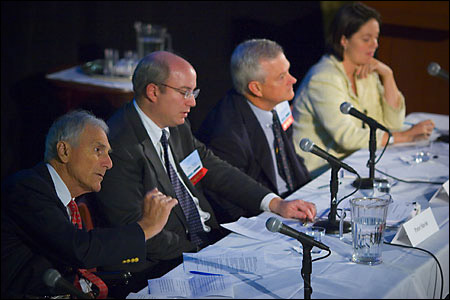 If the United States is going to maintain a leadership position in stem cell research, there has to be more emphasis on teaching modern science in schools and less political concern "about what 'kind' of science to teach in the schools," Debora L. Spar, Spangler Family Professor of Business Administration at Harvard Business School, told those attending a Stem Cell Leadership Summit Friday (Oct.13).
Spar, whose role was to sum up the day's discussions and talks, was echoing a theme repeated by many of the speakers, and that is finding ways to make sure that the country's best young scientists are not discouraged by the political environment and a lack of funding from going into stem cell science.
The daylong event, held at the American Academy of Arts and Sciences Cambridge Conference Center, brought together stem cell scientists, ethicists, venture capitalists, leaders of biotech, and other supporters of stem cell research for a series of talks and discussions focused on how to support stem cell science and ensure that it fulfills its promise in terms of leading to cures for disease. The event was co-sponsored by the Harvard Stem Cell Institute, the Massachusetts General Hospital Center for Regenerative Medicine, and the center's Innovation Fund.
At the start of the day, keynote speaker Lawrence H. Summers, Charles W. Eliot University Professor, had told the gathering that the "most important thing" the leaders of the Harvard Stem Cell Institute have done in the past two years is "empower the brilliant young investigators who are going to see the future" by providing them with funding and other forms of support.
Summers told the almost 200 attendees at the summit that "we are not alone in seeing" the enormous impact biomedical research in general, and stem cell science in particular, will have on the region and the nation. "And the stakes here are very high," he said, particularly around where stem cell treatments will first be applied, where research leadership will come from "in a world that looks to leaders," and, finally, "in the vast wealth creation" that will attend this progress. "So make no mistake," Summers said, "there will be brutal competition. And there is much in which to take satisfaction."
Summers and other speakers noted that supporting the next generation of scientists is vital to success in stem cell science and other areas of biomedical research. "At a time when the life sciences are central to everything, from finding cures for disease to finding substitutes for petroleum to understanding the effects of global warming on the ecology to gaining a better insight into many aspects of human behavior, one-third of high school biology teachers in the United States do not believe in the theory of evolution," said Summers. "When the American people are asked what they think about the theory of evolution, 40 percent say it's right, 40 percent prefer an alternative biblical account, and 20 percent say they don't know. In Japan, 95 percent believe in the theory of evolution."
So, while Harvard and Boston are presently in an unparalleled position of strength in the life sciences and medical research, and, in terms of stem cell research, "start from a base that is unmatched throughout the world," it is vitally important that "we not confuse a moment of leadership with enduring competitive strength," Summers warned, pointing out where Britain and Germany once stood in comparison with the United States in terms of the life sciences and higher education.
Joseph Fuller, founder and CEO of the Monitor Action Group, pointed out during a plenary session on the "implications of relinquishing a leadership role in stem cell science" that, on the eve of the biotechnology revolution, Europeans "had all the advantages of leadership, but something happened; it all came apart." What happened in the United States, which became dominant in biotech, was a marked increase in government funding for research, a commitment by venture capitalists to early-stage product development, and a surge in alliances between large pharmaceutical companies and emerging biotech companies.
If the United States and Boston, Fuller said, are going to remain dominant in stem cell research in the face of competition from China, Singapore, Spain, the United Kingdom, and other countries, private individuals, venture capital – which is scarce in stem cell science – and state governments are going to have to fill the funding gap until the federal government begins to fund the research.
Commenting on the uncertainty of funding for stem cell research, and the possibility of increased legal regulation, William A. Sahlman, Dimitri V. d'Arbeloff Class of 1955 Professor of Business Administration at the Harvard Business School, struck a familiar chord when he warned that young scientists are not going to embark on careers where they're not sure of getting funding – or of getting tenure. "And," Sahlman warned, "if the best and brightest of the next generation of scientists turn away from stem cell research, we could be describing a disaster of unparalleled proportion."