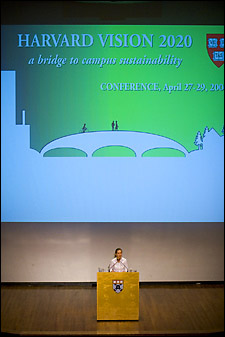 For the second time in less than two years, Harvard President Lawrence H. Summers doubled the dollars available for campus conservation projects, to $12 million this time, through the Harvard Green Campus Loan Fund.
Summers announced the dramatic increase April 27 as he declared Harvard's commitment to doing all it can to fight global warming through both research and the way it runs its own business.
Summers said it is apparent to almost everyone that human activities are causing global temperatures to rise and it is incumbent on an institution like Harvard to address the problem.
"There is much we do not know about global warming," Summers said to an audience of about 150 in Harvard Business School's Burden Hall. "[But] we do know enough to say that those who deny the reality of human-caused global warming sit in a particular place in intellectual purgatory alongside those who believe tobacco does not affect human health. We do not know everything we need to know, but we know enough to know we have a problem."
Summers joined Boston Mayor Thomas M. Menino in delivering keynote speeches on the first day of a conference on environmentally sustainable practices on campus called "Harvard Vision 2020: A Bridge to Campus Sustainability."
Sponsored by the Harvard Green Campus Initiative, the Harvard Center for the Environment, Harvard Dining Services, and several businesses and organizations, the conference presents three days of workshops, speeches, campus tours, and training seminars.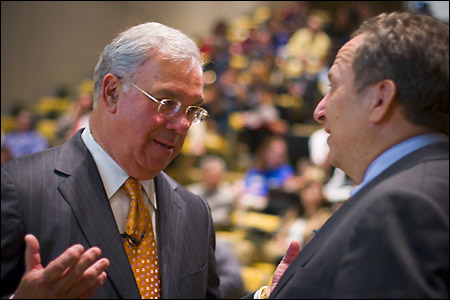 "We wanted to give the Harvard community a chance to reflect on its own successes to date, give campus and city leaders a chance to articulate their goals on sustainability, and to involve people in talking about the future of sustainability on campus," said Green Campus Initiative Director Leith Sharp.
In his talk, Menino praised Summers for his leadership at Harvard, saying he has made a difference in a variety of ways to the city of Boston and citing the millions of dollars Harvard has spent on after-school programs, affordable housing construction, and summer jobs programs.
Menino said Boston is working to improve its own record on sustainability, buying 8 percent of its power from renewable sources, embracing environmental building standards, and taking a variety of other steps, such as using biodiesel to fuel city vehicles. Menino decried what he called a lack of leadership in Washington, D.C., on sustainability, energy, gun control, and other issues, and urged conference attendees to go home at the conference's conclusion and take action.
Summers last increased the Green Campus Loan Fund in December 2004, infusing enough cash to grow the fund from its initial $3 million to $6 million.
Since then, the increasingly popular fund has been something of a victim of its own success. It has loaned out enough money that it would have had to stop funding additional projects within a few months until money had been repaid by prior projects.
The no-interest fund was conceived because many environmentally sensitive building and rehabilitation projects have higher up-front costs than traditionally built projects, though the environmental projects often result in lower operating costs down the road.
"This allows us to continue at the same rate at which we've been investing," said Associate Vice President for Facilities and Environmental Services Thomas Vautin, who also serves as co-chair of the Green Campus Initiative. "This sends a very important message that Harvard's leadership cares about these projects."
Over the years, the Green Campus Loan Fund has acted as a catalyst for conservation-minded projects, funding such things as computerized irrigation controls to conserve water used in landscaping; a computer energy reduction program aimed at getting students, faculty, and staff to shut off computers, lights, and heating in rooms that aren't being used; and a wide variety of heating, lighting, ventilation, and air-conditioning upgrades that replaced older systems with newer, more energy-efficient ones.
In his speech, Summers said the investment is one that the University should make even if it cared nothing about global warming. He said many of these projects repay themselves in three or four years, the equivalent of a 30 or 25 percent return on investment.
"This [the funding of conservation programs] often does not conflict with good economics," Summers said. "We're not talking about something that is charitable, or something that is just good for the good guys. We're talking about something that we should do even if we didn't care at all."
Summers went on to pledge to Menino that the University will build a life sciences center in its new Allston development that will make Boston, along with existing facilities and laboratories, the world's leader in that area. He further said that the related construction will be built in the most sustainable way possible, pointing out that Harvard has hired an architect for the already-announced science building who has a reputation for creating environmentally friendly building designs.
Summers credited student activism and the advocacy of the Green Campus Initiative in educating him on the importance and feasibility of environmentally friendly building designs. He said that four years ago sustainability wouldn't have been high on his list of construction priorities. Most convincing, he said, was the demonstration, through Loan Fund-financed projects, that environmental sustainability made financial sense.
"Harvard will have more money for facilities and more money for books in the library, more money to hire professors than we would if we didn't do it," Summers said. "That's why it's important we do it."