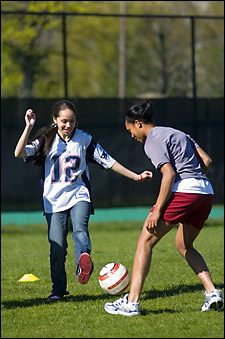 Nearly 70 girls (ages 10 to 14) from Boston neighborhoods joined Crimson women athletes last Friday (April 28) for a beautiful spring day filled with skills and drills in a celebratory encore of National Girls and Women in Sports Day (Feb. 7).
For many of the young visitors, the clinics in soccer, basketball, and tennis introduced them to sports that they had never played. The girls worked one-on-one with volunteer "coaches" from Harvard's soccer, basketball, volleyball, and tennis teams for three hours and followed up the workout eating pizza and watching a Harvard-Cornell women's lacrosse game.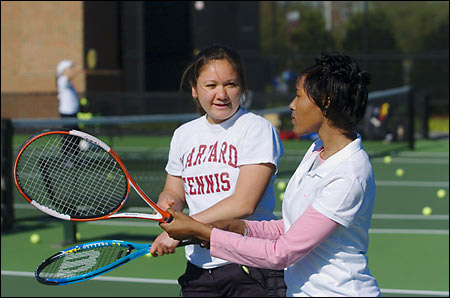 Harvard women athletes have celebrated the growth of women's athletics and inspired their young neighbors to get involved in sports in the name of National Girls and Women in Sports Day each year for more than a decade. This year's event was made possible through a collaboration with the Boston Police Department, which works with Harvard Athletics on a number of community service events throughout the year.
– Lauren Marshall