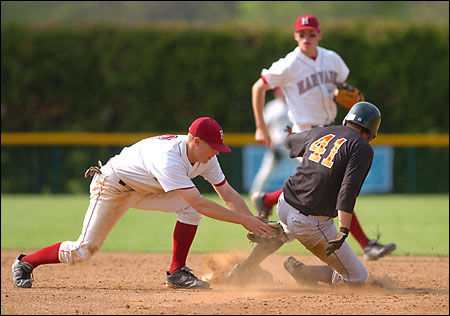 In this past weekend's best-of-three series for the Ivy title at O'Donnell Field, the Princeton baseball team came, saw, and conquered. They also silenced the as-of-late cracking Crimson bats.
By holding the Cantabs to just five runs over a pair of contests on Saturday (May 6), the underdog Tigers earned a two-game sweep of the hosts by scores of 9-3 and 8-2 to take the 2006 Ivy crown and its automatic berth to the NCAA tournament.
Harvard's nine and six hits in games one and two, respectively, marked a departure for the team (ranked third in the Ivies in batting) that bashed out 24 hits for 23 runs against Dartmouth a week prior in the Red Rolfe Division title series – and the team that took over in the ninth against a 21-17 Northeastern team on May 3 with a five-run, game-winning uprising.
In Saturday's contests, it was the opposing batters who took charge. Getting off to a quick start in game one following a two-out, two-run homer by Zach Wendkos in the first inning, the Tigers extended their lead to 5-0 in the third after a three-run rally. And though Harvard made some noise in the fourth when senior Morgan Brown plated Steffan Wilson '08 off an infield single, followed by senior Chris Mackey's two-run single (to cut the deficit to 5-3), the Black and Orange soon erupted for four runs in the eighth to take the contest, 9-3.
On the mound, sophomore Shawn Haviland, who, in a bit of bright news for Harvard baseball, was named the league's pitcher of the year earlier this week, recorded six strikeouts in seven innings against the Tigers in game one, while giving up 11 hits. Princeton's Erik Stiller, meanwhile, pitched all nine innings against the Crimson, striking out six and giving up nine hits.
Following four scoreless innings, game two saw the Crimson enjoy a brief 1-0 edge before the Tigers managed a seven-run rally in the bottom of the sixth – a development that led ultimately to three pitching changes for the Crimson. After exchanging runs in the seventh inning and a scoreless top of the ninth for the Crimson (Harvard's first four batters tallied just one hit in the entire game), the shocking sweep was complete.