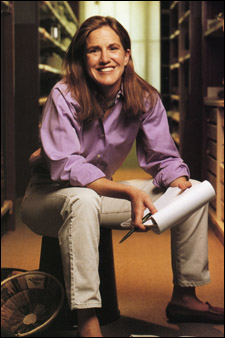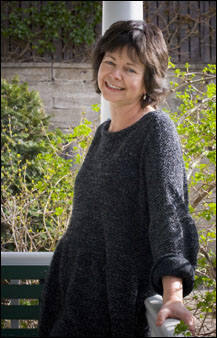 A Harvard professor and a Radcliffe Fellow were awarded Pulitzer Prizes in letters April 17 for a factual reconstruction of Britain's brutal suppression of Kenya's Mau Mau rebellion and a novel about the wartime journey of an absent father.
Caroline Elkins, the Hugo K. Foster Associate Professor of African Studies, won the general nonfiction prize for her book "Imperial Reckoning: The Untold Story of Britain's Gulag in Kenya." Author and journalist Geraldine Brooks, who is spending the year as a fellow at the Radcliffe Institute for Advanced Study, won the fiction prize for "March," a tale that follows the difficult journey of the absent father from Louisa May Alcott's classic "Little Women" during the Civil War.
The prizes were among more than a dozen awarded in journalism, letters, drama, and music. The Pulitzer Prizes, administered by Columbia University, will be given to recipients at a luncheon at Columbia May 22.
On the trail of Mau Mau
Elkins, who completed "Imperial Reckoning" while a Radcliffe Fellow from 2003 to 2004, said on April 18 that she was still in a state of disbelief about winning the award. "Imperial Reckoning," which grew from her doctoral dissertation, uncovers the truth of how the colonial British administration put down the Mau Mau rebellion in Kenya during the 1950s and 1960s. The British colonial government established a series of prison camps where, according to the official story, rebels were educated and civilized. Further research and interviews with internees, however, showed that the camps were the scene of brutal and systematic violence.
"I congratulate Professor Elkins in this extraordinary honor," said Faculty of Arts and Sciences Dean William C. Kirby, the Edith and Benjamin Geisinger Professor of History. "History can be grueling to reconstruct, even without the hindrance of institutional secrecy; and even the most well-documented findings can fail to regain life when translated to the page. Professor Elkins has researched the Kikuyu detentions with rigor, perseverance, and courage; and she has told this story in ways that few will ever forget."
Elkins spent a year in Kenya conducting research and then returned several times for shorter visits. She traveled around the country interviewing Kikuyu detainees about their experience at the hands of the British and often found herself dependent upon their hospitality. When traveling upcountry far from hotels, she sometimes had to sleep on the floor wherever she found herself at the end of the day.
"I slept on a lot of cold dirt floors, but it was a lesson in how much people who had so little would [help others]."
The interviews filled the gaps in the official record. She learned that there were not just official camps for the men who participated in the Mau Mau uprising, but that the British also made villages into de facto camps for women, children, and the elderly.
"Life in the camps was terrible, but nothing like the villages," Elkins said. "Life in the villages was simply horrific."
Elkins said that she did virtually all the writing for "Imperial Reckoning" while a fellow at the Radcliffe Institute. With two sons at home, now ages 4 and 6, she said her family deserves recognition, as they sacrificed while she worked on the project. She said she understands that her experience is not unique, but rather one shared by many faculty members with young children.
Elkins' next book will expand on "Imperial Reckoning" by examining similar counterinsurgent practices across the British Empire after World War II.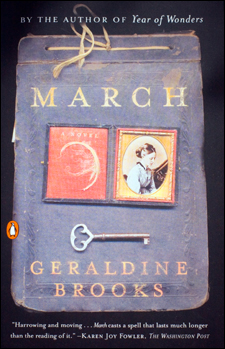 Not April Fools
Brooks said she was at home with her son, Nathaniel, when her former editor at the Wall Street Journal called to tell her she'd won the Pulitzer in fiction. She initially thought he was joking, she said, but was eventually convinced he was telling the truth.
"I literally thought, 'Isn't it a bit late for an April Fools' joke?'" Brooks said.
Drew Gilpin Faust, dean of the Radcliffe Institute for Advanced Study and Lincoln Professor of History, offered congratulations to both Elkins and Brooks.
"I offer exuberant congratulations to Geraldine Brooks and Caroline Elkins," Faust said. "The Radcliffe Institute is honored to have supported the work of these two prizewinners. Writing in the different genres of fiction and nonfiction, Geraldine and Carrie both have explored the impact of war and violence on human lives in ways that illuminate not just history but fundamental truths for our own time. I am delighted to think that these Pulitzers will bring their important work to the attention of still broader audiences."
Brooks said "March" arose out of her curiosity about the Civil War, which she shares with her husband. Originally from Australia, Brooks settled in a small Virginia town founded by Quakers, who were both abolitionists and pacifists during that time. She once dug up a Union soldier's belt buckle in their backyard, she said, which got her thinking about the story of the man who wore it.
In "Little Women," Alcott wrote little about the absent father character, Mr. March, leading Brooks to wonder what his story would have been in the Civil War. To answer that question, Brooks researched the lives of Union chaplains in the war and of Alcott's father, on whom the March character is based.
Brooks is spending her year at Radcliffe researching her next book, a historical novel called "People of the Book," about life in the Jewish community in Spain in the 1300s.
"Being here has been incredibly enriching," Brooks said.