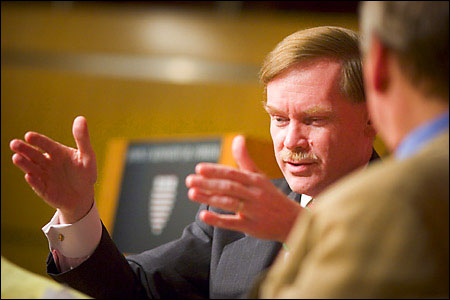 International diplomacy requires both policy and political savvy to succeed, explained U.S. Deputy Secretary of State Robert Zoellick, M.P.P. '81, in a March 2 discussion on the future of U.S. foreign policy at a Kennedy School forum.
---
Also in this issue:
• Get-tough measures
suggested in Darfur
---
"A lot of the skills that one deals with in politics are the same that you deal with in the world of international diplomacy – coalition building, advocacy, negotiations. They all come together."
In a far-ranging conversation with Belfer Center Director Graham Allison, Zoellick, who served as U.S. Trade representative from 2001 to 2005, offered examples of global challenges requiring such skills.
The recent nuclear agreement reached between the United States and India allowing India to receive nuclear technology, said Zoellick, was a recognition that it was in the long-run interests of the United States to develop a security and economic policy that is in dynamic relationship with India.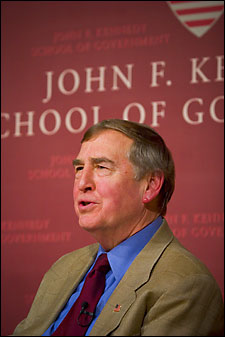 "One of the challenges of diplomacy is always to try to find mutual points of interest with your colleagues. … I start by representing my country's interest, but I try to do this in a way that not only takes in my national interests, but also the systemic interests of both parties. The challenge is how do you find a win-win solution?"
Zoellick also talked about the situation in Darfur, which, he said, is symptomatic of a larger problem of how Sudan comes together as a country. "It's a classic example of multilateral diplomatic work with the African Union and the European Union. It's an interesting example of a problem of historic nature that has huge humanitarian and multilateral challenges."
In response to the recent uproar in Congress over the United Arab Emirates' management of six U.S. ports, Zoellick cautioned that it would be a terrible mistake for the United States to send a signal to players that we're not going to be an open system.
"I'm of the belief that one of the United States' core strengths is its openness as a society to ideas, goods, and people," he said. "What message does it send to the Arab world? After you've dealt with the security issues, it's not a pretty picture."
Describing Zoellick in his introduction, Kennedy School Dean David Ellwood noted: "We have before us someone who has distinguished himself at the highest levels." In honor of his outstanding career, Zoellick was presented with the Kennedy School's Alumni Achievement Award.
The event was co-sponsored by the Belfer Center for Science and International Affairs and the Institute of Politics.