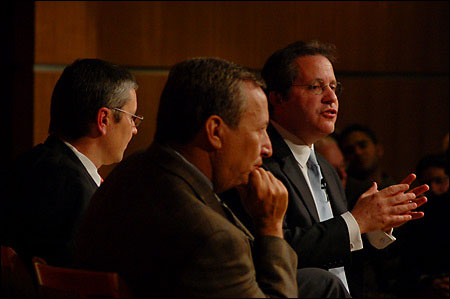 Two of the nation's top economists, Gregory Mankiw and Gene Sperling, offered their perspectives on how to keep the American economic engine revving during a panel discussion March 1 at the John F. Kennedy Jr. Forum. Harvard President Lawrence H. Summers moderated the Kennedy School event.
"I would say the question is not whether we're going to have growth or productivity, because I believe we will have both, but whether or not that will lead to a strengthening of the middle class or a hollowing out of the middle class," said Sperling, senior fellow at the Council on Foreign Relations and former economic adviser to President Clinton.
Mankiw, Beren Professor of Economics at Harvard and former chairman of President Bush's Council of Economic Advisers, said the economy looks "terrific" at the moment, although he warned of the looming federal budgetary squeeze. He told the audience that "the U.S. budget is on an unsustainable path" as a result of a combination of tax cuts and rising levels of promised government benefits.
Summers asked both economists how they would respond to the political pressures facing lawmakers in communities that are losing jobs as a result of globalization. Mankiw remarked that "our policy should be based on people, not on places," while Sperling noted the need for more substantive economic transition programs to help those communities and residents harmed by plant closures.
The forum was co-sponsored by the Kennedy School's Institute of Politics.