Where do university lectures end in applause? Where can you see country folk taking their first train ride? Where is Tiger Leaping Gorge and its 1,000 species of plants and animals? If you were among the 123 students who spent the fall semester abroad, you could answer these exotic questions (Germany, Southern India, and China's Yunnan province) and a lot more.
At a recent welcome-back party at the Office of International Programs (OIP), young travelers talked about their trips. The OIP was an appropriate venue for the Feb. 6 celebration – OIP helped the students choose destinations, helped with the housing, and made sure the students got credit for their overseas experiences.
At Heidelberg University, Adam Hilkemann, a junior concentrating in intellectual history, learned more than how to applaud at the end of class. "You get a different perspective," he said, "studying about European history while being in Europe – I felt the closeness of the history." Hilkemann's favorite class explored the intrigues of a German noble family, the Welfs, who were kings of medieval Europe.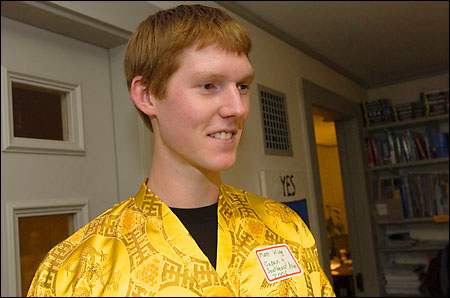 Junior Rishi Jajoo, immersing himself in the culture of Mumbai and its surroundings, made sure he got a chance to mingle with the local inhabitants, noble and otherwise, at the same time he studied physics and chemistry at the Indian Institute of Technology. "Mumbai is the cultural hub of India," said Jajoo. "It's the place where the West and the East meet. It was fascinating to meet and see people ranging from city dwellers to rural villagers who were just experiencing their first train ride." Jajoo, who had been to Mumbai before, took the opportunity to backpack throughout Southern India, visiting Goa, Bangalore, and other destinations.
Matt King, a sophomore concentrating in religious studies, traveled to Japan to study Buddhism. The first 20 days of his study were "brutal," he said, because he lived in a Zen Buddhist temple and followed their schedules: "They get up at 4 in the morning to meditate," he said. "That was way too early." Following his studies, King was able to take some time traveling throughout Southeast Asia. Seeing the economic disparities in that region has led King to consider studying international development so that he can work toward a just world. "All Americans should … travel abroad," said King.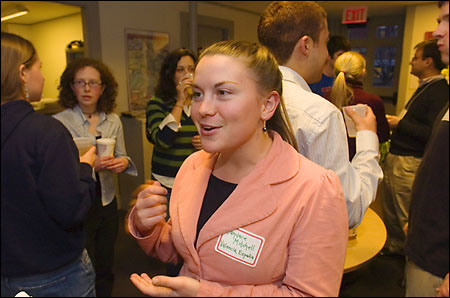 In Valencia, Spain, junior Candace Mitchell studied modern Spanish culture by taking courses on Spanish literature, cinema, and modern art. She also took an engaging course on history titled "Islamic Iberia" that was about the Muslim influence on Spain. "It was wonderful to visit the places that we studied," said Mitchell. "It made my studies come alive." Mitchell also credits her host family for making her stay exceptional: "My host mother was an incredible cook and made me and my roommate wonderful meals – we were the envy of our classmates."
For junior Becca Myerson, who studied in the Yunnan province of China, the highlight of her trip was a visit to Tiger Leaping Gorge, which is home to more than 1,000 species of plants and animals. It was a timely visit: The gorge is schedule to be flooded in several years to dam a nearby river. Fluent in Chinese, Myerson is considering working in Shanghai after she graduates.