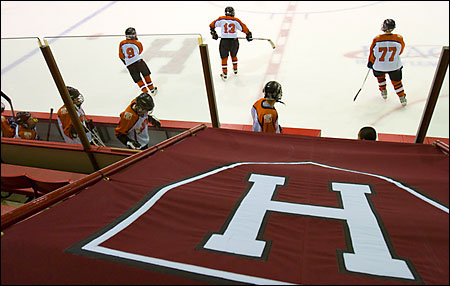 "It's just one of those nights when you know you're going to get a full house," said Allston Brighton resident Dan McLaughlin as he watched his two boys stickhandling pucks and kicking up plumes of ice with a bunch of other excited boys, girls, and Harvard hockey players under the lights of the Bright Hockey Center.
The McLaughlins are one of dozens of Allston Brighton families who ignored the freezing wintry mix the evening of Jan. 18 to shuttle their excited children to Bright Hockey Center for a chance to face off with the Crimson men's hockey team on Harvard ice.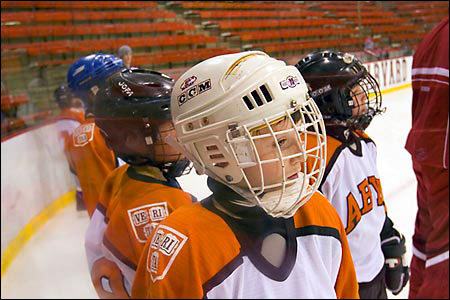 The energy-packed evening marked the 16th year that Harvard men's hockey has hosted the winter workshop for Allston Brighton Youth Hockey teams. From the smallest Allston Brighton Mites, who begin to play at age 5, to the older Peewees and Squirts, Allston Brighton's youngest hockey hopefuls turned out to get firsthand hockey tips from Harvard's players and coach Ted Donato, to learn new drills, and, the most fun of all, to try out their moves on the Crimson in scrimmages.
For Harvard's players, the clinic is a welcome break from the regular practice routine and a way to share their talents with their young neighbors.
Said Michelle Charles, mother of young hockey hopeful Logan Moon, "This breaks down the myth behind Harvard … the kids come here and they can see … hey, it's Harvard and I can do this. It's not just the school on the other side of the river."