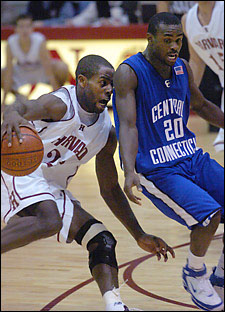 Speed beat out size in a big way this past Saturday (Dec. 3) at Lavietes Pavilion, as the visiting Central Connecticut State University (CCSU) men's basketball team served Harvard hoops its first setback of the season by a tally of 87-79. The loss snapped a five-game win streak for the Crimson club, who were off to their best start since the 1997-98 campaign.
The spry, up-tempo Blue Devils (3-2) edged Harvard in both fast-break and second-chance points, while, surprisingly, dominating the hosts at their own game: getting to the free throw line and grabbing boards.
In Harvard's five previous outings, Frank Sullivan's team has managed to limit their opponents to just 16.4 tries from the charity stripe, while attempting 26 freebies of their own. CCSU, however, knocked down 22 free throws on 31 attempts, including 15 in the game's final 10 minutes (to Harvard's 11 of 18 performance). The Blue Devils also pulled down 38 rebounds against the vertically superior Harvard squad, which collected 30.
After several lead changes and plenty of point-for-point tit for tat, the Blue Devils – sparked by guard Justin Chiera's three-for-three shooting performance from long range (the senior marksman went on to bury a career-high seven three pointers on the afternoon) – matched Harvard's biggest lead of the game, a 10-5 advantage three minutes after tip-off, to close out the first half up 39-34.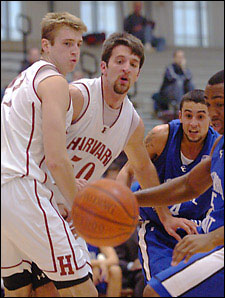 The visitors more than doubled their lead in the second half, eventually taking a 12-point edge – a game high – with just under 13 minutes remaining. Harvard managed to cut the lead to a bucket, however, thanks largely to senior forward Matt Stehle's 51-second tirade, wherein he notched a layup, a free throw, and a three-point shot. But it was the athletic Blue Devils, superior all afternoon in executing the game's fundamentals, who continued to set the tempo. Over the final six minutes of play, the visitors forged a series of runs – bolstered by a strong 10-point contribution from the bench – to drown out the Crimson and earn the win.
Guard Jim Goffredo '07 paced Harvard with a career-best 22 points on 9-for-16 shooting, while team captain Stehle collected 21 points and 10 rebounds.
This just in: The Crimson dropped its second game of the season this past Tuesday evening (Dec. 6) to cross-river rival BU at Case Gym. Struggling all season long with one of the cruelest schedules around, the Terriers shot a deadly 53 percent from the floor to overtake the visitors, 72-63, and earn their first victory of the '05-06 campaign. Playing without their starting center, seven-footer Brian Cusworth '07, Harvard found help in freshmen Evan Harris and Drew Housman at the forward and guard spot, respectively. The two combined for 18 points, 10 rebounds, and five steals. Meanwhile, Stehle led all Crimson with a 19-point, 11- rebound evening.
The Harvard men, who fall to 5-2 (0-0 Ivy) with the loss, will look to get back on track against Lehigh (3-5) this Saturday (Dec. 10) in Bethlehem, Penn. Visit http://www.gocrimson.com for the latest scores.