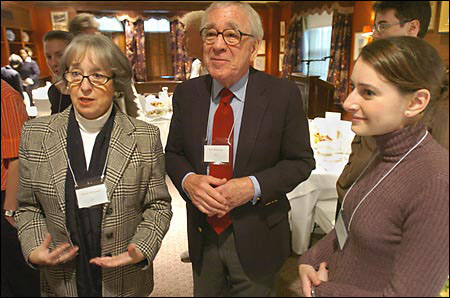 The big day finally arrived, and Paul and Harriet Weissman couldn't have been happier.
On Oct. 25, Harvard's visionary donors joined about 30 interns to welcome them home from their summer abroad and hear about the new global perspective they had gained through the Weissman International Internship Program.
"Every year, we look forward to this fall lunch when the interns can tell us what great experiences they had over the summer," said Weissman '52. He and his wife established the eight- to 12-week summer international education program at Harvard in 1994 – a time when few such programs existed.
---
The Weissman International Internship program is administered by the International Experience Program at the Office of Career Services. For further information, and to apply for the 2006 internship program, visit the program Web site.
---
"This program is a great part of our lives," he continued with transparent sincerity. "It brings us great joy to know that our endowment provides interns with life-transforming experiences. We're also very proud of the interns and the courage and commitment it takes to embark on this internship."
The Weissman International Internship Program was created to provide students in their sophomore or junior year with an international perspective in a field of work related to their academic and career goals. It enables Harvard College students to develop a richer understanding of the global community in which they live and work, and later, to share their experiences with the Harvard community. So far, more than 250 interns have participated. The program reflects part of a larger University commitment to ensure all Harvard students gain international experience before graduation.
"It's our mission to send every Harvard student abroad," said William C. Kirby, dean of the Faculty of Arts and Sciences, in his luncheon address. "It's a centerpiece of the Harvard curriculum. We live in an interconnected world, and it's our responsibility to train students to be citizens of the world. I thank Paul and Harriet for their vision, and I thank our interns for having the courage and ambition to grasp this opportunity."
During the Oct. 25 lunch, held at the Harvard Faculty Club, the beaming donors mingled with the interns, heartily shaking hands and hugging the undergraduates as though part of a large family. The Weissmans – along with Benedict Gross, dean of Harvard College, and Kirby, as well as Harvard staff who help to organize the program and select interns – happily listened to the experiences of every student. All of the interns present were proud to share their initial fears, frustrations, adventures, and future career plans – in between enthusing about the generosity of the Weissmans for making these experiences reality.
"I worked with a theater company in France," says Daniel Wilner '07, a philosophy concentrator. "What's extraordinary is that I was able to do a project I designed and tailored to suit my own passions, interests, and needs," he said, referring to the fact that applicants are required to research and secure their own internship and submit a budget proposal (in addition to further materials) to be considered for the program.
"What's also amazing is that I felt like part of a team of fellows spread out across the globe doing incredible and noble things."
Wilner said his experience helped him learn more about the challenges and rewards of becoming a performing artist, and that he never would have had this professional development opportunity without the Weissman program. In addition to sharing his experiences with the group, he also looked forward to hearing about the experiences of other fellows.
Indeed, there was much to learn.
"I went to Moscow and worked at the Institute for Stock Market and Management," explained Robert Jellinek '07, Slavic studies concentrator. "It was really challenging, and I had to adjust to the culture and work environment, but I'm thankful for the experience – absolutely," he said. "The program is awesome and gave me the opportunity to go abroad and gain exposure to what I want to do in the future."
Rachel Greenblatt '07 had a great time studying gene splicing at a molecular biology laboratory in Buenos Aries, Argentina. "I am so thankful for the amazing opportunity I had this summer," said the neurobiology concentrator. "I loved the lab, the people, and the city. It was interesting to work in a developing country, and I got to know it as someone who lives there instead of as a tourist. I wouldn't have had this experience had it not been for the program."
Other interns traveled to faraway places such as Cambodia, Mexico, China, and India and arranged internships doing everything from working in a fine art museum to studying marine nematodes to improving human rights at a grassroots level.
This year, for the first time in the program's history, three interns were allowed to travel abroad this fall semester. Administrators agree that this step speaks to the University's commitment to the program.