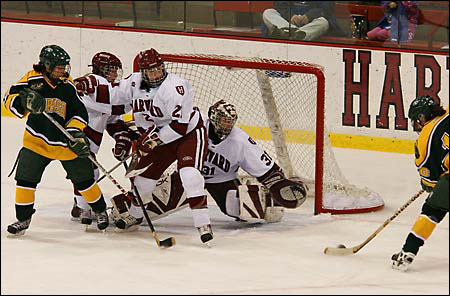 Flying high on a three-game win streak, an unbeaten Harvard women's hockey team took its first spill of the young season this past weekend at home, picking up a 4-3 loss to Clarkson and a 2-2 tie against St. Lawrence. To put the Crimson's mini-slide into perspective, however, consider that Sunday's stalemate (Nov. 13) against the top-ranked Saints was very nearly another losing effort for the hosts.
Skating with a two-player advantage in the closing seconds, Harvard forward Liza Solley '07 prevented any of that, tapping in a rebound to score the game-tying goal. Suddenly, managing a tie against the No. 1 team in the nation with just six ticks on the clock seems kind of victorious.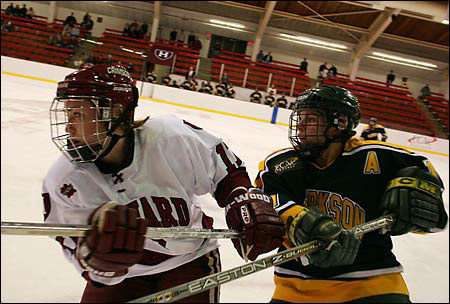 Opening weekend play on Saturday afternoon (Nov. 12), the Golden Knights of Clarkson, already 11 games into their season, scored three straight goals over the first two periods – while limiting their opponents to just four shots in the middle stanza – to edge the Harvardians, 4-3.
Down 4-1 after two periods, Crimson freshman Sarah Wilson tallied a power-play goal – her second score of the day – at 11:26 of the final period to end the Harvard drought. Clarkson continued to control the pace however; negating 11 Harvard tries on goal in the third stanza. Jennifer Raimondi '06 finally found pay dirt with 40 ticks remaining to set up the 4-3 final. The senior also finished with two assists to pace the Crimson.
Between the pipes, Ali Boe '06 registered 25 saves for Harvard (and 37 against the Saints), while Kira Hurley collected 20 for the Golden Knights, which improved to 8-2-1 (3-0-0 ECACHL). The Crimson (3-1-1; 2-1-1 ECACHL), currently ranked fifth, resume play this Friday (Nov. 18) at Yale (1-3-2; 1-1-1 ECACHL).