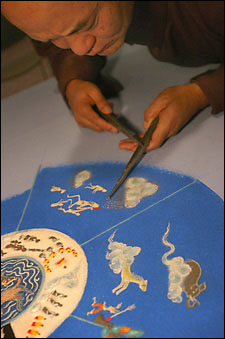 The Venerable Losang Samten's hands had to be steady as a surgeon's as he engaged in the painstaking process of creating a "Wheel of Life" sand mandala. This masterful accomplishment took place during a weeklong residency recently at the Center for the Study of World Religions (CSWR) at Harvard Divinity School (HDS). The mandala was created in celebration of the center's 45th anniversary and to inaugurate its programming theme for the year: "Religion, Place and the Environment."
Drawing from some 20 cups of brightly colored sand and sifting the sand through a special tool into precise images, the former Tibetan monk worked full time over four days, Oct. 24-28, to create a brilliant circular work of art that, he explained, uses symbolic, cosmological imagery to exhibit "the nature of the mind" and samsara, the endless cycle of birth and rebirth replete with human suffering.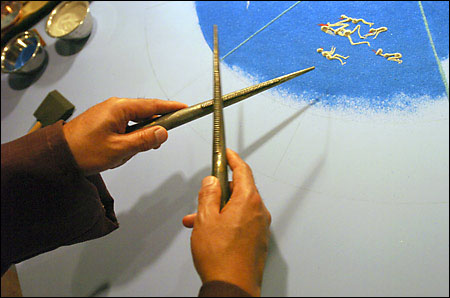 The picture also reveals the importance of karma, which he stressed is not "something already fixed in the past," but means that "everything can be changed by your actions." Attempting to sum up the mandala to the audience on the final day, Samten said, "Inside this circle: samsara. Outside this circle: nirvana." In keeping with the mandala tradition, the sand painting was dismantled in a communal ceremony.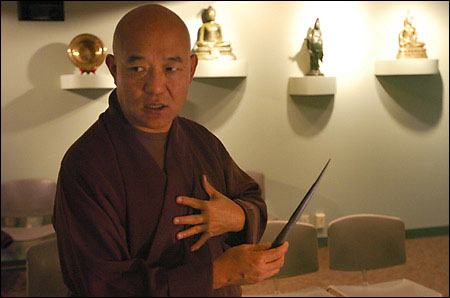 "What better way to celebrate the 45th anniversary of the opening of this building, which was built with the aim … of stimulating student interest in the religions of the world as living traditions," said Donald Swearer, director of the Center for the Study of World Religions. The center has "housed more than 600 students and teachers over the years from all over the world and has engaged not only scholars, but policymakers and religious leaders," he added. "So part of what the construction of the mandala is meant to symbolize is the global significance of the center, the place and role of religion in an increasingly globalized world, and the interconnectedness of life the world over."
In an introductory talk to the week's activities, Janet Gyatso, HDS's Hershey Professor of Buddhist Studies, who specializes in Tibetan Buddhism, said that Samten has indicated the Wheel of Life is one of his favorite mandalas to construct because he considers it "efficacious for world peace." This is especially interesting, Gyatso noted, because the picture contained within the border of the mandala "is not of peace but, in a certain sense, of war."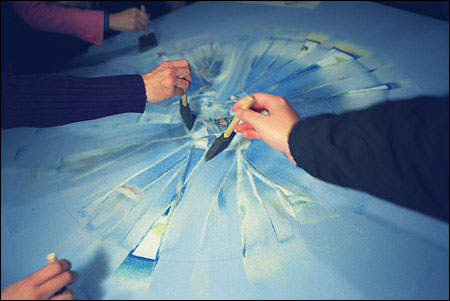 At the very center of the painting are three animals representing our most pernicious passions: a pig represents ignorance, a rooster represents attachment or greed, and a snake or serpent represents anger and hatred.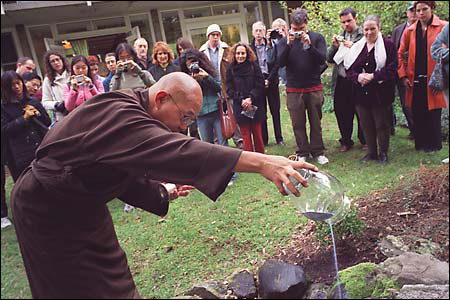 "It is a picture of being stuck in sorrow and the whole thing is grasped by the Lord of Death," Gyatso said. "Looking at a mandala is like looking in the mirror," the idea being "to recognize yourself as you really are." At the same time, Gyatso said, it is meant to be "an ideal map of the world" and "the whole world is one's mandala, showing a way to interact and to understand experience."