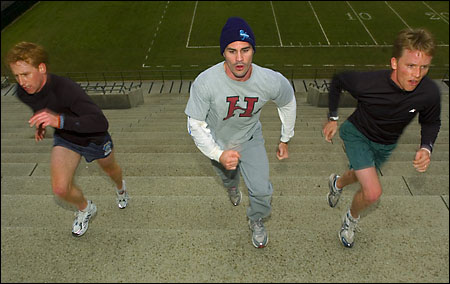 To climb the seven highest peaks on each of the seven continents is a formidable aspiration. To reach the seven summits in a record-setting 198 days, while raising $5 million for pediatric oncology research is the goal of a group of Harvard graduate school students, the Mountains for Miracles team.
Climbing mountains for charities is the brainchild of executive director and climbing-team leader John Serafini M.B.A./M.P.A. '07: For a long time, he's intended to climb the seven summits – some day. But after watching his little sister successfully battle and recover from thyroid cancer in the summer of 2005, he thought, "Why not do it now, and do it for some good?"
Serafini has a decade's experience climbing mountains, including his military experience. He is a 1998 graduate of the U.S. Military Academy at West Point. "Operations within mountainous terrain was my specialty, something I practiced continually during my two years in the South Korean Demilitarized Zone and trained for throughout my six-year military career."
---
The Mountains for Miracles team kick-off party, 10 p.m. Dec. 1, The Liquor Store, 25 Boylston Place, Boston. A $20 donation is requested. For more information about the Mountains for Miracles endeavor, contact John Serafini at john_serafini@ksg07.harvard.edu or Boyd Bishop at bbishop@mba2006.hbs.edu.
---
The climbing team also includes another West Point graduate, Boyd Bishop M.B.A. '06, and Andy Murphy M.B.A./M.P.A. '07. Filling out the four-member team is documentary filmmaker Brad Clement. While Clement has extensive mountaineering experience, neither Bishop nor Murphy has significant climbing experience. "I've been qualified at the U.S. Army Air Assault School to rappel down from helicopters and down the sides of mountains," said Bishop, "and that's the extent of my technical climbing experience."
Serafini isn't worried about his team members' lack of experience. Mountaineering can be learned. He says that he approached Bishop and Murphy with the idea because they had the required physical ability, something he ascertained for himself with Bishop, whom he kept running into at the gym. And Murphy is a seven-time marathoner.
The team has begun physical training already, and plans to visit a mountaineering school in New Zealand this January. Of the seven peaks, says Serafini, "only two climbs are quite arduous. The first one is Mount Vinson [in Antarctica]. It's not tall, but weather plays a deciding role in the amount of strenuous activity that's required to get to the top. The other mountain that's pretty difficult is Mount Everest and it's not very technical … it's just that, again, weather plays a very deciding role as does the height – you're up there at just over 29,000 feet and, at that altitude, only the most acclimated climbers can achieve success."
Still, Serafini is confident in his team: "It's a question of physical conditioning. Have you built up the physical conditioning base to be able to succeed and do you have the mental capacity to be tough enough to be living outside in extremely hazardous conditions?"
The seven peaks, in the order in which Mountains for Miracles will climb them, are Mount Aconcagua in South America, Mount Vinson in Antarctica, Mount Kilimanjaro in Africa, Mount Kosciuszko in Australia, Mount Everest in Asia, Mount Elbrus in Europe, and Denali in North America.
Behind the climbing team is a larger – and growing – group of students who are helping not only with the logistics of climbing the seven mountains, but with the monumental task of raising $5 million to benefit childhood cancer research. "Once we had the core team settled we started looking for people who would be interested in being on our organization staff," said Serafini. "Across the Business School and Kennedy School communities we have about 20 people who are seriously, significantly, involved in the organization." These people are planning the development, corporate sponsorship, and marketing strategies.
And one of the marketing strategies is to break the world record of 214 days for climbing the seven peaks. The Mountains for Miracles team hopes to summit all of the peaks within 198 days. "We're trying to set a record, but that isn't the main purpose of what we're doing," said Serafini. "The main purpose is to raise money for pediatric cancer research. The hope is that this additional measure of speed will help to increase the requisite public interest needed to generate individual donations."
The group plans to develop and maintain interest with communications and marketing tools. They want people to keep track of their progress by watching simulcasts over the Internet, by reading their blogs, or by listening to their podcasts. In addition, Clement will be filming the entire endeavor in high-definition technology, possibly for use as a documentary film.
The Mountains for Miracles team will be hosting a party on Dec. 1, beginning at 10 p.m., at The Liquor Store, 25 Boylston Place, in Boston. All members of the Harvard community are invited to attend this kickoff event. The team hopes that the party will raise awareness of their plans and will serve as the initial fundraising event. A $20 donation is requested.