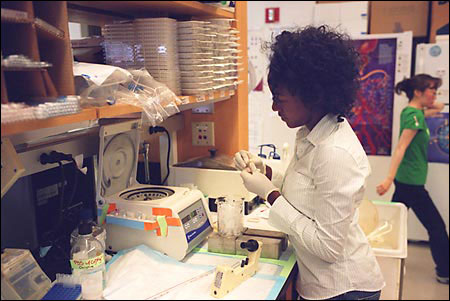 In a darkened lecture hall at Harvard Medical School last month, area high school students presented the work of eight long, summer weeks, talking of platelets and of stem cells, of intestinal bacteria and of vaccines, of sleep deprivation, and of falls in the elderly.
The onlookers, however, talked of the future.
"This is the future of medicine, right here in this room," said Robert Sackstein, an associate professor of dermatology at Brigham and Women's Hospital who is in his seventh year advising high schoolers in his laboratory. "Our program shows them how to devise a hypothesis and design tests. It's a fantastic lesson."
The program is "Project Success: Opening Doors to Biomedical Careers" and has been run at Harvard Medical School for 13 years. It is aimed at disadvantaged students from Boston and Cambridge, though some attend high school in surrounding towns.
The program is intended to be an intensive, hands-on experience for students interested in science and medicine. Sackstein said the students meet with senior researchers at each lab, devise a project, and then are given guidance on how to proceed, developing a hypothesis and testing it through the course of the internship.
"This is not show-and-tell or looking over anyone's shoulder," Sackstein said.
Seventeen students participated this summer, wrapping the experience up in late August with presentations of their work and findings at Harvard Medical School's Tosteson Medical Education Center.
Harvard Medical School's Dean for Diversity and Community Partnership Joan Reede said the program brings interested students back for several summers, building a sense of community and cementing the learning and confidence that the internship fosters.
"They feel a part of their lab," Reede said. "They walk away with a better sense of what's possible."
Greidy Terrero, who graduated from The English High School last spring, was in her third summer with Project Success. Terrero, who plans on studying psychology at Lesley University this fall, said the program has been important in helping her decide to attend college.
"It really did help me to go to college and not back away [from the challenge]," Terrero said.
DeAndre Montgomery, a senior at St. Clement High School in Somerville, said this summer was the first time he was involved in a summer learning experience and he wound up surprising himself.
"I learned and had fun. I was surprised at how much I could do," Montgomery said.
Montgomery's feelings were echoed by Porsha Eden, a senior at Arlington High School, who worked in Sackstein's lab.
"This summer was very challenging, but I learned an immense amount," Eden said.
Michael Sullivan, Boston Public Schools' science professional development specialist, attended the end-of-summer presentations to see how three students he knew from his previous position as science director at Boston Latin Academy did over the summer.
Sullivan said over the years, he's seen several students participate in the Project Success program and virtually all of them, he continued, have gone on to some kind of position in medicine or research.
"They gain a lot of research experience. They gain a lot of hands-on experience. They gain a lot of confidence," Sullivan said.
It's instilling that confidence and experience, sending students back to school with an experience that will enrich their further learning, and, hopefully, showing students a path to a future career, that makes the program worthwhile, Reede said.
"It's the responsibility of the academic enterprise to support the educational system that surrounds it," Reede said. "This really shows what students are capable of. These kids are doing things in science that I never dreamed of [at their age], and they understand what they're doing."