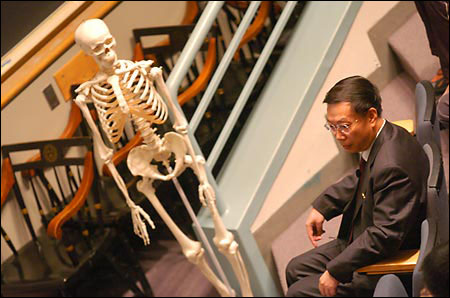 Health care in the People's Republic of China is unequal and too expensive, and there's not enough of it, but the Chinese government is aware of the problems and is moving to address them, China's vice minister of health said Sept. 8 at Harvard Medical School.
During an hour-long speech, "Healthcare for Tomorrow's China," sponsored by the Harvard-MIT Division of Health Sciences and Technology, Vice Minister Jiefu Huang painted an unflattering picture of health care in the Asian nation, saying that reforms over the past two decades have been ineffectual.
Huang said the combination of market reforms and mass migration to China's cities as the nation has industrialized has left a system dominated by fee-for-service care, where patients pay for treatment out of their own pockets, with large differences in quality and access among income groups and between rural and urban populations.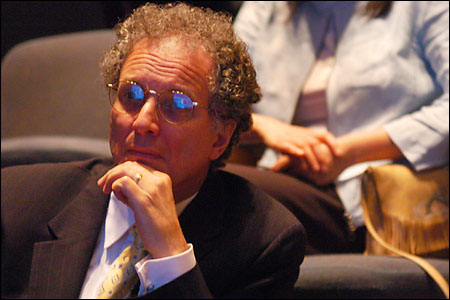 "We are in the midst of a social transition with negative impacts on health care," Huang said. "Health care has to be accessible and affordable. We have some problems with access and with physical and financial barriers."
The population is voicing increasing dissatisfaction with the current system, Huang said, and that discontent is helping drive the government's emphasis on reform.
Huang said China has made a lot of progress in its health care over the last 50 years, but recognizes that further changes are necessary.
United Nations figures from 2003 ranked China 61st in health performance among the 192 UN countries, and the World Health Organization said the nation has one of the most unfair systems in the world.
One reason for that designation is the emphasis on fee-for-service, where 56 percent of the nation's health care costs are paid directly by patients, rather than by national or private health insurance. In fact, Huang said, one of the reforms being considered would change laws to encourage private health insurance.
Even though room for improvement exists, the health care system in China is already a large undertaking, with 17,000 major hospitals and another 48,000 smaller "township" hospitals providing 3.6 million hospital beds nationwide.
The system includes 170 different medical schools and educational institutions, 120 biomedical research institutions, and various national organizations representing hospitals and physicians.
Despite these resources, per capita health spending was just $33 in 2003, Huang said. Per capita government spending on health care in the United States in 2002, by comparison, was $2,368, according to the World Health Organization.
"Medical resources in China, actually, are inadequate," Huang said.
The nation is facing a variety of medical challenges, including an AIDS epidemic, widespread malaria and tuberculosis, and newly emerging diseases such as SARS. In addition, chronic health problems associated with a Western lifestyle, such as heart disease and high blood pressure, are increasing. Important demographic changes, with an influx of people into the fast-growing cities and with the population of elderly expected to double by 2020, will also affect the system.
"We're worried … that China will be the first country that will become old before it becomes rich," Huang said.
To address these problems, Huang said the government has made improving health care a priority, with commitments to improve mental and physical health, increase life expectancy, and lower infant mortality and maternal mortality by more than 20 percent by 2010.
To do so, the nation is moving to improve coordination among several different agencies that play a role in the health care system; upgrade health infrastructure – with an emphasis on rural areas; reform the hospital system to promote efficiency, equality, and quality of care; and reform the cost system by allowing hospitals to keep some of the funds they take in and by promoting laws to encourage the development of a health insurance system.
In 2000, the country instituted a new cooperative system to ease the burden of health costs on farmers, where one-third of the cost would be borne each by the farmer, the local government, and the central government.
Further, China is seeking to tighten regulations to improve quality of care and improve cooperation with other nations to fight diseases that cross national boundaries.
"Good health care is a universal objective of all human beings," Huang said.