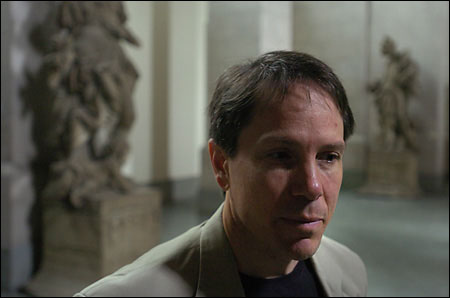 Daniel Lord Smail, a cultural historian who studies social and legal transformations in the later Middle Ages, has been named professor of history in Harvard University's Faculty of Arts and Sciences, effective Jan. 1, 2006.
Smail, 43, is currently professor of history at Fordham University.
"Professor Smail is an archival historian of great originality," says William C. Kirby, Edith and Benjamin Geisinger Professor of History and dean of the Faculty of Arts and Sciences. "His immersion in anthropology, economics, and cognitive psychology enables him to think about people and societies from a host of different perspectives, yielding new questions and new ways of looking at evidence. He has also shown himself to be a collegial and open teacher, appreciated by both undergraduate and graduate students."
Founded on pioneering and painstaking analysis of medieval archives from the Provençal city of Marseille, Smail's two monographs to date have illuminated the patterns of social and political organization in ancient Europe. His "Imaginary Cartographies: Possession and Identity in Late Medieval Marseille" (Cornell University Press, 1999) examines how various record keepers, working in a world without maps, used words to identify the location of people and property in 14th century Marseille. Smail demonstrates that over time, the plethora of verbal descriptions gradually gave way to a single standardized form, the street address. "Imaginary Cartographies" was awarded the Social Science History Association's President's Book Award in 1999 and the American History Association's Herbert Baxter Adams Prize in 2001.
Smail's "The Consumption of Justice: Emotions, Publicity and Legal Culture in Marseille, 1264-1423" (Cornell University Press, 2003), recent co-winner of the Hurst Prize of the Law and Society Association, takes an innovative, anthropologically inspired approach to trace the rise of law courts in late medieval states. Smail shows that caseloads were built in Marseille's 14th and 15th century courts as boisterous fishermen, merchants, prostitutes, craftsmen, widows, and many others used them as a new theater in which to attack, humiliate, and harass their enemies. He concludes that it was this pursuit of petty vendettas, not any loftier thirsting for legal adjudication, that largely fueled the early growth of court systems.
Smail co-edited "Fama: The Politics of Talk and Reputation in Medieval Europe" (Cornell University Press, 2003), and is now writing a monograph expanding on how medieval courts' citation of "public rumor and repute" helped establish social norms for personal and group behavior. He is also at work on a book geared toward a general readership, based on an undergraduate survey course he has regularly taught, which will seek to anchor global history in natural history.
Smail received his B.A. from the University of Wisconsin in 1984 and his Ph.D. from the University of Michigan in 1994. He joined the Fordham faculty as an assistant professor the following year, and was promoted to associate professor in 2001 and full professor in 2004. At Fordham he has also served as co-director of the Center for Medieval Studies and as director of graduate studies for the Department of History.