The sun was out and the weather was in the 90s, but that didn't prevent guests at Harvard's 30th annual Senior Picnic from enjoying themselves. In addition to lunch, music, and dancing, the event featured speeches by local politicians and civic leaders as well as a rousing performance of patriotic songs by the Cambridge Senior Chorus.
---
---
Jointly sponsored by the Office of the Mayor of the City of Cambridge and the President of Harvard University, the Aug. 3 event was an opportunity for local seniors to spend a few hours under the trees of Tercentenary Theatre and enjoy themselves with friends and family.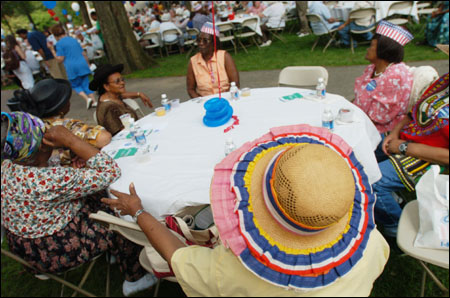 "It's a lot of fun," said Watertown resident Joe Galvin, after participating in a spirited line dance to "The Hully Gully," played by members of Local Musicians Union 9535. Galvin credited dance classes at the Cambridge Senior Center for helping him and the other dancers perfect the coordinated moves that the group performed with such obvious enjoyment.
"This place is wonderful, and the people are all very happy," said Cambridge resident J. Noel Pelaez, a native of Colombia who came to this country in 1969. Pelaez described himself as a poet, painter, composer, and journalist, and a speaker of seven languages. He said that he appreciated the cultural opportunities that Harvard offered to local residents.
Another senior who regularly takes advantage of the University's intellectual and cultural offerings was Anne Williamson, who was attending the picnic for the first time.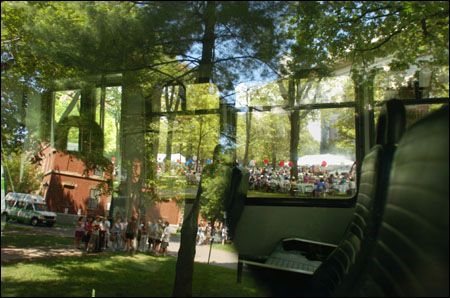 "My friends have been saying to me, now you know what you've been missing," she said.
Williamson, a supporter of the Harvard University Art Museums, said that after the picnic, she planned to go to the Sackler Museum to see "Degas at Harvard," which opened Aug. 1.
Cambridge Mayor Michael Sullivan took the microphone to welcome the seniors and to thank Harvard President Lawrence H. Summers for hosting the event. He then led an impromptu chorus of local leaders in a sing-along that included such old favorites as "Let Me Call You Sweetheart" and "Take Me Out to the Ballgame."
The band, led by saxophone player Elmer Drotos, took the floor again, starting out with a medley of Glenn Miller hits like "Pennsylvania 6-5000" and "String of Pearls." Vocalist Jimmy Smith channeled Cab Calloway for a funky rendition of "Minnie the Moocher," then did an equally convincing imitation of Louis Armstrong singing "When You're Smiling."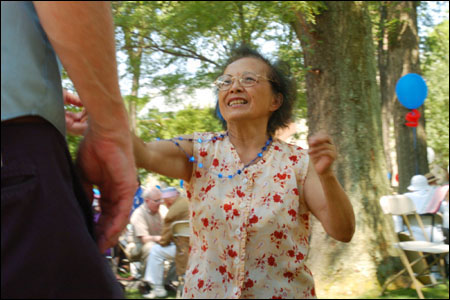 Smith, a professional singer and comedian who has taught for many years in Cambridge schools, said that he has performed at the Senior Picnic since it began in 1976. He said that singing for his fellow Cantabridgians is always a gratifying experience.
"People know me here because I've had their children in school. It's like a big family reunion."
There was an effort to satisfy all musical tastes. The Backend Bluegrass Band from western Massachusetts took the stage after the swing musicians finished their set and launched into a fast-paced country tune.
"I'm pleasantly surprised," said Cambridge resident Sandra Foster, tapping her foot. "Bluegrass – that's my kind of music."